Planning an enjoyable hut-to-hut hiking trip in the Julian Alps can be quite a challenge. Which route to take, what the mountain huts in Slovenia are like, what to pack, what the weather is like, where can I get a good hiking map of the Julian Alps, and more. We could write a whole blog post about each topic. But instead, we decided to summarize some tips & tricks for an enjoyable, sustainable, and fun hut-to-hut hiking trip in the Julian Alps & Triglav National Park. This blog post focuses on the high alpine multi-day trekking through the Triglav National Park.
Let us know if we are missing something or share your experiences from your multi-day hiking trip in the Julian Alps.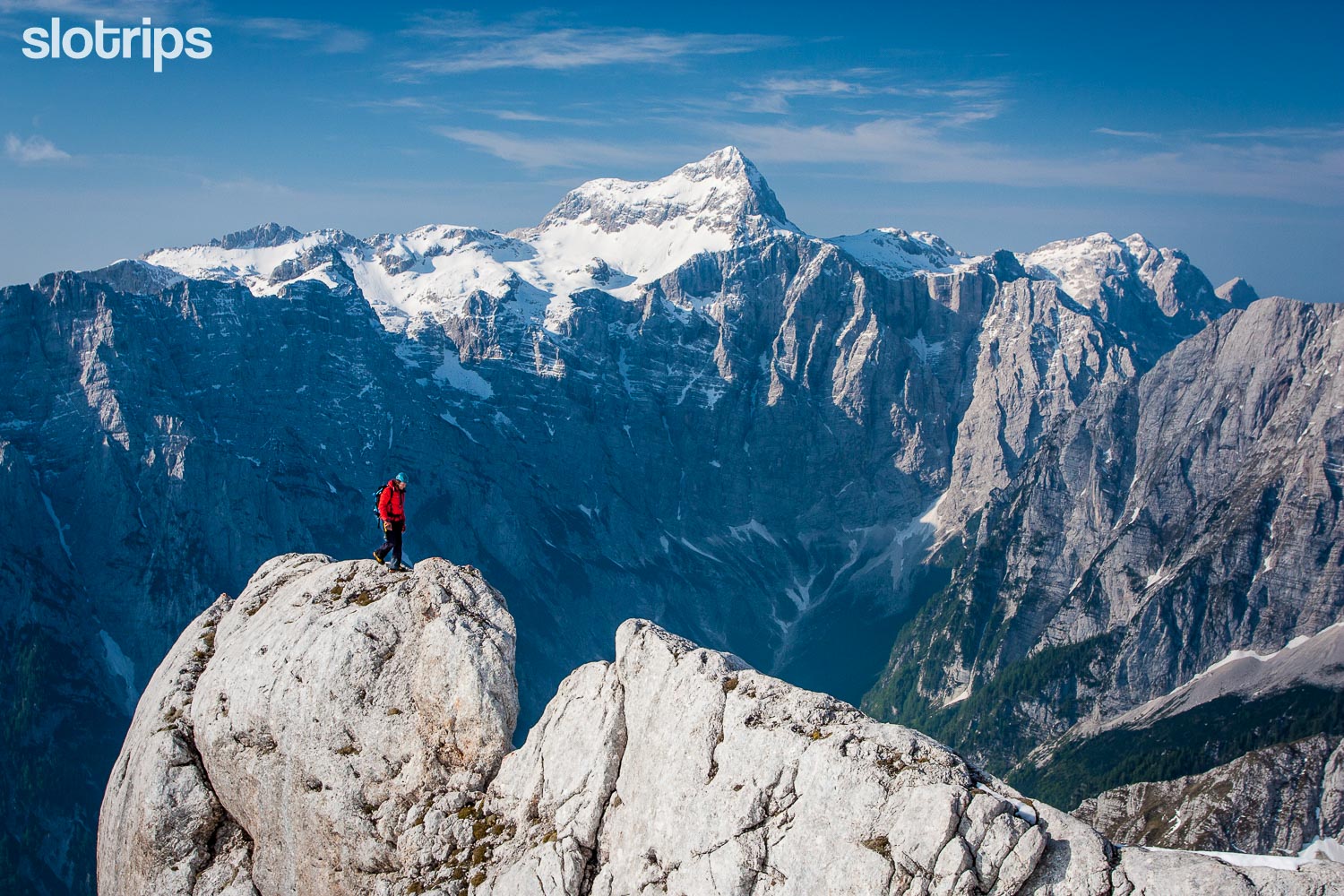 WHAT IS THE BEST TIME FOR A HUT-TO-HUT HIKE IN THE JULIAN ALPS?
The mountain huts in the central Julian Alps usually open the last week of June and close in late September. Generally speaking, there will be fewer fellow hikers in June, early July, and September. Early summer tends to be warmer and the days are longer. On the other hand, September can be quite chilly when the sun is out. Of course, it will never get cold in the mountain huts and you shouldn't worry about that. Peak hiking season is from mid-July until late August when the mountain huts in the Triglav National Park are most busy. 
Depending on how generous the winter was, you can still encounter some snow on the north sides in early July. In some steep sections, the snow can be a serious hazard and you might need an ice axe to proceed safely. Without proper gear and experience, turning around will be much less painful than sliding down a cliff. We don't want to scare you but you should know that hiking in the Julian Alps is no walk in a park.
In summer, you can experience hot summer days (even around 30 degC / 90 degF) but also be prepared for temperatures around zero. It can snow any time on the highest peaks in Slovenia. Even if the snow will melt with the first sun rays, you need to be ready for cold as well.
Afternoon thunderstorms are frequent on hot summer days, thus you should start hiking early in the morning and reach your mountain hut in time. You definitely don't want to be hiking a ridge during an electric storm. To avoid it, regularly check reliable weather reports. This one is from the Slovenian Environmental Agency. Especially the radar image of the precipitation comes in very handy when a storm approaches.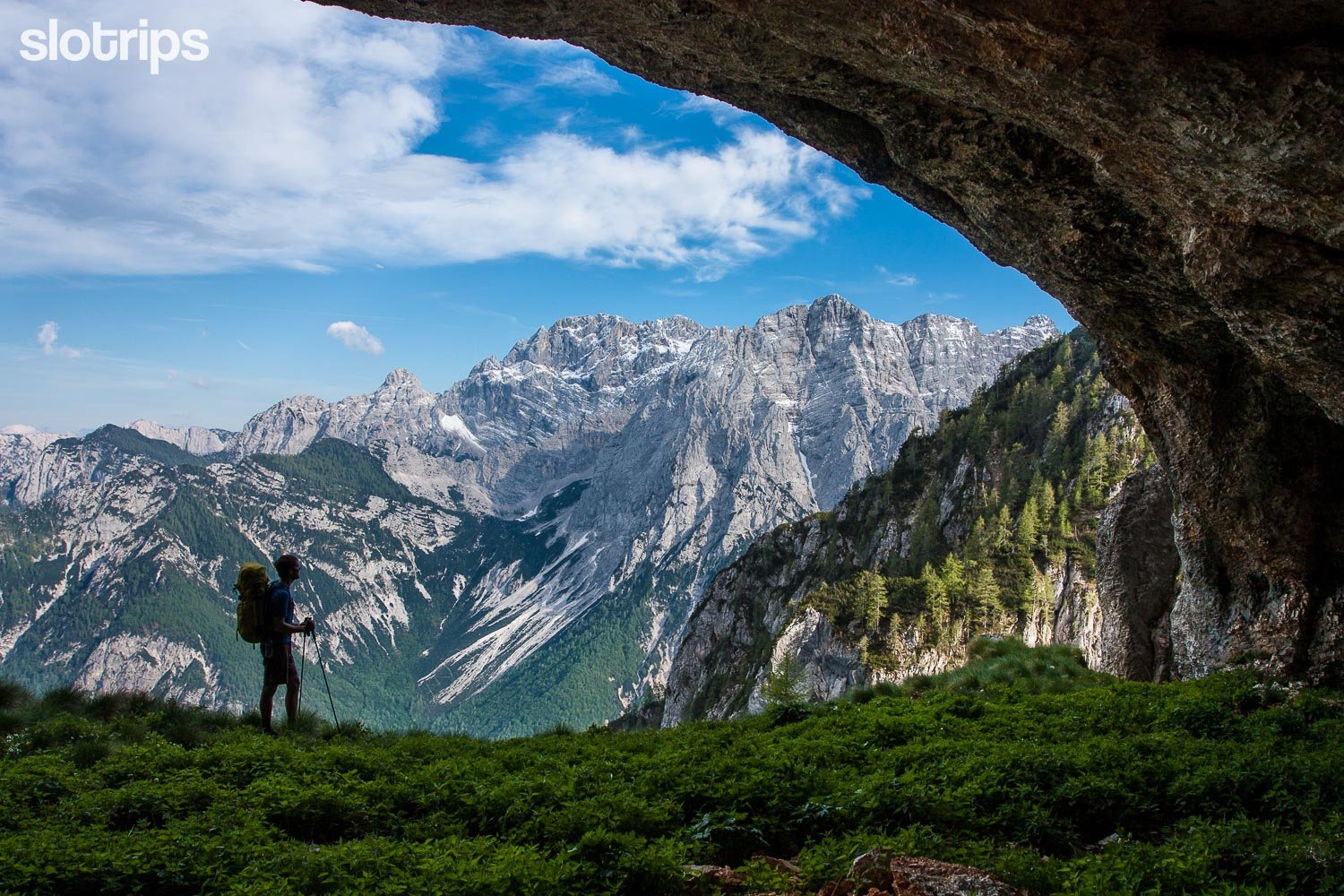 Is hut-to-hut hiking in the Julian Alps possible in spring or autumn?
Yes, but…
You can definitely do your multi-day hiking trip in the Triglav National Park in spring, early summer, and fall as well. Most of the mountain huts at higher altitudes will be closed, but you have three wonderful options:
1) Use the mountain huts closer to the trailheads. Some of them are open throughout the year as they mostly cater to day hikers. Your best bet is the region around Lake Bohinj with a few comfortable mountain huts: Lipanca hut, Uskovnica hut & Komna hut. Keep in mind that spring (April, May, and even June) can still be problematic due to snow but fall (October) can be super nice as the larch trees turn yellow and you have the hiking trails all to yourself. Snow starts accumulating again from November on.
2) Do a multi-day hiking trip along one of the long-distance hiking trails in the Julian Alps: the Alpe-Adria trail or the Juliana Trail. Both mostly avoid higher elevations and it is less likely to encounter snow on the trails from May on. Accommodation along the route is available. Mostly hotels, local B&B's, or self-catering apartments.
3) This one is for the self-sufficient and experienced hard-core hikers. Most of the mountain huts in the central Julian Alps also have a "winter room". These rooms are open even when the huts close. The "winter rooms" are usually located in an adjacent building near the mountain hut itself or have a separate entrance in the same building. Expect a couple of beds, mattresses, and blankets. You'll have to bring all your food, cooking gear, sleeping bags, and possibly water. Before you go, make sure the mountain hut has a winter room at all and that it is open.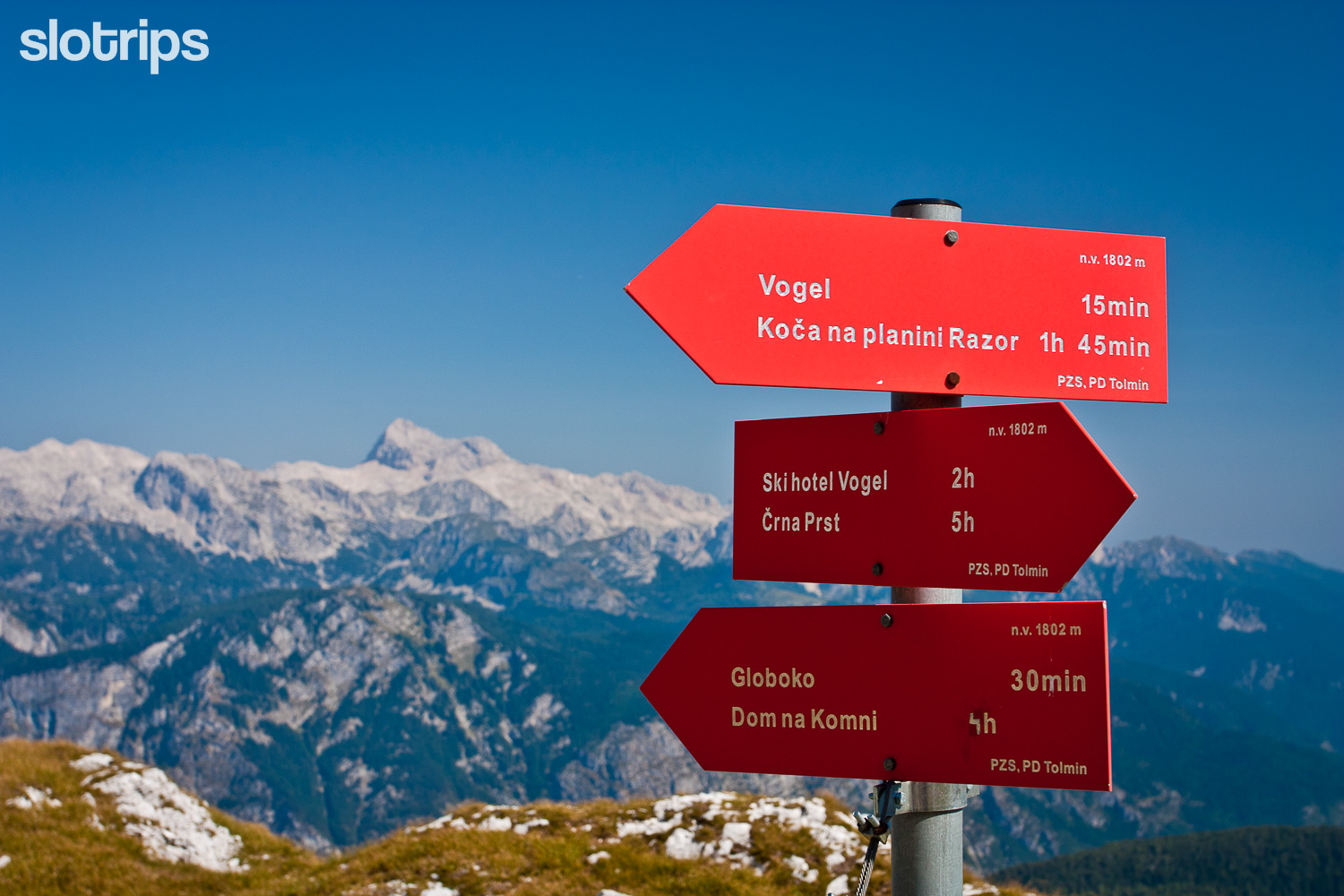 HOW TO PLAN MY HUT-TO-HUT HIKING ROUTE IN THE JULIAN ALPS?
A million-dollar question…
Ufff… there is no clear answer to this. It all depends on your hiking wishes, experience, fitness level, the available time, and much more.
You should know the terrain on the north sides of the mountains in the Julian Alps is steep, the approaches are long, the ascents are tiring, and the elevation gain is usually considerable. If you start on the north sides, you have a good chance of bumping into some exposed or vertical sections where you will have to use your hands a bit and those sections will be secured with steel ropes, bars, and pegs. We call them via-ferratas (iron-routes). Expect a hard, rugged, and spectacular traverse. Here is an example of our toughest self-guided hiking tour across the Julian Alps. 
On the other hand, the southern slopes are gentler, the trailheads are usually at higher elevations and the trails will allow more rest for your legs & knees. The region around Lake Bohinj is the most suitable for easier hut-to-hut hiking routes through the Triglav National Park. How about this one?
You should do your research*, but also get a great hiking map of Triglav National Park. Sidarta does the best hiking maps of the Julian Alps and covers other parts of Slovenia as well. With a good plan, a proper paper map, and optionally a hiking app** (with offline maps) on your smartphone, finding your way shouldn't be a problem. The main trails in the Julian Alps are nicely marked with signposts and Slovenian hiking markers, making your orientation much easier.
Also, make sure you check the updates from Slovene Hiking Association about eventual trail closures (only in Slovene).
Nevertheless, keep in mind that hiking in the Triglav National Park is no joke. The trails are rocky, the weather can be unpredictable, you need to know your "escape options" if things do not go as planned. We, at Slotrips, have designed hundreds of hut-to-hut hiking trips in the Slovenian Alps for our travelers. No one ever came back saying it was too easy. One of my favorite quotes from our travelers was: "If the guys tell you – it's difficult, believe me, it will be difficult". You need to be prepared & fit to fully enjoy your hut-to-hut hiking tour in the Julian Alps. You'll be challenged, but you will love it!
*Or: Tell us your wishes > We design your hiking trip > You enjoy a smooth hiking experience in Slovenian Alps.
**Learn more about how our self-guided tours work here.
WHAT DO I NEED TO KNOW ABOUT THE MOUNTAIN HUTS IN TRIGLAV NATIONAL PARK?
Mountain huts in Slovenia & Triglav National Park are quite basic, but offer everything a hiker needs: food, drinks, and shelter. The biggest factors influencing your mountain hut experience are:
A) Does the mountain hut have its water source or not? 
This basically defines whether the mountain hut has a normal flush toilet or a pit toilet. Most of the mountain huts in the Julian Alps, located below 2000 meters have a normal flush toilet. Above 2000 meters you can forget about it and squat. 🙂 There are exceptions so don't take it as a rule. The mountain huts with a water source usually have showers as well.
B) Room sizes
There is no rule here and room sizes can be very different. From private double rooms to big 30-bed dormitory rooms. The sooner you book, the more options you have for a smaller room (if available at all). If you book last minute, you'll most probably be sleeping in a dorm or on the dining room tables. Don't forget your earplugs!
C) The food
The usual dishes in the mountain huts in the Julian Alps are different stews (barley stew, cabbage stews, goulash, vegetable stew, etc.), pasta, and sausages. Apple pie (strudel) or pancakes are a typical desert. For breakfast, you will usually get eggs or butter & jam/honey, sometimes cold cuts, etc. The offer can vary quite a bit and also depends on the facilities (kitchen size) and the mountain hut location (does the hut have a cargo cable-car, road access, or depends on helicopter transport). There will always be something available for vegetarians or vegans as well, but don't expect any highlights. Don't expect fresh fruit either and if you would like to make your diet less monotonous during your hut-to-hut hike in Slovenia, you should definitely bring some extra treats. The huts also sell chocolate bars, beers, schnapps (local liquor), soft drinks, and usually wine.
D) The atmosphere
Mountain huts around the summit of Triglav tend to be the busiest. Two of the biggest & most popular mountain huts in the Slovenian Alps are the Kredarica hut and the Triglav Lakes hut. Your chances of sitting next to a group of loud locals sipping their schnapps' and playing the accordion are bigger. If you prefer a more relaxed mountain hut experience, you should head someplace else. One of my favorite mountain huts in the Julian Alps is the Pogacnik hut at Kriski Podi. It is hard to beat those views!
Here is the full list of mountain huts and bivouacs in Slovenia, including all contact information, opening times & status, mountain hut size, and more.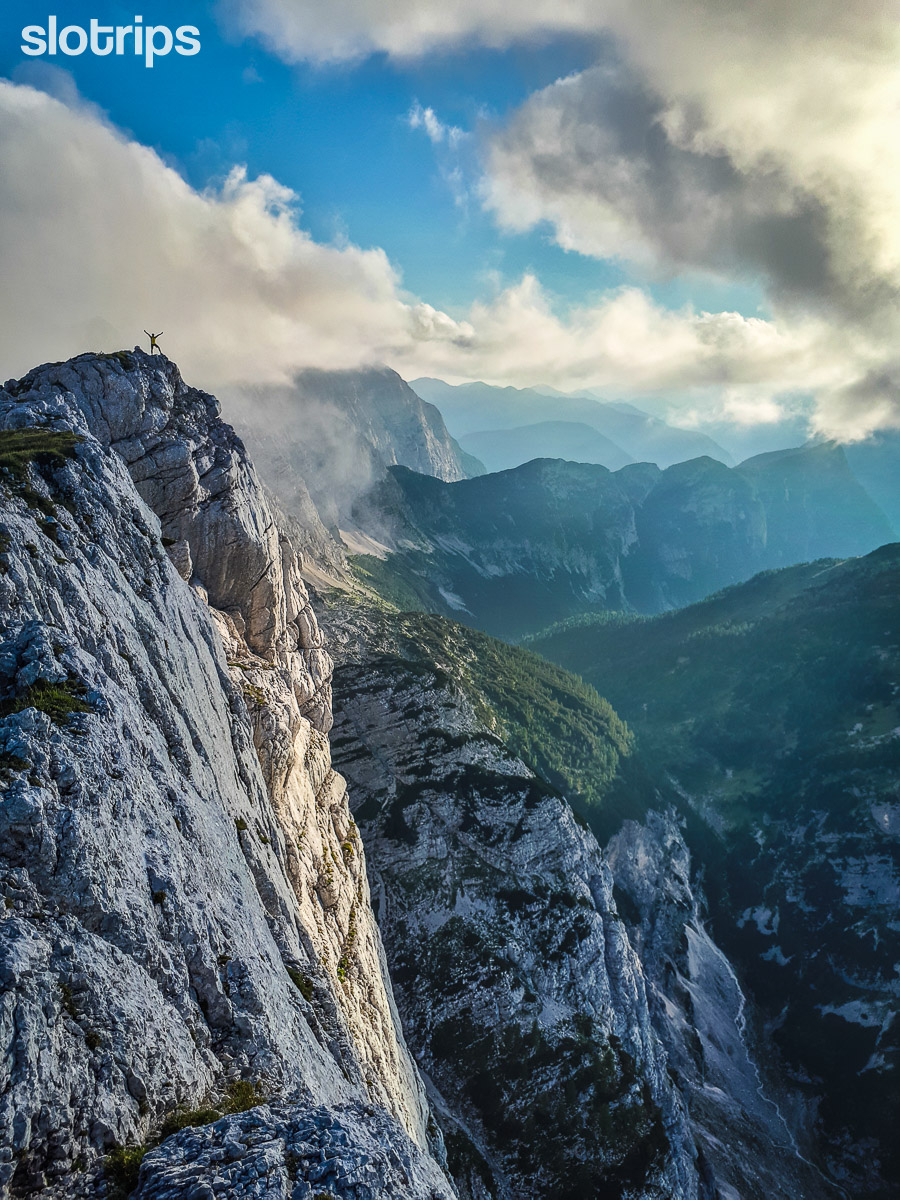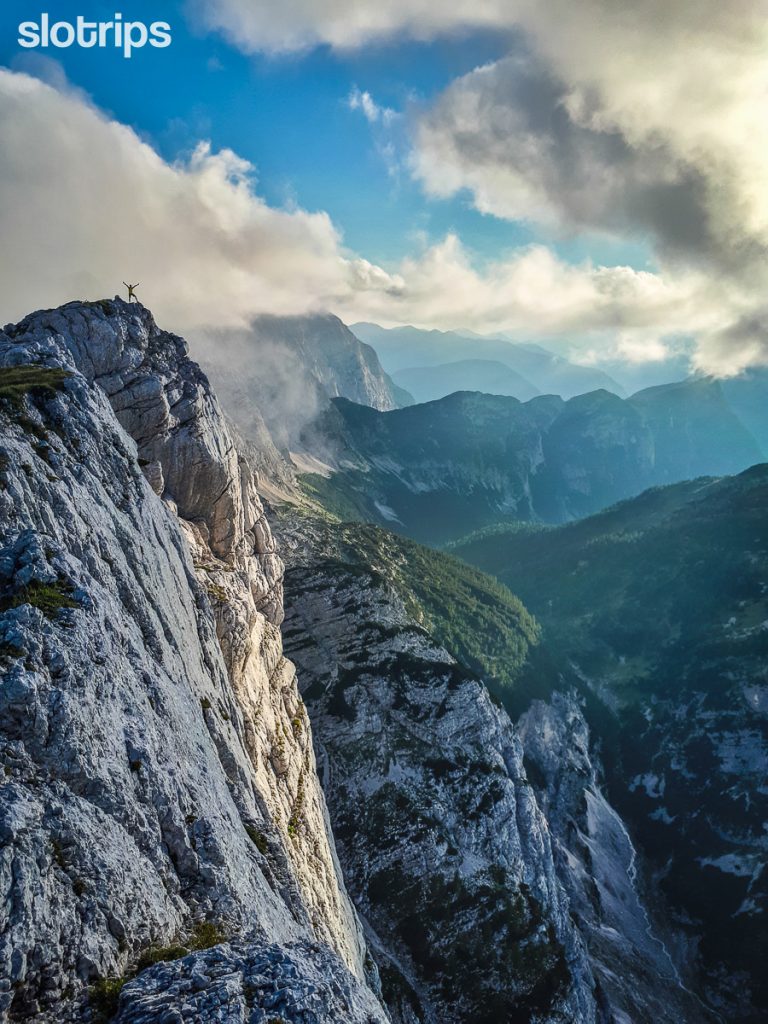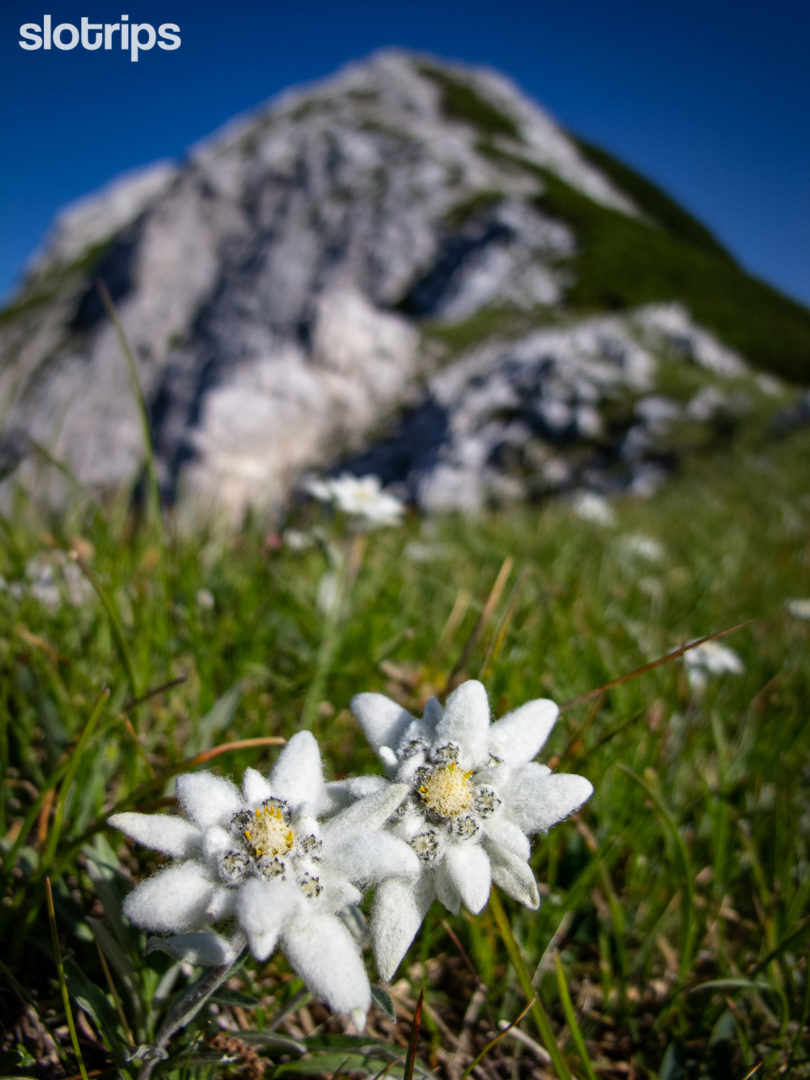 WHAT TO PACK FOR MY HUT-TO-HUT HIKE IN THE JULIAN ALPS?
Hut-to-hut hike packing list (summer)
Sturdy hiking boots (preferably high cut)
Long hiking pants (preferably fast dry fabric)
Shorts
Warm jacket (fleece)
Another long-sleeve layer
Rain & wind protection (light weight rain & windproof jacket)
Gloves and hat to keep you warm
A hat to protect you from the sun
Sunscreen & sunglasses
Thin long sleeve layer for sun protection
Cotton or silk sleeping liner (to avoid single-use bed sheets provided by the huts)
Personal items (personal hygiene, medicine, towel etc.)
Hiking poles (if you usually use them for hiking)
A water bottle and/or a water filter
A backpack to carry your equipment throughout the hiking tour. 30L backpack will usually do.
Travel insurance
Passport or ID
Cash
Earplugs
As already mentioned above, the Julian Alps can surprise you with snow anytime. Bring your sun protection (eyewear, hat, sunscreen, thin long-sleeve layers) but you should pack your gloves and warm layers as well. Wind stopper and rain poncho might come in handy too. Some people always pack an umbrella for rainy hiking days. It is great if there is no wind, otherwise, it is useless. Here is an essential bad weather tip: to keep your stuff dry, pack all your clothes into plastic bags before you stack them in your backpack.
Do I need a sleeping bag in Slovenian mountain huts? No! There are enough blankets available. But you should be sustainable and bring your own silk or cotton sleeping liner. Otherwise, you will get the single-use paper bed sheet.
Mountain huts in Slovenia have 220V electricity socket like this. However, there are very few sockets available at the huts. If you want to be sure you'll load your device's batteries, you should bring your battery pack.
Credit cards are mostly not accepted in the mountain huts and you should bring enough cash. Also, don't forget your passport and your mountain club membership card (if you have one) as you might be entitled to a discounted rate. Another essential item for the dormitory rooms in the mountain huts: earplugs!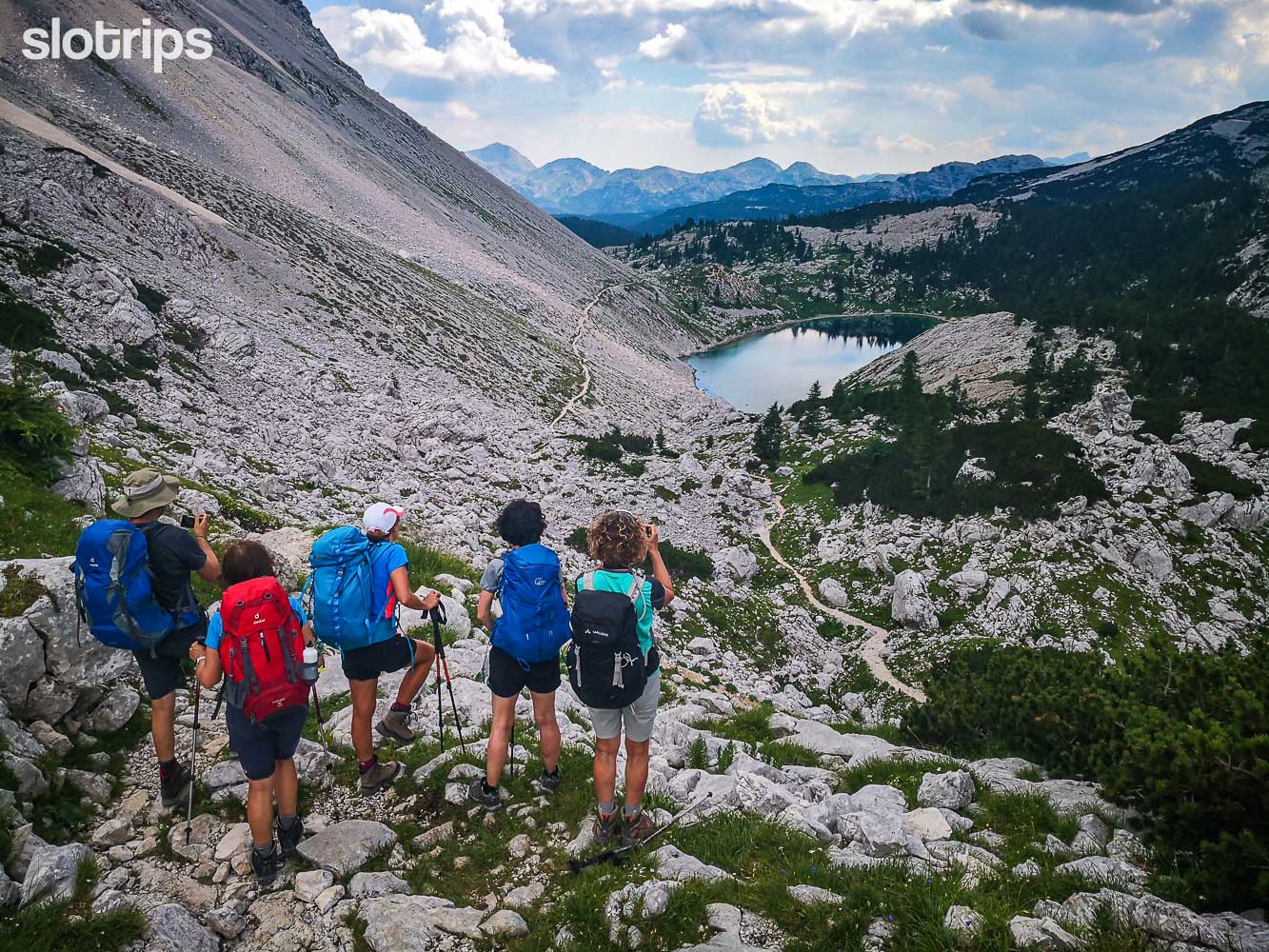 WHERE CAN I REFILL WATER DURING THE HIKE?
Bring a water purifier
Water is scarce. The higher you go, the less water you will find in the Julian Alps. You are hiking on karstic alpine terrain, the limestone rocks are porous and the water disappears underground really quickly. There are very few water springs and at higher altitudes, you will have to buy bottled water at the mountain huts. Not the best idea since the supplies at the mountain huts are mostly brought in by helicopters.
Luckily there is an alternative. Avoid single-use plastic, bring your favorite water purifier, and filter the rainwater at mountain huts. I am using Grayl water purifier and I haven't bought a single water bottle since I have it. I really love my Grayl bottle and use it wherever I am having doubts about drinking water quality. Be it the rainwater at the mountain huts in Slovenia or tap water in Cambodia.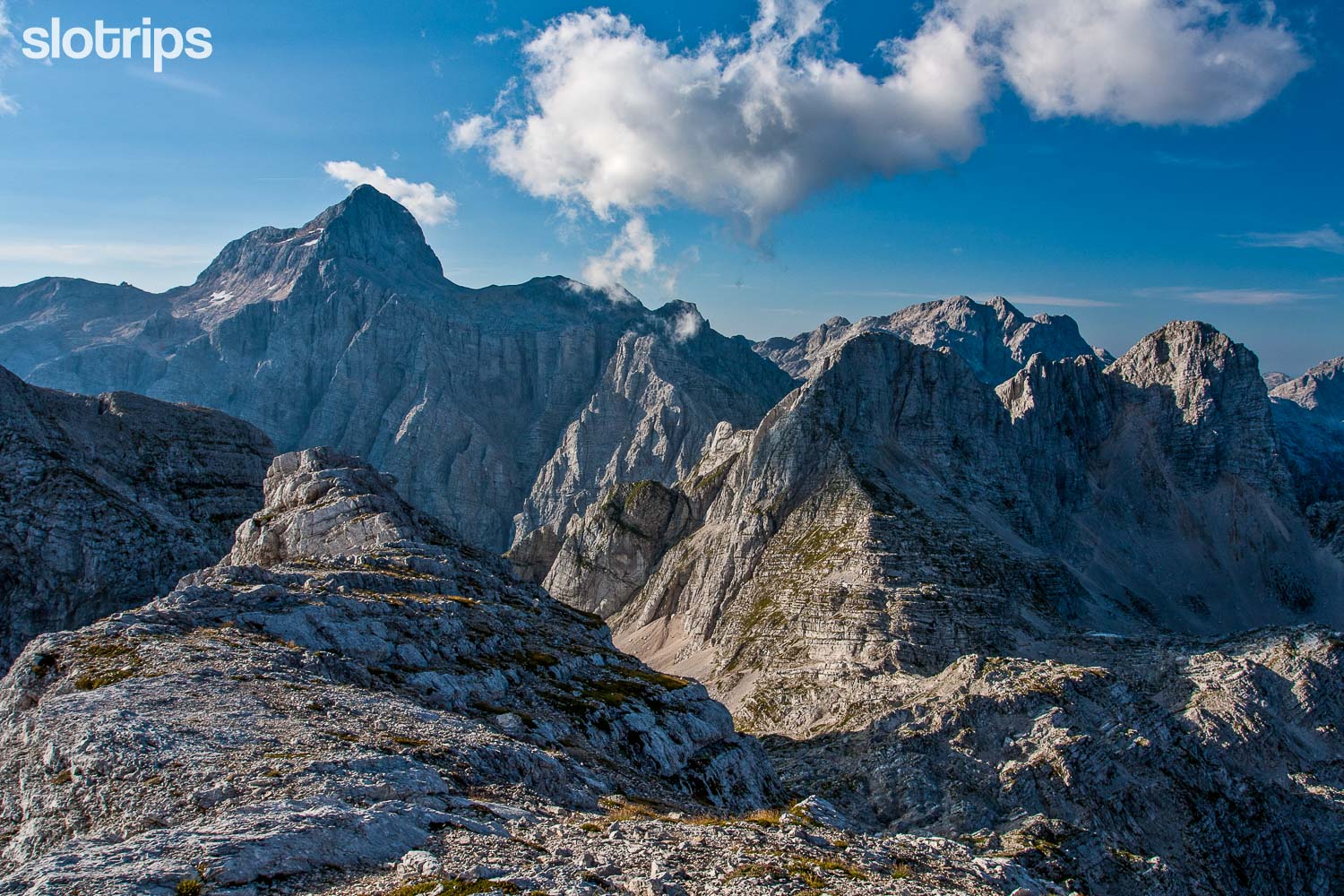 HOW TO HIKE SUSTAINABLY IN SLOVENIA?
Take nothing but memories, leave nothing but footprints!
It is our obligation and responsibility to act sustainably when hiking from hut to hut in Triglav National Park. It is very simple: Take nothing but memories, leave nothing but footprints. Whatever you bring to the mountains weighs a lot less on its way out. Make sure you take all your garbage with you and respect the mountain flora & fauna: don't pick any flowers, don't scare the animals.
Wild camping is forbidden. Pitching your tent outside the designated areas is not allowed. "Where are the designated areas," you'll ask. These are the equipped campgrounds located in the valleys or sometimes at the trailheads. Once you go away from the roads into the nature of Triglav National Park, you are not allowed to camp.
Do not swim in the mountain lakes! No matter how tempting it might be. The water exchange in the high alpine lakes in the Julian Alps is extremely small. It is a fragile ecosystem and our sweat, sunscreen etc. can do serious damage. Please respect this and do not swim in the Seven Triglav Lakes, Krn Lake, or the Kriski Podi Lakes. Rather wait for the summer refreshment once you are back at Lake Bohinj, Lake Bled, or the Soca river.
Park on designated parking spots and stay on the marked trails. Use the less frequented hiking trails and make long-lasting memories in the magnificent Julian Alps.
Don't fly any drones inside the Triglav National Park.
Please also read the code of conduct in the Triglav National Park.
HOW TO MAKE YOUR PLANNING HASSLE-FREE?
We do the planning for you!
If planning your hut-to-hut hiking trip in the Julian Alps seems like too much work, we are here to help. Buy an off-the-shelf self-guided hiking trip or get a custom-made itinerary. Prefer doing a guided tour? We got it covered!
BEST OF JULIAN ALPS HUT-TO-HUT
DISCOVER THE SLOVENIAN ALPS
TRIGLAV NATIONAL PARK ADVENTURE
VIA-FERRATAS ACROSS THE JULIAN ALPS
BEST OF JULIAN ALPS HUT-TO-HUT
DISCOVER THE SLOVENIAN ALPS
TRIGLAV NATIONAL PARK ADVENTURE
VIA-FERRATAS ACROSS THE JULIAN ALPS