What exactly is Slovenian food?
It's no easy task to define the gastronomy of a young country that has always been torn between different countries that ruled her. Different food influences melted together in the confluence of the Austro-Hungarian Empire, the Mediterranean world, and the Balkan world. I guess that's part of the charm.
Another Slovenian specific is the lack of royalty, lack of aristocracy that left a mark on food and dining culture as well. The area has always been very rural, populated by peasants, by people working the land, working the field. So the food was mostly consumed as a source of much-needed energy and not as a pleasure.
Results were hearty, starchy, filling dishes that kept people going. Dishes prepared from humble ingredients like potatoes, cabbage, beans, and turnip with meat being considered somewhat of an indulgence reserved for special occasions and feasts.
Fast forward a few centuries and Slovenia is in a different moment in time, a country still largely untouched by industry and one of the greenest in Europe is now hailed as the new culinary hotspot of Central Europe.
Spearheaded by Ana Roš, former world's best female chef and star of Netflix's Chef's Table, the new Slovenian cuisine leans heavily on natural resources that the small, but extremely diverse country has to offer, and chefs get once again inspired by their grandmas' recipes, by foraging, fishing, old-school pickling and drying, hunting and preserving.
Explore Slovenia with your tastebuds on our hiking, biking, or bespoke gourmet tours!
Slovenian Traditional Food
Just as Slovenia has regions that very much differ, from the coast to the plains, from the mountains to river valleys, so do the Slovenian traditional dishes.
Italian Influence in the West
In the west, on the border with Italy, food is very much influenced by Adriatic, by Mediterranean staples and ingredients like seafood, polenta, pasta, truffles, tomatoes, olive oil, cheese, prosciutto, and different fruits.
There are several traditional dishes that transcend the border and are shared with the Friuli region of Italy – or the Adriatic coast in general. Mussels with garlic, wine, and olive oil, frika (shepherds' dish made of leftover cheese cuts, potatoes, and herbs), frtalja (herb omelet), creamy polenta with pork cracklings – and really polenta in all shapes, cotechino (pork skin sausage), brandade, bobiči (corn and vegetable soup) etc.
Hungarian Influence in the North-East
In the northeast, on the border with Hungary, Slovenian traditional dishes are practically intertwined with Hungarian favorites – goulash, segedin goulash (goulash with sauerkraut), paprikash, dödoli (a type of pasta topped with sour cream), string bean salad seasoned with cracklings and sour cream, langash (fried bread)… And not to be missed – prekmurska gibanica (sometimes jokingly and literally translated into 'Over Mura moving cake'; a rolled dough dessert made of layers of apples, cottage cheese, and poppy seeds).
Continental Slavic Dishes
In the east, on the border with Croatia, traditional dishes are practically the same to traditional dishes of Croatian Zagorje – baked lamb, pogača (a type of focaccia, sometimes filed with cracklings), red bell peppers, roasted potatoes… Add to that matevž (beans and potato mash) traditionally served with sauerkraut or fermented turnip and sausage. And if you want to go hard-core Slovenian redneck, a dormice roast.
Hunting
Hunting (better yet: trap setting) for dormice in the forests of Dolenjska region is another very specific Slovenian tradition that however isn't exactly part of the mainstream dining. But hey, Heston Blumenthal enjoyed the experience a few years ago!
Hunt, in general, is something you would associate Slovenia with – almost all regions are heavily populated with wildlife be it deer, bear or wild boar, but also mouflon (?), chamois, mallards, and hare. Hunting enthusiasts from afar come here to hunt and gather in hunting lodges where a whole subculture evolved, a fascinating world of 6am schnapps, weird toasting songs, braised offal after the kill, and ceremonial rituals.
Slovenian Mountain Food
This rural, simple life of common folk has really left a mark in what we eat and how we eat it. Slovenians are a nation of extreme sport enthusiasts and a nation addicted to outdoor sports, hiking being probably the national sport. And it's in the mountains you can also find some of the tastiest and most genuine food.
There must be hundreds of mountain huts spread across the country where you can find a very condensed display of all the typical Slovenian dishes you might have a hard time finding in the cities – sauerkraut with sausage, jota (fermented turnip or cabbage with beans and potatoes), ričet (barley, potatoes and vegetable stew), žganci (a version of dumplings made of buckwheat), štruklji (cooked rolled dough filled with different kind of filling, be it walnuts, cottage cheese or fruits and topped with cinnamon-sugary mix), strudel (another Austro-Hungarian crossover), sour milk… And always – a wide range of herb schnapps and concoctions brewed from basically everything you can brew, from juniper to gentian root.
Slovenian Festive Dishes
And then there are those special occasion dishes – festive dishes and seasonal specialties. They unite Slovenians and are part of our national heritage – you have a typical Slovenian Sunday lunch which consists of beef bouillon, roast potatoes, and boiled beef, served often with creamy horseradish sauce – another link to Austria. Every winter there's "koline" time – traditional pig slaughtering where every part of the animal should be used, be it in sausages, cracklings, lard, blood sausages, pork skin sausages, even roasted blood. 
A typical Slovenian dessert?
One has to go with potica. It's a raised dough pastry, usually prepared just 2 times a year – for Easter and for Christmas. Most commonly it's filled with walnuts, but also tarragon one has its fans, as does raisin one, almond one, poppy seed one… And for Mardi gras, of course, you have to have doughnuts!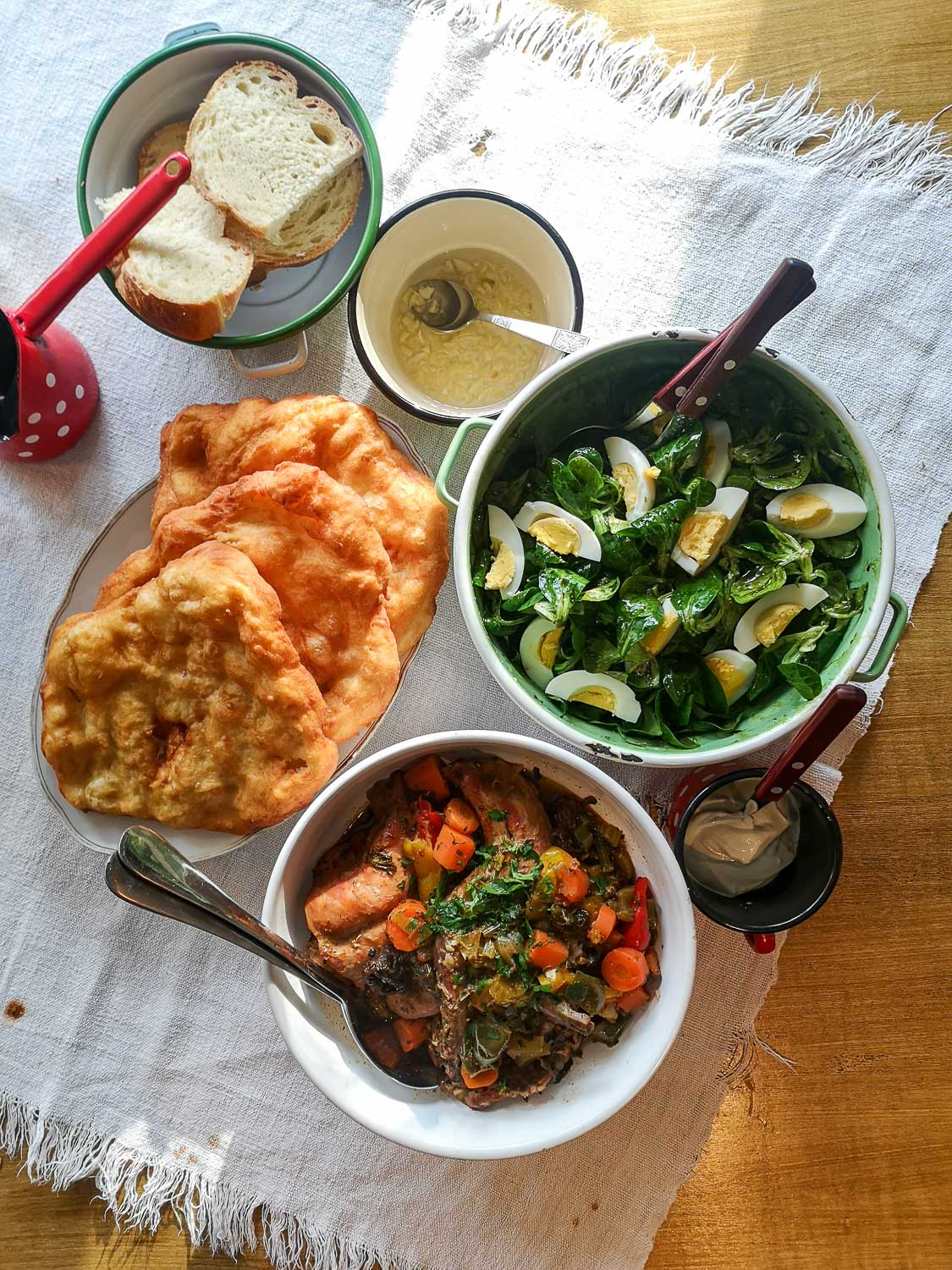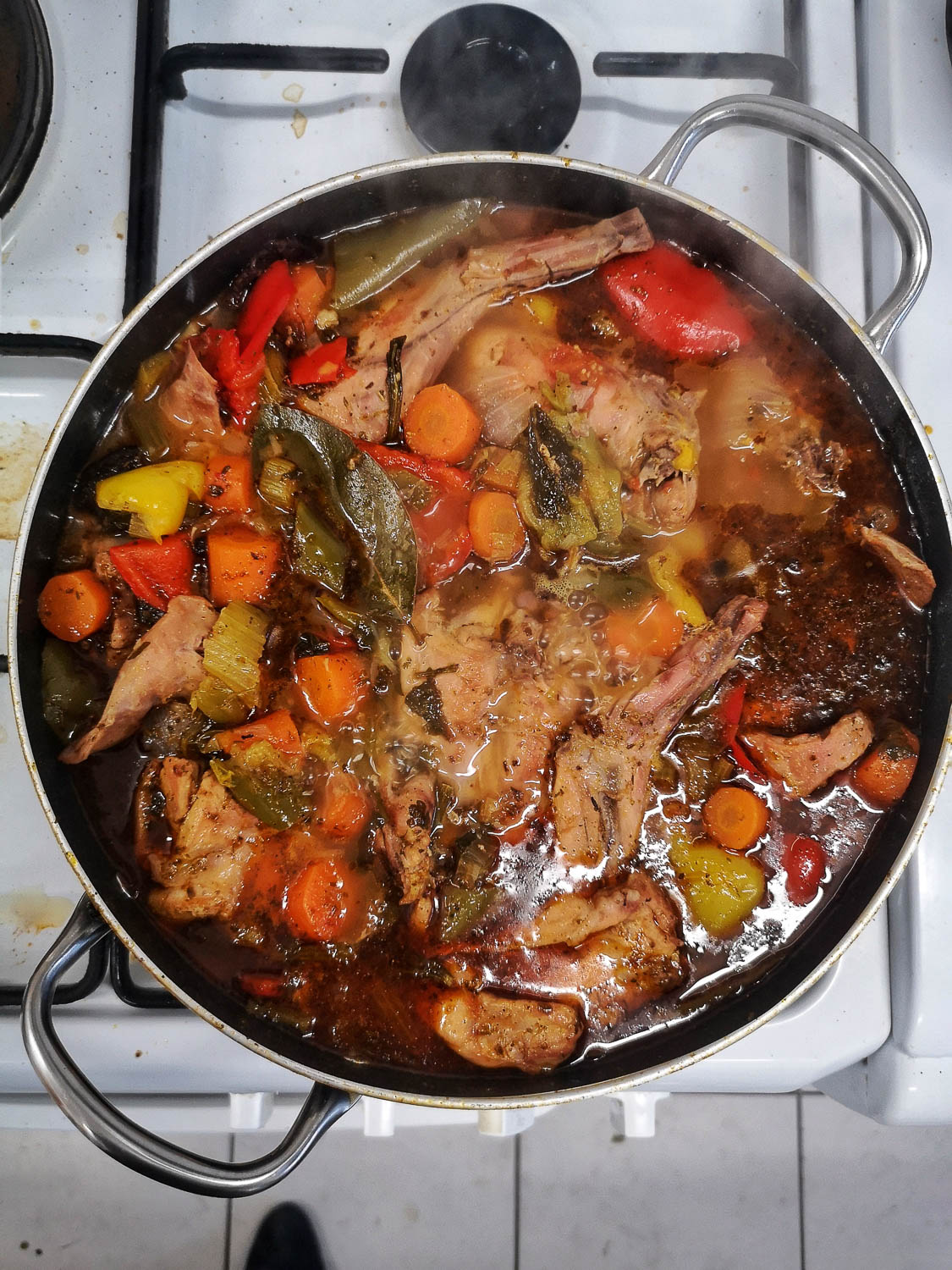 Slovenia: The Land of Foraging and Gardening
Slovenians have always had a close link to nature – undoubtedly due to the fact Slovenia is 3rd greenest country in Europe. Hence, a farm-to-table (or forest-to-table) philosophy is not part of jumping on the latest trend bandwagon, but a very natural and organic way of living our lives for centuries.
Almost every Slovenian, even those living in the cities, has a garden – even if it's just a small patch of pots on the balcony. Foraging is part of our identity, starting with April dandelions we love in our salads with potatoes, boiled eggs, and cracklings, wild asparagus, ramson, and nettle. Moving on with bezeg (elderflower) blossoms we use in syrup or scrambled with eggs, and then to blueberries, finishing with the abundance of mushrooms and chestnuts. We also pickle and preserve pretty much everything we can get our hands on – raspberries, wild strawberries, sour cherries, ramson, mushrooms, mountain ash, rosehip…  
There's also not an ingredient we wouldn't soak in alcohol, creating some lovely schnapps and liquor – with juniper, sour cherries, honey, gentian, mint and sage, blueberries, wormwood, plums, apricots, grape skins, or peach buds.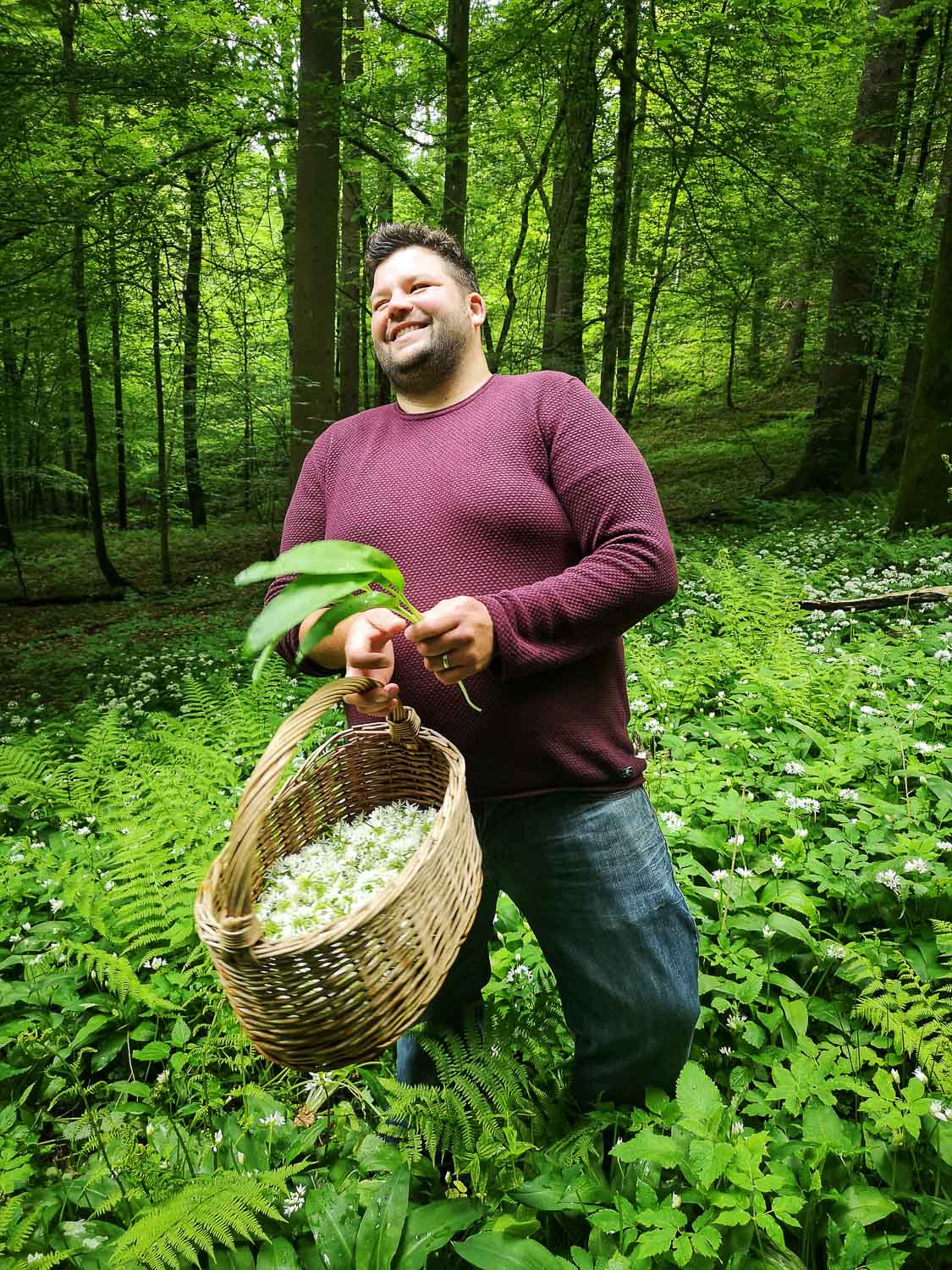 Slovenian fine dining doesn't have a particularly long history but nevertheless, its profile has risen considerably in the past few years, starting with Slovenian pioneers of high cuisine like Andrej Kuhar and Janez Bratovž (JB restaurant). But really skyrocketing with the rise of Ana Roš, the prodigious chef behind Hiša Franko.
Hiša Franko
When Ana, a self-taught chef who traded a promising career in diplomacy for kitchen, was featured in Netflix' Chef's Table in 2016, the booking system of the small, family-owned restaurant in rural Staro Selo near Kobarid crashed, and overnight Slovenia with its lush green nature, deep forests, towering mountains, and idyllic meadows became a bucket-list destination.
Hiša Franko was now firmly put on the foodie map, a restaurant where Ana's imagination runs wild – but always in complete synch with the gorgeous Soca Valley terroir where the restaurant is set. The menu is inspired and built on micro seasonal produce, mostly wild herbs and plants, game, marble trout, and dairy from surrounding high mountain shepherds' huts – all combined with Slovenian organic and biodynamic wines.
In 2017 Ana was named the world's best female chef by Restaurant magazine and that same Hiša Franko landed on the 50 Best restaurants list for the very first time. It has been climbing the ranks ever since, currently (in 2023) sitting in the #32 position.
Slovenian Michelin stars in 2023
In 2020, after much anticipation, Michelin finally arrived to Slovenia and handed Hiša Franko 2 stars in the first take. Five other restaurants gained a star (Hiša Denk, Zemono, Vila Podvin, Dam, and Atelje, a group joined a year later by Grič). That same year Slovenia held the title of European gastronomic capital and has been lauded as the next hotspot of European gastronomy.
Restaurants Atelje and Vila Podvin have changed since then and the Slovenian 2023 Michelin star list is (not necessarily in this order):
Chefs at the helm of some of the finest restaurants in Slovenia are now aware also that success is not (necessarily) built on luxurious ingredients and copying international cuisine but it has to be based on local traditions, local produce, and seasonality.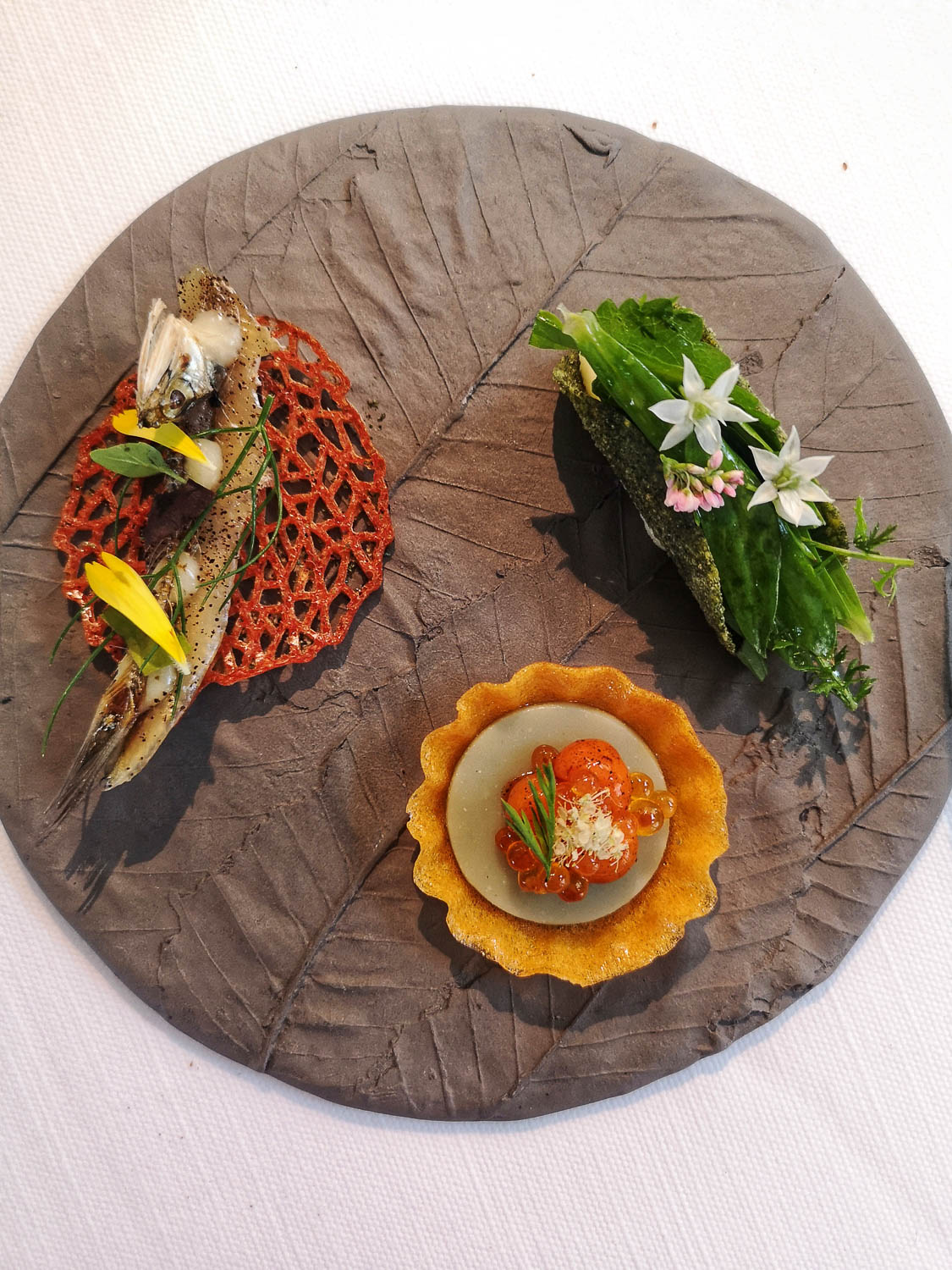 Vegetarian Food in Slovenia
Slovenia might be the land of sausages and pork cracklings and roasts, but in the past few years, the gastronomic scene has also picked on a plant-based trend that has been rising globally. More and more restaurants have started offering vegetarian menus, more and more restaurants are focusing on vegetables and foraged plants, and starting their own gardens they base their menus on.
Luka Kosir of restaurant Gric (1 Michelin star) has built his whole philosophy on creating home-made misos, ferments, and soy sauces and Ana Ros (Hisa Franko, 2 stars) is collaborating with farmers Jeanne and Matteo who have set up a garden high above Soca Valley exclusively to serve Hisa Franko.
Wine has always played a big part in Slovenian gastronomic traditions, in rural rituals and celebrations, and, lately, in the promotion of the country. Slovenia is a region where winemaking plays a big role and where almost every region has several prominent winemakers and wine terroirs. Harvest is one of the liveliest folk chores and celebrations and on November 11th, on St. Martin's day, we celebrate the moment when must turns into wine.
But Slovenian wine really developed after the independence in 1991 when winemaking switched from mass, co-op production to more refined, small-scale one where quality took control over quantity. The pioneers were the winemakers on the Italian border who have always had close links to Italian wine culture so they were able to develop quicker and were more in tune with the winemaking trends.
Slovenian wine became a hot commodity and in recent years, with the natural wine movement, Slovenia has also been at the very forefront as well since some of the world's best natural, biodynamic, and skin contact winemakers have been Slovenians living on the Italian side of the border. Nowadays Slovenia is a powerhouse in this world and even though the wine production is pretty small, the reputation far exceeds it.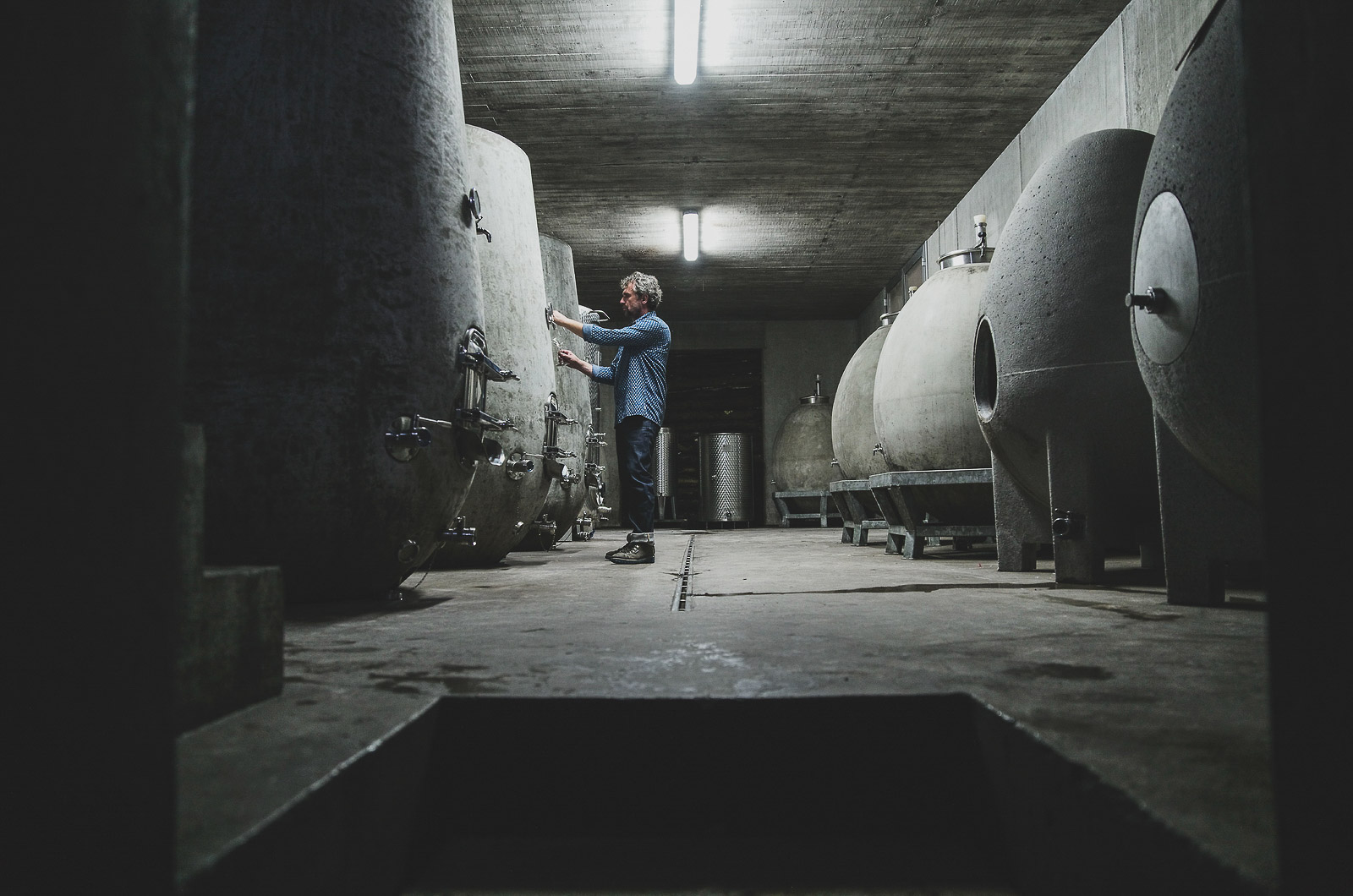 Top Places to Eat in Slovenia (All Ranges)
3 Michelin starred restaurant in Kobarid, #32 restaurant in the world's 50 Best, is by far the most avant-garde Slovenian restaurant but one that has remained firmly in touch with the roots and produce of Soča Valley.
Grič, set in the forests of Horjul, is a Michelin star restaurant firmly based on foraging, fermenting, ecological farming, and organic duck production. It's as close to nature as you can get and they also collaborate with the most interesting Slovenian goat cheese producer, Orešnik farm.
Klinec & the winemakers of Goriška Brda
If you have a weekend in Slovenia, definitely head to picture-perfect Goriška Brda where some of the country's best winemakers await. A must-stop – Klinec homestead in Medana where the best, purest and tastiest local food is combined with some excellent organic skin-contact wines.
Hiša Franko's baby sister is a casual, lively trattoria-style place every village (and town!) can only dream of. There are some dishes on offer that used to be served in Hiša Franko (English roast beef, frika), all local ingredients, natural wine, and craft beer produced by patron/chef Valter Kramar.
In Dolenjska region Repovž family is the one reviving old Slovenian food traditions, but with some modern presentation and touches. The old family house was passed down generation to generation, one housewife to another, always working as a village inn. Nowadays it pays respect to those old days while bringing the cooking skills into a new era.
Prekmurje is famous for rich, hearty Slovenian dishes and it doesn't get richer than Zeleni gaj, a 2-men band (mother and son) roadside establishment where you get served generous portions of veal shank, baked blood, rabbit stew, dödoli, dandelion salad with cracklings and rolled dough pastry with walnuts – all washed down by some sharp home-made schnapps.
Above the coastline of Slovenia lies Butul homestead, a family-run property where Tatjana, Mitja, and their son Črt produce everything from vegetables to tomato salsas, from honey to wine, from refoscus jam to aged cheese, from bottled anchovies to sourdough. There are also rooms available.
In Dolenjska region natural wine lovers flock to the Novak homestead where everything is home grown and home cooked, but the real allure is Novak's wine cellar where you will find dome of the rarest vintages of organic wine in the region.
The mountain huts of Velika Planina
If you like hiking and mountain gastronomy, seeks no further than Velika Planina, a gorgeous mountainous area outside Ljubljana peppered with shepherds' cottages where they serve hikers štruklji rolled dough pastry, sour milk, cheese, and jota stew. And the view is hard to beat. Do you like the sound of it? Join our Best Walks in Slovenia hiking tour.
For meat lovers, there's no better place in Ljubljana than Čompa, an unpretentious trattoria-style tiny place where you start off with raw meat bites and move on to grilled mangalitza pork, beef, and horse.
For natural wine lovers Tabar is Ljubljana's hotspot with perhaps the most well-stocked list of those kinds of wines, served alongside small plate, but elaborate dishes by young chef Jakob Pintar. If you are up for some fun-dining, go to Aftr  – a recently opened bistro by Jorg Zupan, the same chef and the same location of the former Michelin starred restaurant Atelje.
Slovenia's craziest place by far is Skaručna, a place you walk in during the daylight and crawl out on all 4. It's hectic, wild, brash, politically incorrect, and borderline dangerous, but oh-so-fun. Food is a great showcase of hearty Slovenian dishes, with beef tongue with horseradish, baked trout, and veal shank playing the central roles.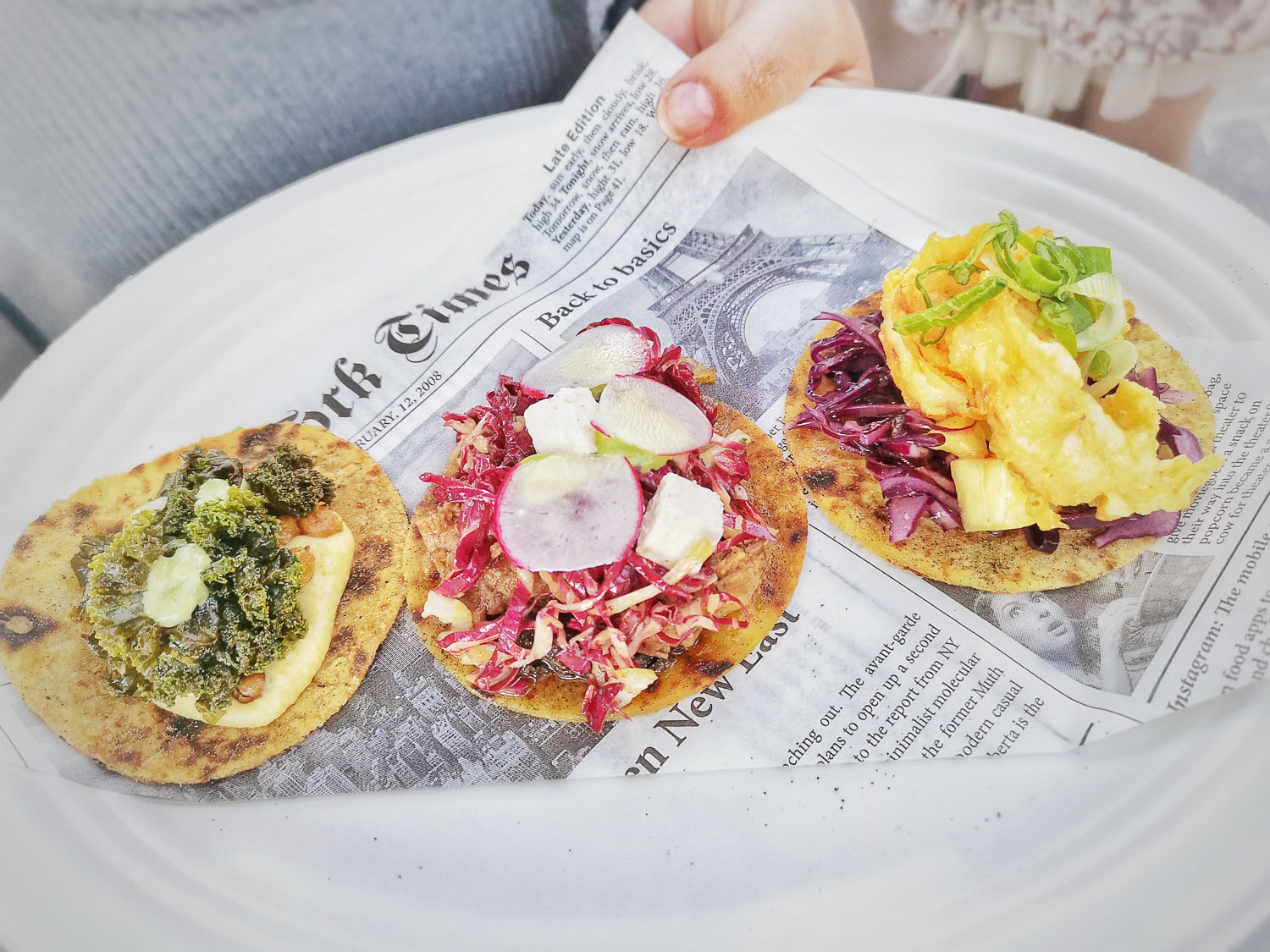 Photos by Kaja Sajovic and Ciril Jazbec, Tomo Jesenicnik & Mitja Kobal (STO)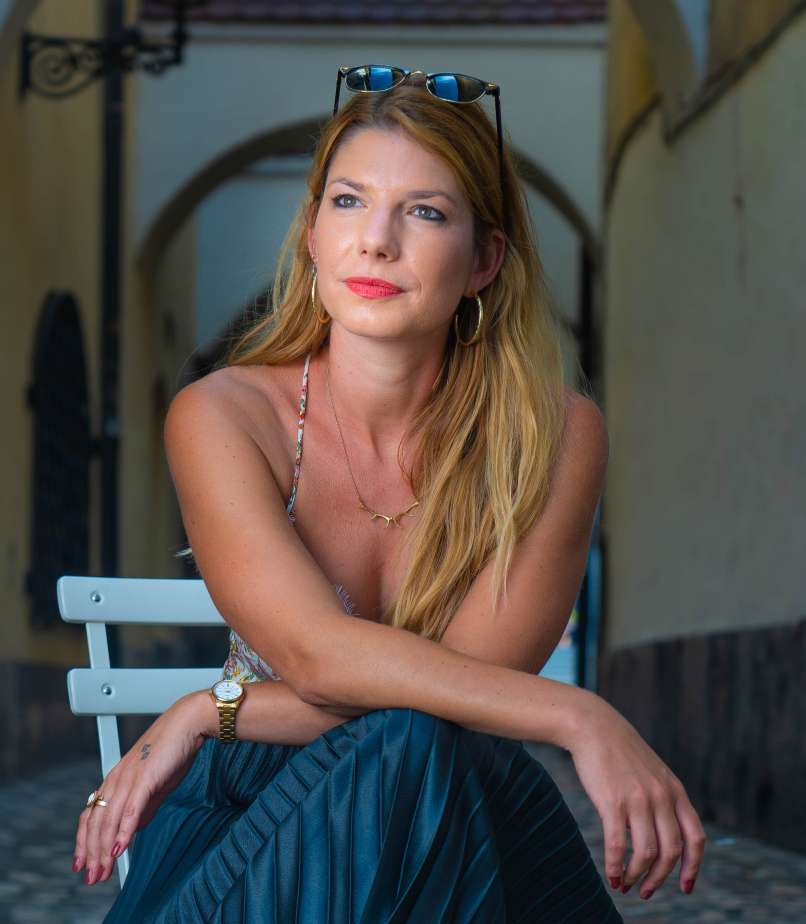 Written by Kaja Sajovic
Food and foreign politics journalist working at Slovenian national TV, contributing to several international media outlets (Fine Dining Lovers, Identita Golose, Tuorlo magazine …); a sommelier, co-author of Slovenian gastronomic strategy, and co-author of Ana Ros' Sun and Rain book. A regular at the world's biggest gastronomic conferences and a speaker on international gastronomic trends.
Follow Kaja on Instagram.