"It's going to be difficult to do an organised trip again as Slotrips has set the bar very high and I don't think other tours could match this one!"
"I have trekked and climbed numerous times around the world, but this was probably one of the best trips I have taken and I am ready to return."
"Paul and I have done about 20 small group walking trips and this was one of our favorites."
"Slotrips is truly a company that understands the traveling preferences of the future."
"Slotrips produced an incredible hiking vacation for us in Slovenia!
Our vacation was an incredibly rich dive into Slovenian culture particularly made possible through our guide Domen. Always keeping us guessing what could possibly come next, Domen put us on a roller coaster of intriguing encounters with local characters, crazily steep hikes on top of white limestone rock mountains, and a smorgasbord of local cuisine, wine and beer.

I have trekked and climbed numerous times around the world, but this was probably one of the best trips I have taken and I am ready to return. When I do, it will definitely be with Slotrips again."
We'd never done a planned trip with a local guide before. We didn't know what to expect and you over delivered on every aspect. We are delighted that we booked with you. We never would have been able to find any of these locations or pack as much into 2-weeks. Your careful planning and details took all the stress and frustration of finding places and getting lost out of the equation. We are fans.

Honestly, there was nothing that we didn't enjoy. It was really a spectacular experience. The excursions with locals were especially fun and gave us some insight that we wouldn't have gotten on our own. These guides were consummate professionals and all spoke very highly of you and your company. The cheese cave was so interesting and the story of the place was something I could have listened to all day. Could have spent way longer here. The steak dinner at Pension Berc rates as one of our 5 top restaurants. The steak was so tender and the cheesecake was heavenly.
"I have to tell you we had a great time in Slovenia!
We were very impressed with the hikes, the variety of activities, the lunches at the mountain huts, the wine tasting and the entire itinerary in general. It's amazing how many highlights of Slovenia we were able to see. Primoz and Aljaz were two of the best guides we have ever had on a hiking trip. They greeted every activity with enthusiasm and big smiles. We felt like we were traveling with friends instead of with a tour group. Paul and I have done about 20 small group walking/hiking trips and this was one of our favorites."
"Thank you so much for your wonderful communication
and attention to detail in planning our trip to Slovenia. John and I LOVED our hikes with Bostjan and Barbara! Every detail: the accommodations, food, and personalized guided hiking trips, were EXCELLENT! We have been on many small tours around the world, but SLOtrips was the best organized, friendliest, and the best to get to know the local people and the hiking paths away from the tourist crowd. We really appreciated how diverse each day and hike was planned; we felt we experienced so much more than if we had tried to see Slovenia on our own. The days were FULL, but never rushed. We were challenged to hike up to spectacular views, but always at our pace. I honestly loved every day and wouldn't change a thing! We are enthusiastically recommending SLOTRIPS to our traveling friends to experience the authentic, BEAUTIFUL Slovenia. It far exceeded our expectations."
"We could not believe the effort Miha went to make our trip to Slovenia so amazing.
He responded quickly to emails and put together an itinerary that showed he understood exactly what we wanted out of our trip including amazing food, comfortable accommodation and hiking in the Slovenian alps. We could not have done the hiking trip without Miha's careful instructions for each day of the walk as the walks were not as well marked as what we had previously encountered. Plus, SloTrips organised all of our accommodation, transfers of our bags each day and rafting and sightseeing on the final day. Again, our guide's knowledge of this beautiful country and the best place to stop for fresh cherries was incredible. Thank you so much for a wonderful travel experience, Slotrips is truly a company that understands the traveling preferences of the future - autonomy and adventure with the right amount of guidance so you can navigate a place for yourself and don't get trapped by tourist gimmicks."
"We had an excellent experience with SLOTRIPS for our self-guided tour in Slovenia.
Miha was really accommodating from the beginning in trying to set up a self-guided tour for us with our two 9 year old children. We wanted to see Slovenia and also wanted some adventure along the way. The trip started with some hut hiking in Triglov National Park and then made our way down to Piran with adventures in the Soca River along the way. We met with Miha in the beginning of our trip and everything he had for us was well planned and organized. Along the trip we were able to easily contact him if there were any problems or if wanted some advice along the way. Thanks Miha and SLOTRIPS for a great adventure in Slovenia! We hope to come back someday!"
"My wife and I were looking to see the highlights of Slovenia
in 5 days before moving on to Croatia. We worked with Miha, giving him our interests, must do activities, locations etc. Miha and team put together an exceptional itinerary, even making suggestions for the Croatia part. The tour guide for our trip was Domen. Domen was incredible throughout the whole trip making accommodations and taking us more adventures then we thought we would see. His local knowledge, stories, and great taste in food made for a vacation we will never forget! Will not hesitate to use Slotrips on our next trip to Slovenia (we will be back!) and will personally recommend them to any friends who visit."
"I really really loved the hike!
Although challenging at some times, the beautiful scenery made every bit worth it. It was nice to have Aljaz to lead the way and tell us facts and myths about the Julian Alps, such that we only had to think about enjoying every second of it. At first I thought of doing the hike alone, but I am so happy I didn't. The vibe in the group was really great, I love how diverse a group can be and still really bond over intensive thing such as this hike. Definitely would (actually already have) recommend this to anyone who loves hiking! Furthermore, I wanted to say thank you to you. It was amazing how quick you are to respond to mails and questions every single time. All in all, this trip was probably one of the best ones I have ever been on. I truly truly loved it. Thank you so much!!"
"We asked Miha to help us manoeuvre the Slovenian Alps with minimal exposure to civilisation,
and we could not have been happier with the choice. Miha solved all logistical concerns from maps with alternative routes to safety equipment (we were skeptical at first, but learned to appreciate it!) to daily phone calls on the weather forecast. One tip: As we found Slotrips on Google we continually stressed that we were in very good shape because we feared the route would be too easy. We got what we asked for! It turns out very good shape for an avid mountaineer is indeed very good shape - but ultimately it lead to a highly rewarding experience in magnificent surroundings. We give the highest of recommendations to use Slotrips to plan any trip.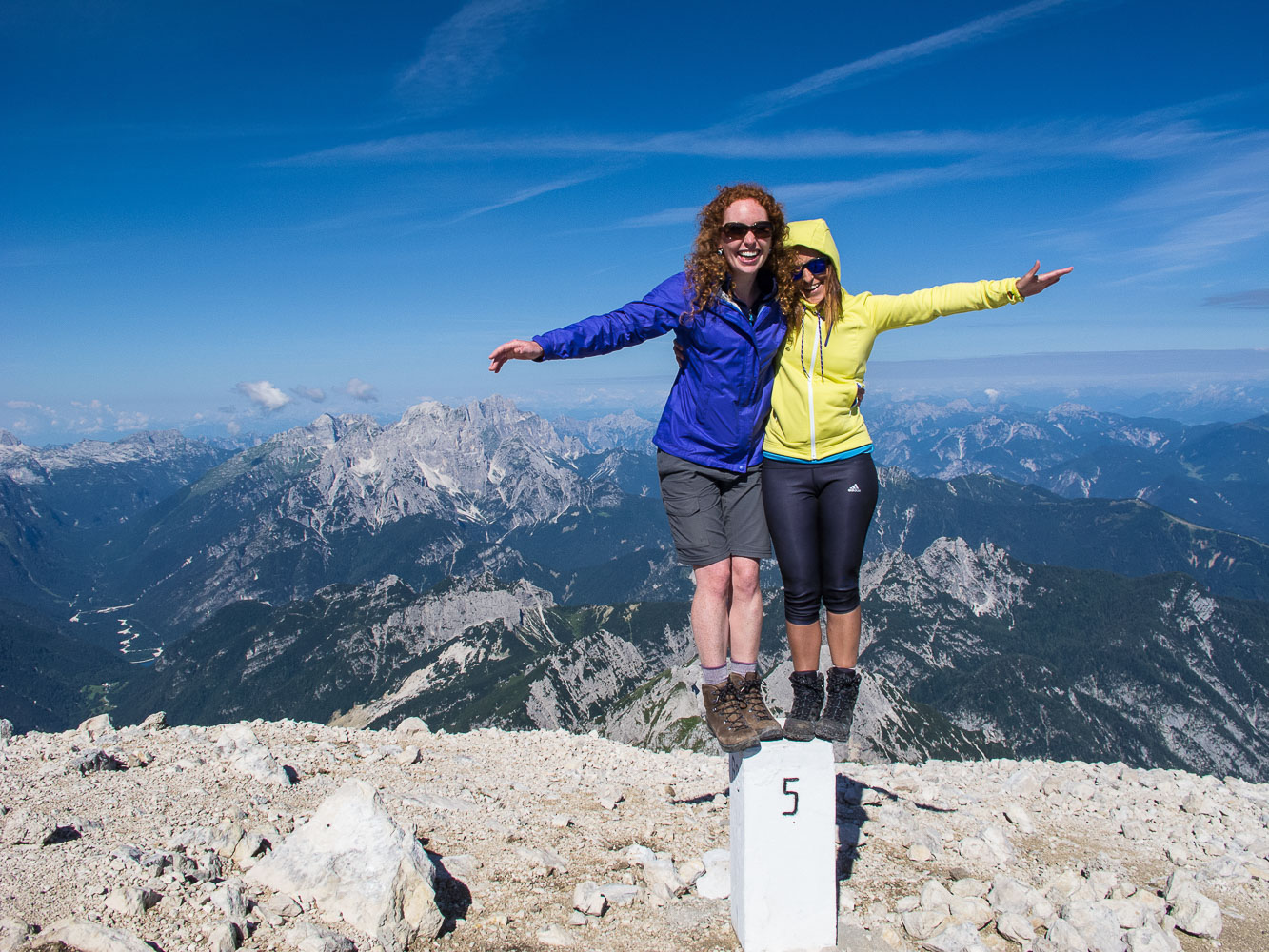 "I booked the 8 day hiking trip with Slotrips as I had little experience hiking alone
but and I felt this was a great way to gain some experience. I gained more than I could have imagined!! This was an incredible trip for me and it is all down to Miha and his team at Slotrips. From the first email Miha was prompt, positive, understanding and professional and Miha turned out to be the very same in person. He gave us the best of everything from the food to the hiking to the accommodation to the fun to the knowledge of the areas. His passion made our experience unforgettable. Miha looked out for everyone so well and he thought of everyone in that he adapted the hikes according to who was on the trip. Miha speaks English and Spanish fluently and he gave our group a great insight into the Slovenian way of life. We did so much swimming in lakes, rivers, waterfalls. We saw incredible views on our various hikes. We ate amazing local food especially as we came down from the mountain in local sheppard huts. We stayed in excellent accommodation (the mountain huts are actually very cosy and comfortable!) Everything we did was of the highest standard. It's going to be difficult to do an organised trip again as Miha has set the bar very high and I don't think others tours could match this one! Don't second question whether to book a trip with Slotrips as I can guarantee you won't be disappointed."
"I absolutely loved the trip
and thought Aljaz was an OUTSTANDING guide, he was knowledgeable, patient with us when we were disorganized, respectful and skilled at calming some of us down when the hiking was difficult or nerve-racking. Also, need to add an incredible driver, that inspires confidence on those crazy roads. The guy is a prince among men!!! Beyond Aljaz, the itinerary, accommodation, food, transfers, everything was top notch, better than i hoped. I really want to thank you for a fantastic week. Honestly, I can't think what i'd change. It was a perfect introduction to all the amazing places you have in Slovenia. I am happy to write a review of on trip advisor or your google page or whatever site you use for marketing, just send me the link. I definitely want to come back with some friends, maybe design our own itinerary. Personally, I love the hut-to-hut part especially and understand you can do that for longer routes thru the Julian Alps and/or Alpe Andria trail. I'll definitely reach out to you about that when I'm ready. Warm Regards, Susan"
"We booked a 7-day discovering & hiking trip through Slovenia, which was customized to our wishes by Slotrips.
From the communication prior to the trip, the guidance during the trip, the transportation from/to the airport up to the transfer of our luggage from accommodation to accommodation, everything was just organized perfectly!!! After receiving the first suggestion for the trip, we were able to make suggestions and the level of the proposed hikes was adjusted to our level of fitness. Every day we hiked beautiful routes with amazing views! Thanks to the navigation via offline apps, where routes were preprogrammed by Slotrips, finding the way was easy. Daily hikes were complemented by bike rides, for which top-quality mountain bikes were provided. Accommodations varied from simple, but comfortable mountain huts to modern hotels, as we asked for. Every morning, we enjoyed a wonderful breakfast; for some accommodations also dinner was included. We were never disappointed and in one very remote accommodation we even tasted one of the best artisan riesling around! When ever no dinner was included, we could choose from a list of local restaurant recommendation. In summary, we went to bed every single evening with a smile, thinking about the hiking adventures of the day and the good food and drinks in our stomach. We will for sure come back and again rely on Slotrips to organize an unforgettable holiday!"