Slovenia is a year-round travel destination. There are always a ton of exciting things to do and every season has its pluses and minuses. However, when you go hiking, you have to consider several different factors to choose your best time to hike in Slovenia. And no matter when you choose to hike & travel in Slovenia, make sure your trip is safe and enjoyable. We've prepared an overview according to seasons and typical periods. You'll learn about different hiking regions, temperatures, rainfall, snow level, what we recommend regarding the gear, and much more.
Let us know in the comments below if we are missing something and we will be glad to add it!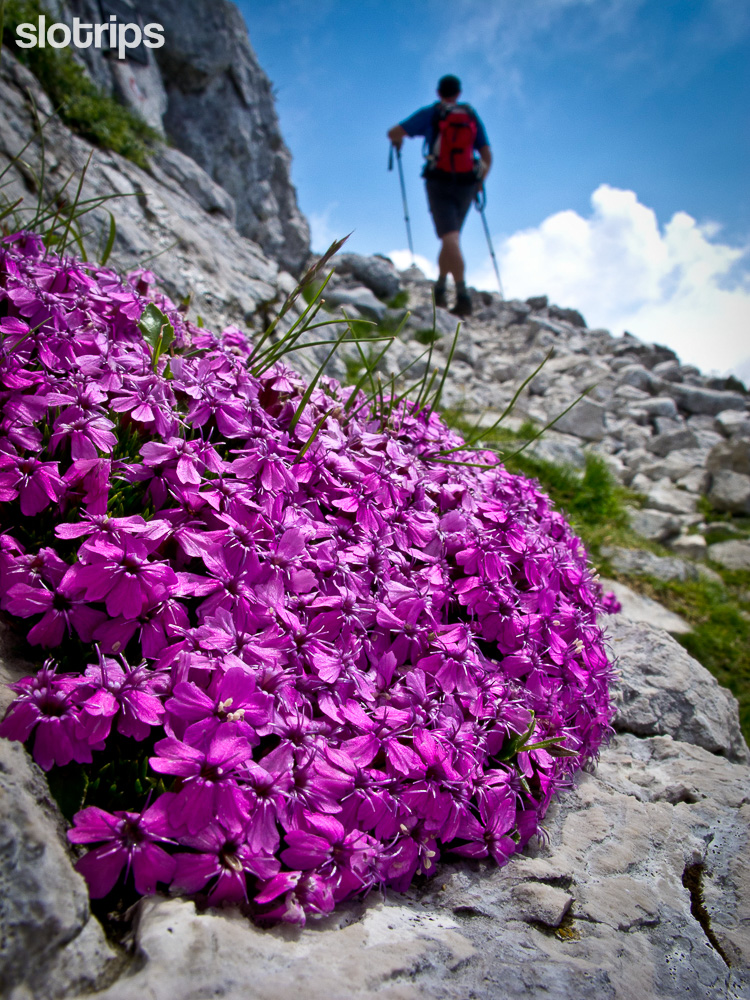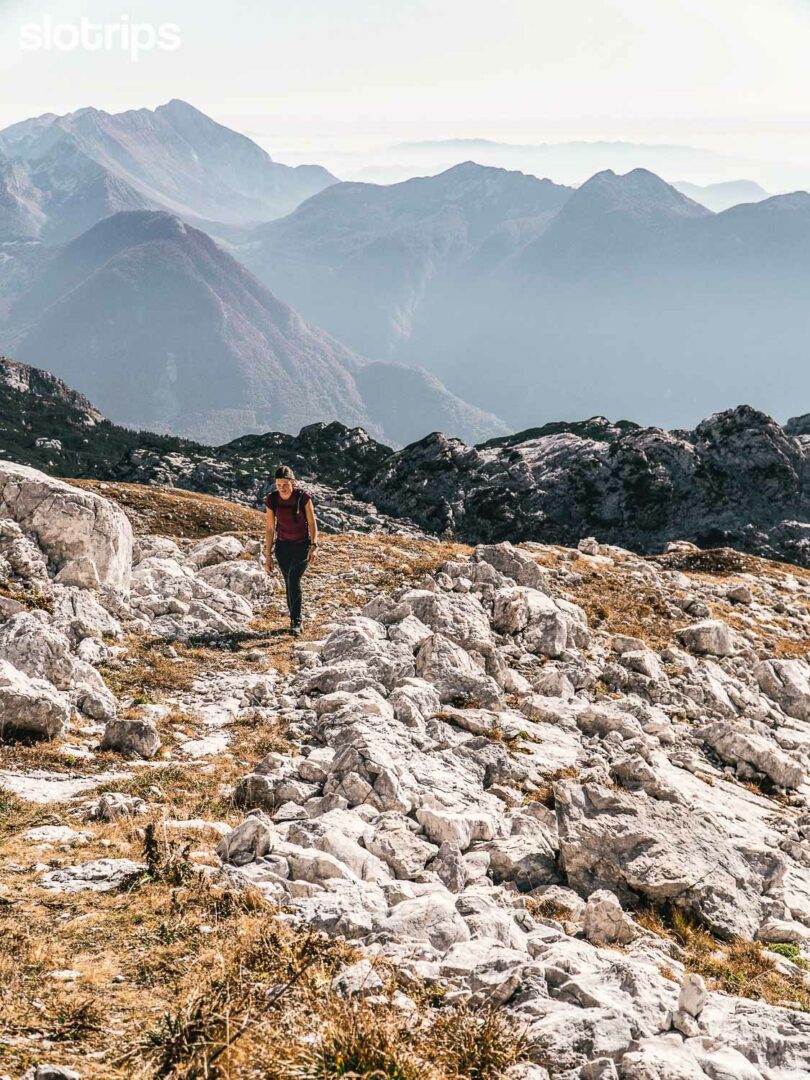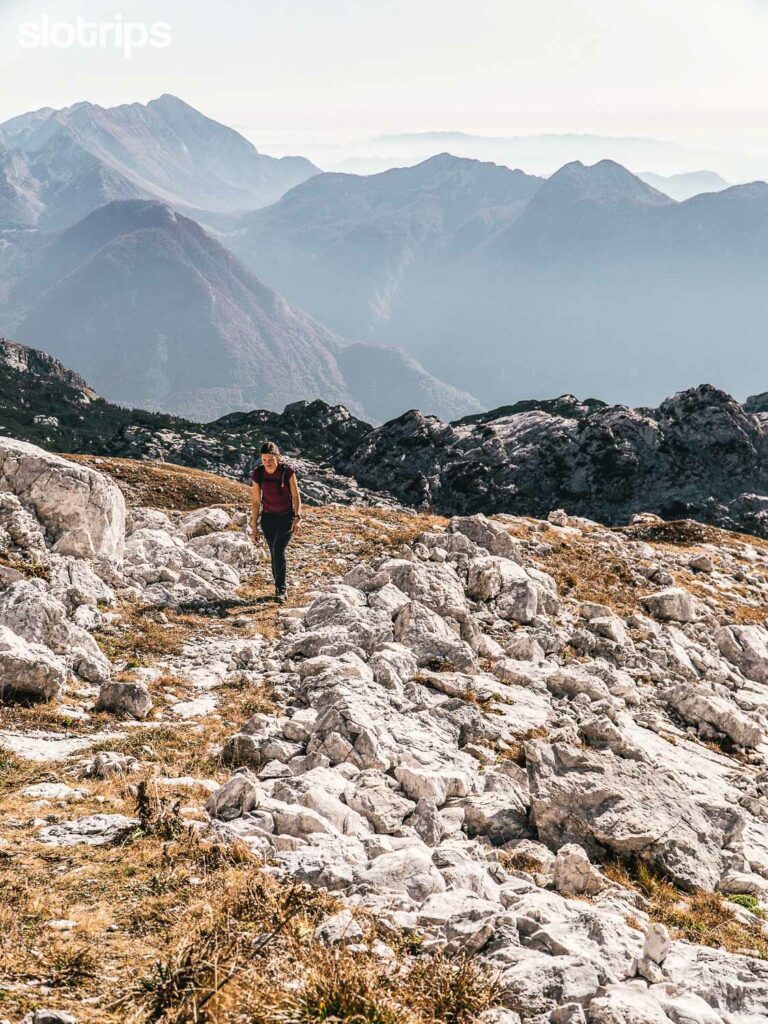 Hiking weather in Slovenia in a nutshell
The dry (no snow) hiking season starts in Spring. MARCH & APRIL are pleasant months for hiking in the Slovenian coastal region or the wine regions of southern Slovenia. Usually, the mountains above 1,000 – 1,300 meters are still snow-covered.
MAY & JUNE are great. Not too hot and not crowded. It is warm all over Slovenia, but the highest peaks are usually still covered with snow. The days are long and the mountain flowers are blooming.
JULY & AUGUST are the peak hiking months for high alpine hikes in Slovenia. Most of the mountain huts are open and the air temperatures are high enough to swim in Slovenia's beautiful rivers and lakes. It is too hot to hike in the coastal region.
SEPTEMBER is very pleasant for high alpine hikes, but evening temperatures in the high mountains can come close to freezing. It is a great month to hike at lower altitudes as well. It is harvest time in the wine regions!
It gets colder in OCTOBER, but the fall colors are at their best. Mountain huts are mostly closed, but it is still a great time for alpine day hikes, long-distance valley walks, or subalpine hikes. It is still very pleasant in the Slovenian Istria, Karst, and the wine regions.
To be honest, NOVEMBER is the dullest month in Slovenia. But you have chances for pleasant days in the south-eastern part of Slovenia. 
Winter starts in DECEMBER and usually shows its real face in JANUARY and FEBRUARY. It is a great time to do snowshoeing, backcountry skiing, and some real winter hiking in the Slovenian alpine region. In other regions it is not the best time to hike.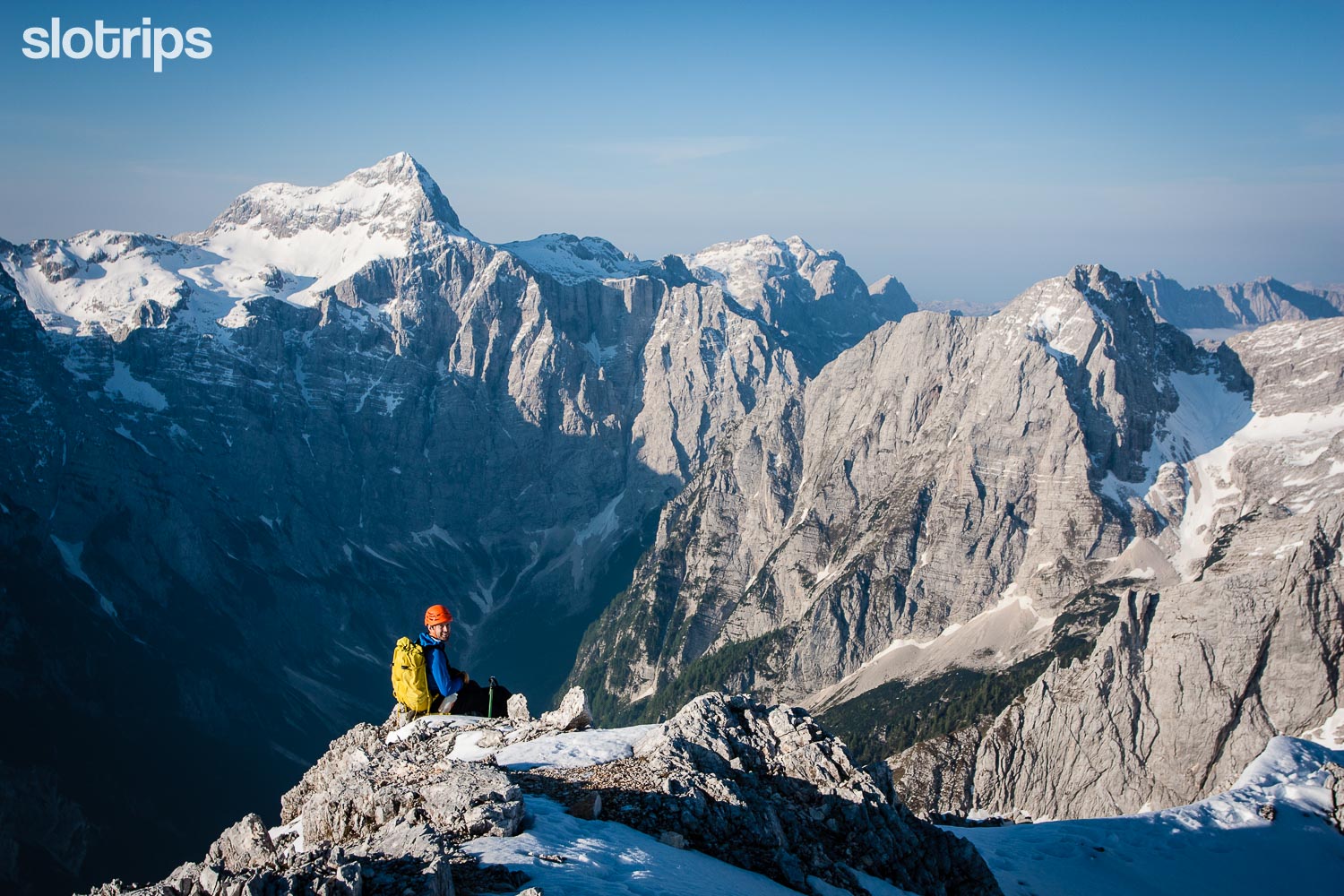 HIKING OPTIONS IN SLOVENIA AND CLIMATE CHARTS
Although Slovenia is a small country, due to the varied terrain, the climate is also quite varied. There are at least three climatic zones:
Continental: In central & eastern Slovenia, with hot summers and rather cold winters.
Mediterranean: By the sea and its hinterland with mild winters, humid spring, otherwise long periods of sunshine and hot weather in summer.
Alpine: The north & north-west of Slovenia with warm, sometimes even hot temperatures in summer, and cold winters with a lot of snow in the highlands, as well as with substantial rainfall. Which doesn't mean you can't have a long period of beautiful weather in the Slovenian mountains.
Based on the climate and snow level in a particular region, we will present 3 different options for hiking trips in Slovenia and the best time to do them. Check also the very useful information in the climate charts below to see average temperatures, days with snow at different elevations, and much more.
1) HIGH ALPINE HIKING & TREKKING
The best time for multi-day hiking in Slovenia's high alpine areas is from late June until late September.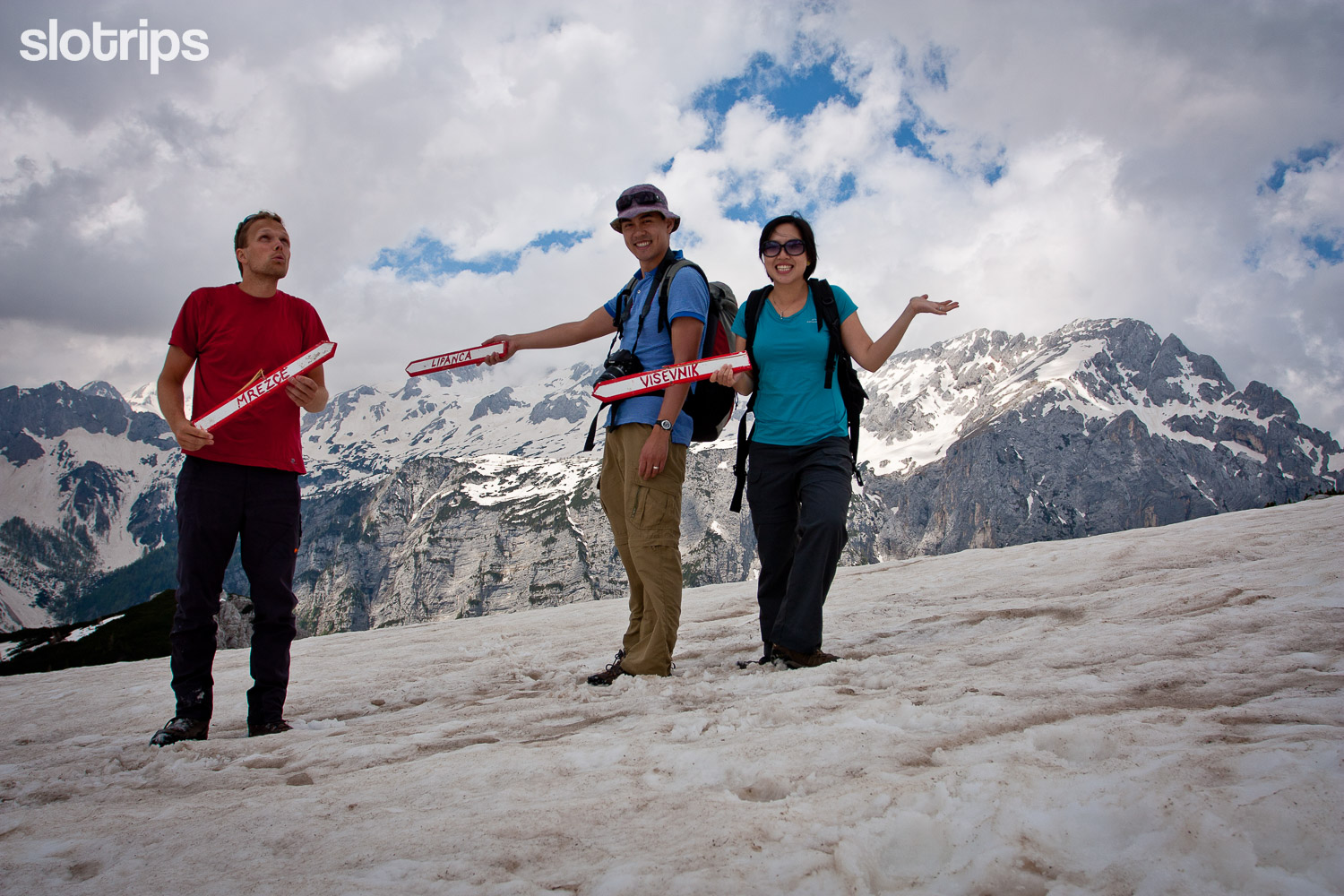 Our three high mountain ranges, the Kamnik-Savinja Alps, the Karavanke, and the Julian Alps are not extensive in area, but they are nevertheless large (and high) enough to often have their own weather. Stubborn mists can be entangled around their highest peaks in the morning, which can steal your most beautiful views, but are not otherwise harmful.
You should be especially alert on a hot summer afternoon, when you can be surprised by fast-boiled storms, in recent years sometimes with hail even at 2,000 meters. Of course, you wouldn't want to meet these anywhere in the open or on the ridge. So it's wise to have a look at the sky a little bit all the time and control what's going on. That's the main reason why Slovenes traditionally go to the mountains extremely early. We are at the starting point of our hike between six and seven in the morning and start descending from the summit early in the afternoon.
There are few days when you can correctly predict the developments of that afternoon based on the morning weather, so just be curious. Caretakers of the mountain huts will be able to serve you also with the most credible daily forecasts. Especially in the huts around Mt. Triglav, as Triglavski Dom na Kredarici mountain hut is the highest weather station in Slovenia, where experts get information for forecasts for the entire country, and particularly for the mountain world.
And when it comes to high-altitude huts: these are usually open from late June until the end of September, depending on the weather and possible early snow. You can experience the latter in shady places even in early summer, so find out before the trip about possible snowy sections and how to avoid snow in tricky areas. To hike with full peace of mind, take one of our guided hiking tours.
Climate chart: Weather station at Triglavski Dom na Kredarici mountain hut (Julian Alps, Slovenia).
Elevation: 2,514 m / 8,250 ft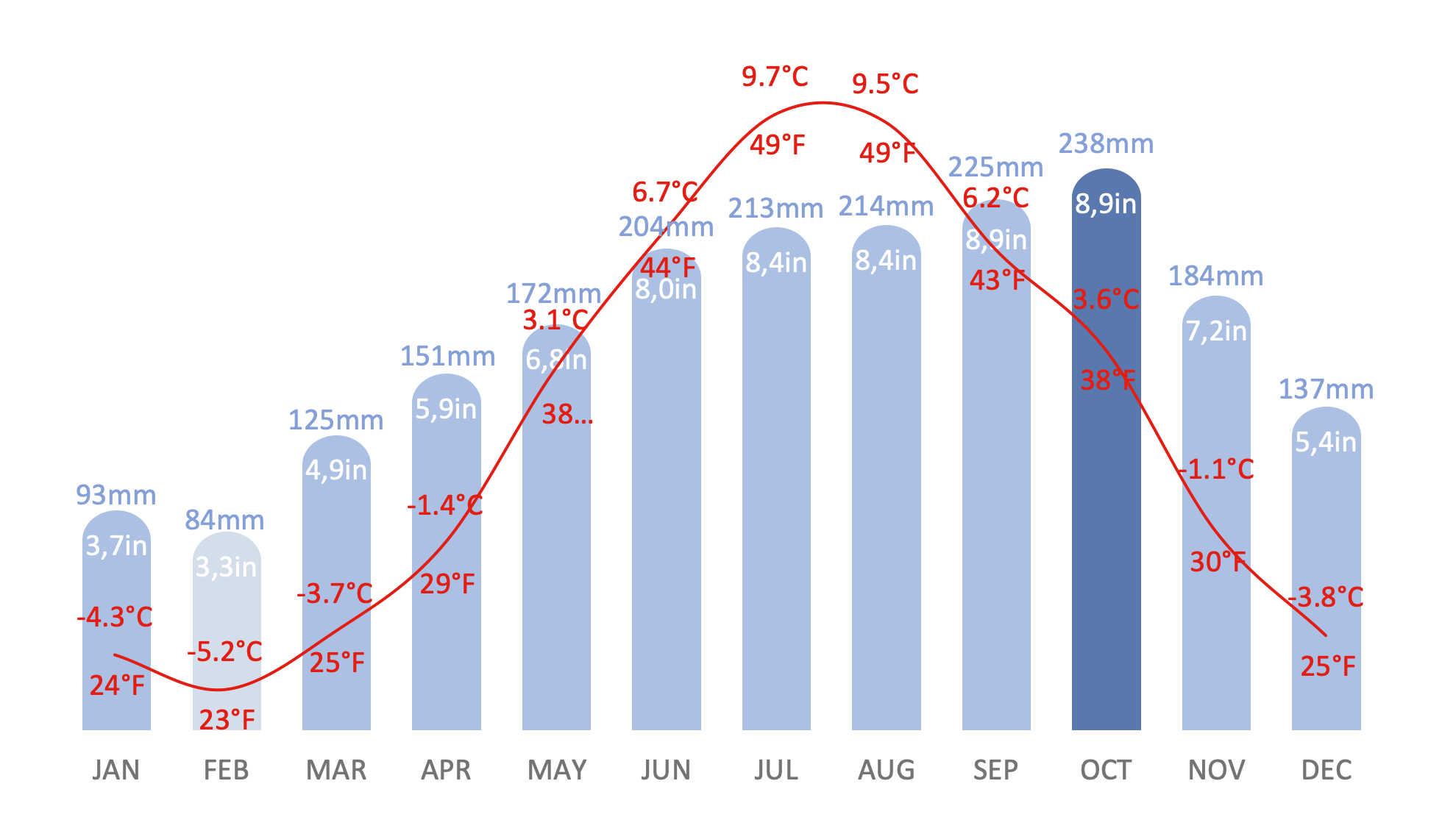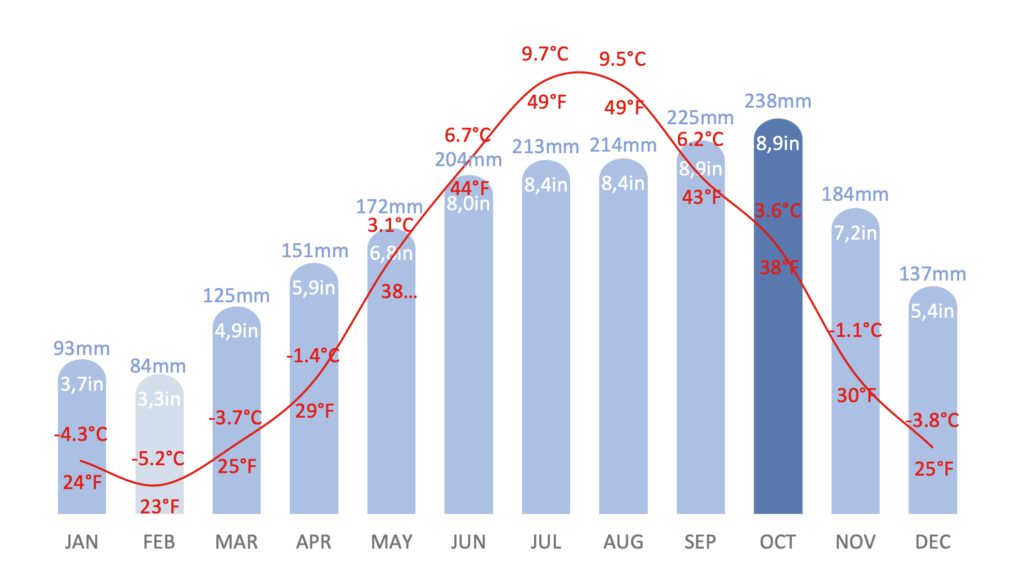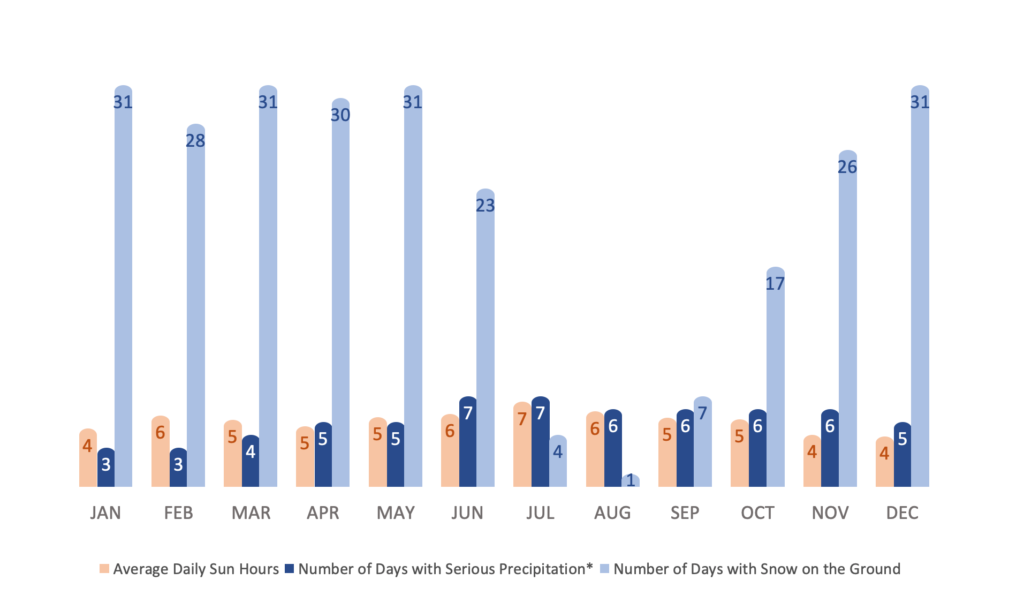 *Serious precipitation in the diagrams above and below means at least 10 mm (0.4 in) of rainfall in a day.
2) HIKING AT MODERATE ELEVATIONS
Skipping Slovenia's highest peaks, you'll have a great hiking holiday anytime between May and October.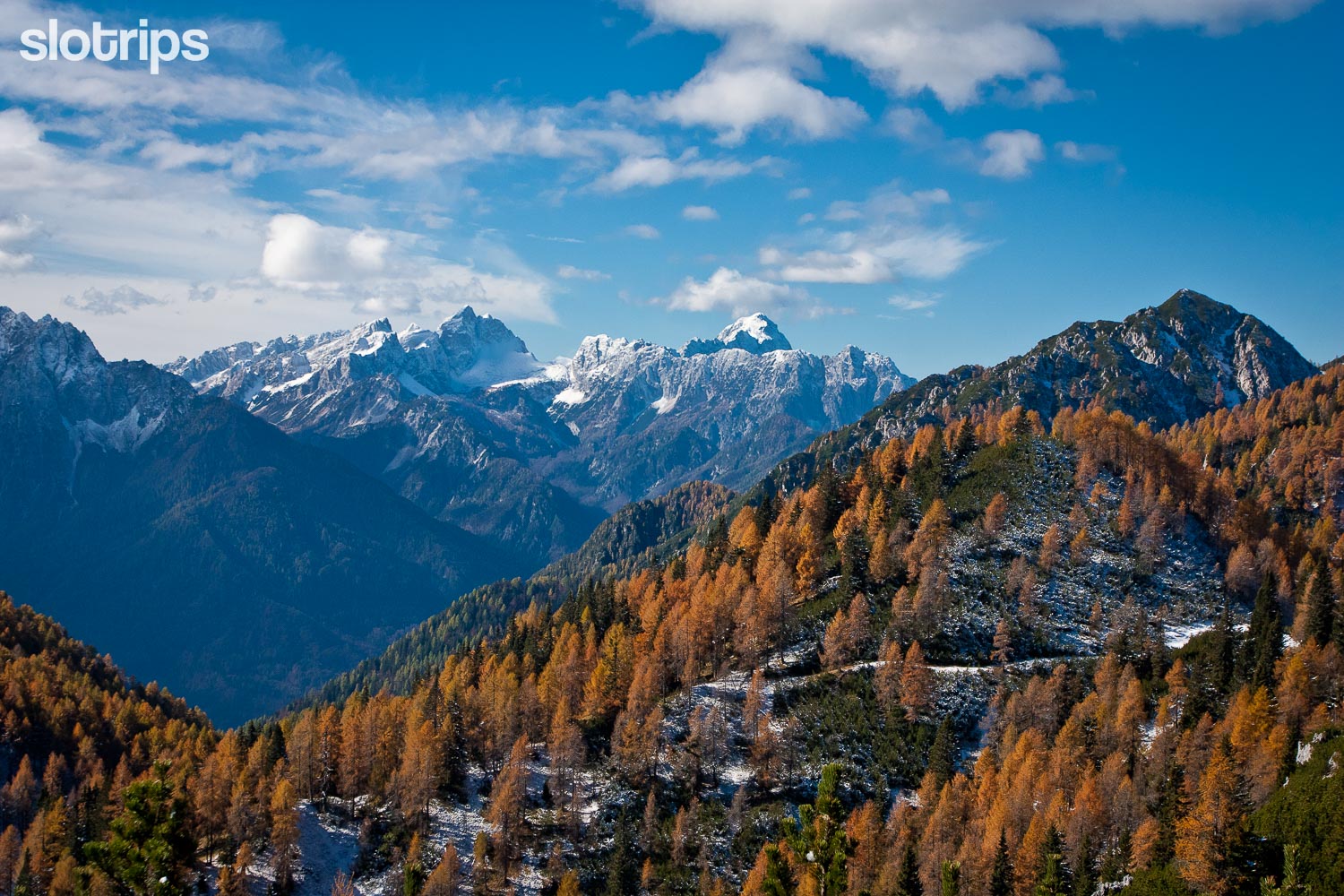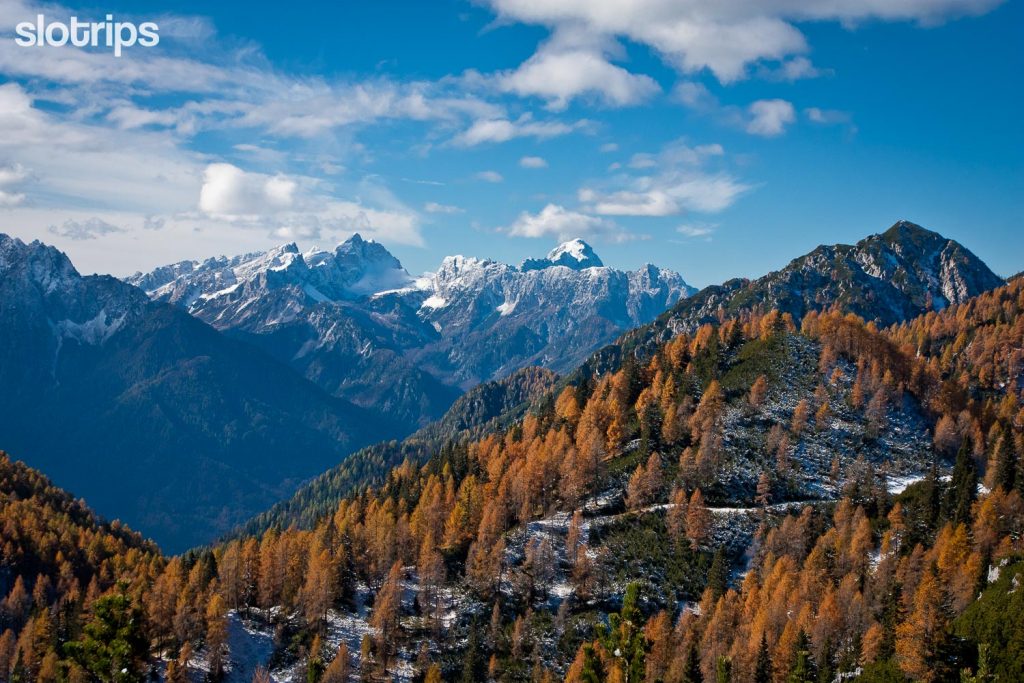 When I say "moderate elevations", I mean hiking up to the treeline, which in Slovenia means up to approx. 1,600 m / 5,250 ft. You are hiking in lush green forests, stunning alpine valleys and enjoy magnificent views of the highest Slovenian peaks. You can expect more or less the same weather as in the higher world, but with higher temperatures and less snow.
The Juliana Trail and the Alpe-Adria Trail are a great choice if you are looking for a multi-day point-to-point walk. To hike the most beautiful sections of both trails, take our Best of Alpe-Adria & Juliana Trail self-guided hiking tour. The best time to do it is between May and October. If you're into the flora, you shouldn't miss the end of May or June, when flowers bloom just everywhere and you can directly feel the awakening of nature.
If you don't like the heat (or more fellow hikers) you should choose May or June plus September or October. July and August can get quite hot, but since most of the trails lead through forests and valleys and along rivers, it's nice to hike them both on sunny, hotter days, and even on rainy days. The peak summer months (July & August) give you more chances for refreshing swims in the beautiful rivers and lakes that you'll pass on your hiking trails.
Generally, the hiking trails are not as exposed below the treeline and in case of a shorter storm or shower, you can easily find shelter. Winds are not that strong so on rainy days you could also walk with a folding umbrella in one hand. Caution: you can encounter some snow in May or October. The 30-year average predicts about 4 days of snow in May and 3 days of snow in October (at elevation 1,740 m / 5,700 ft).
Climate chart: Weather station in Ratece (close to Kranjska Gora in Slovenia's north-west corner).
Elevation: 864 m /2,830 ft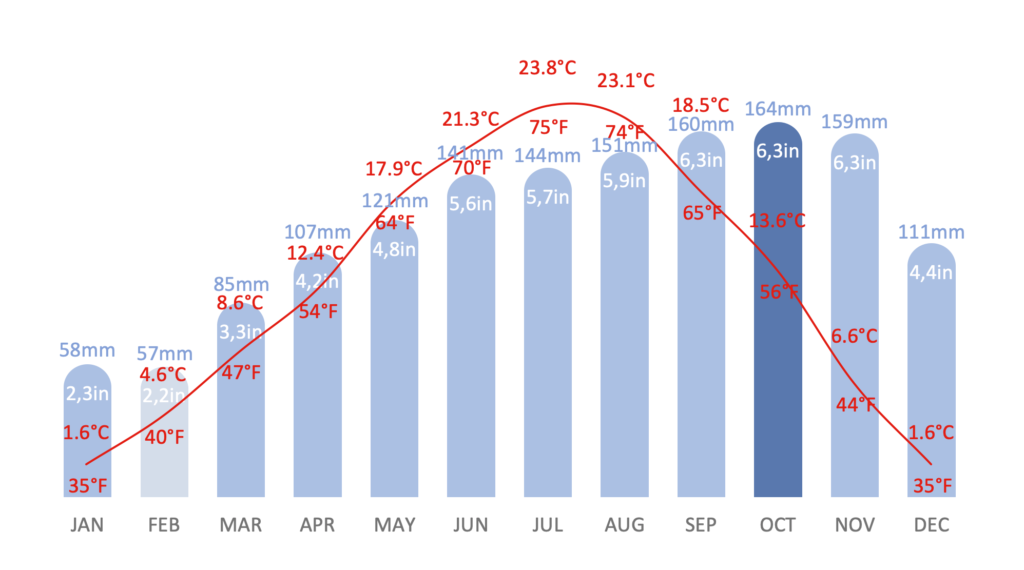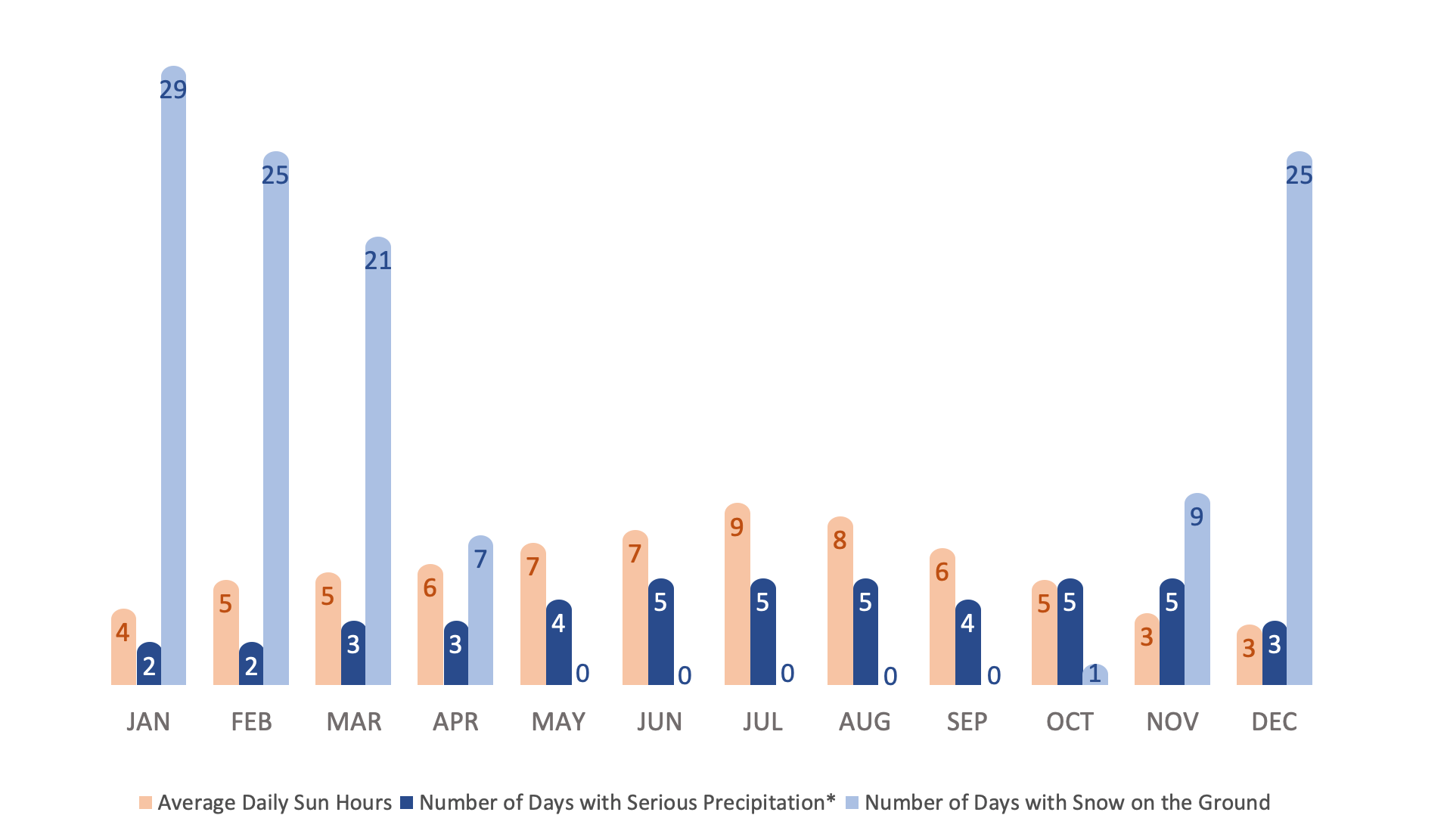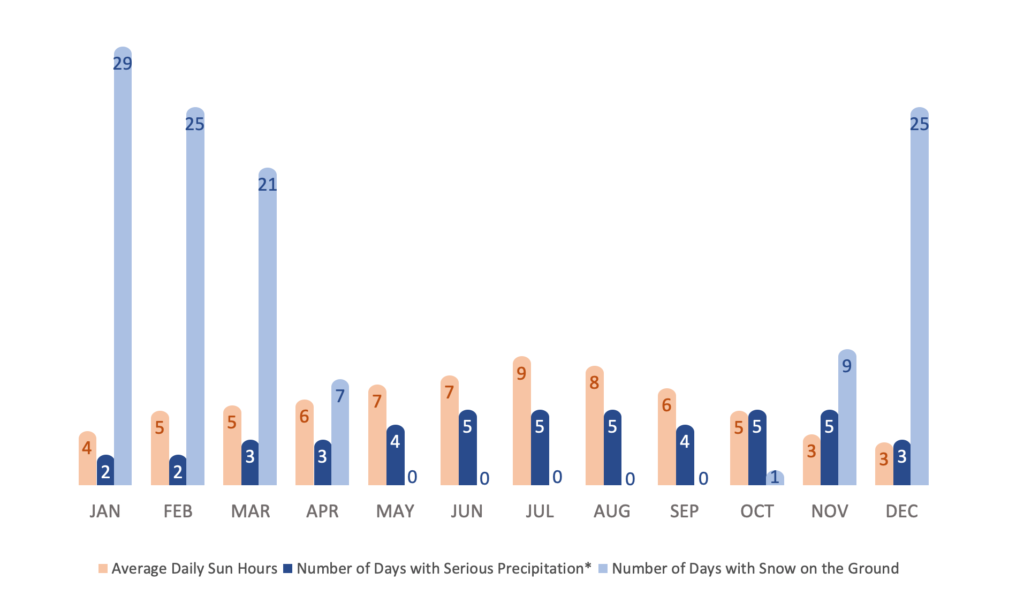 3) HIKING IN SLOVENIAN WINE REGIONS
Spring and fall are exceptional seasons for hiking in Slovenian wine regions, including the Karst and Slovenian Istria.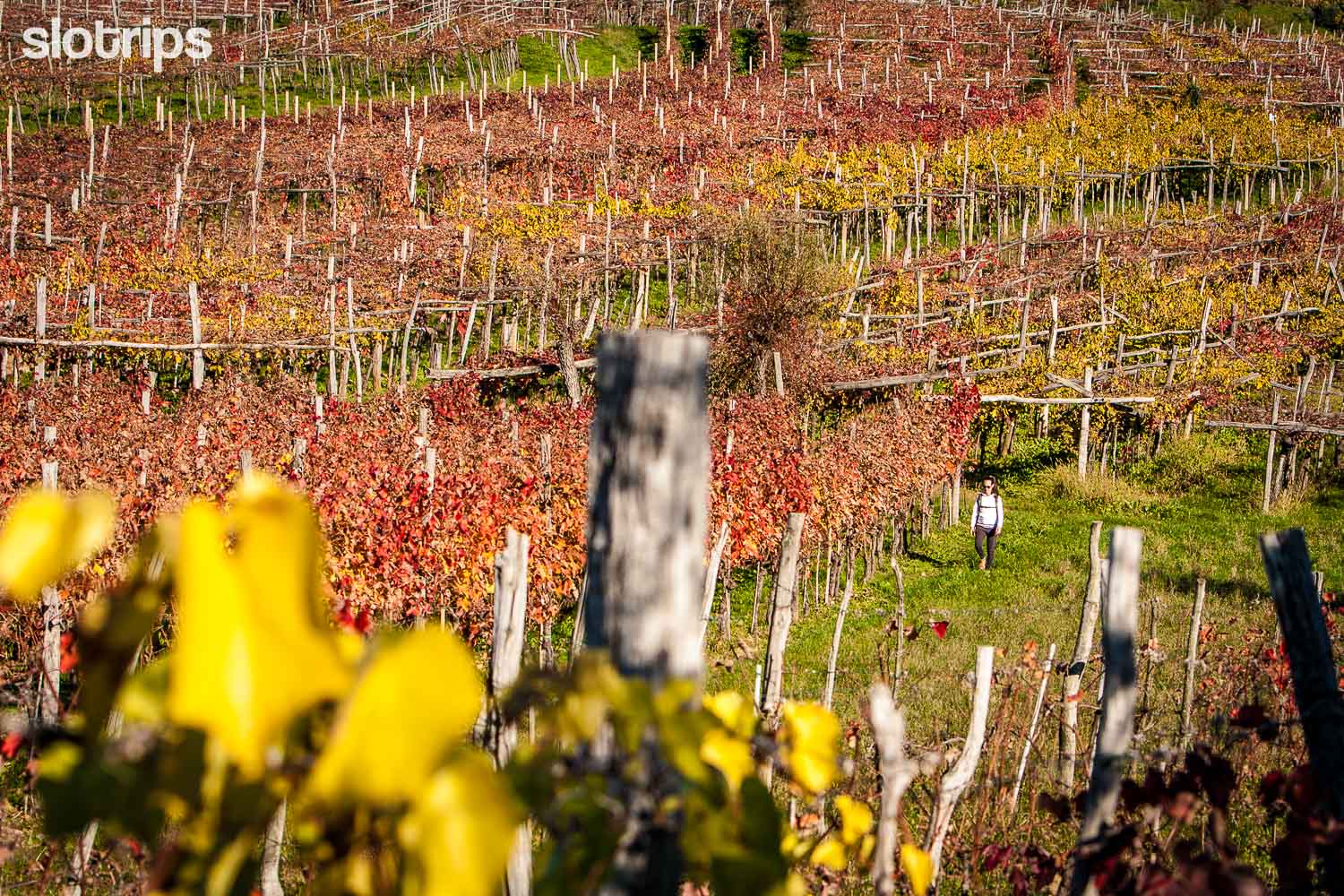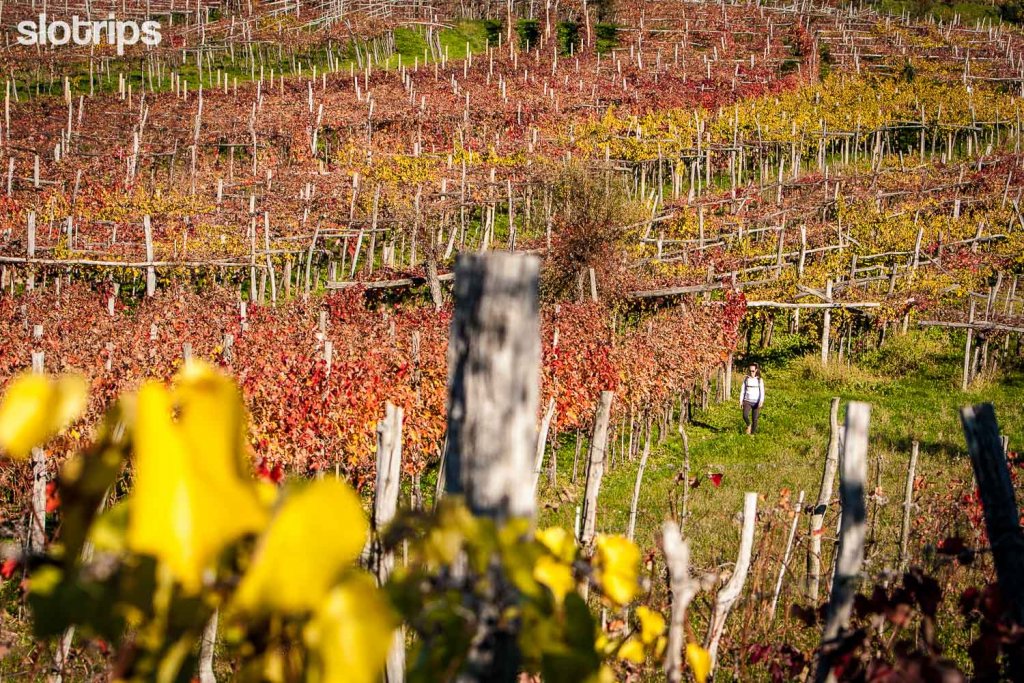 Hiking through never-ending Slovene wine regions and the coastal belt is in general very pleasant throughout the year. But you will especially enjoy it in spring and fall. If you're there during summer, from end of June till end of August, expect hot mid-day temperatures and mostly dry weather. Stronger winds can substantially ease the feeling of heat – anyway, always bring enough liquid with you.
If you hike in early Spring or late Autumn, the same winds can add to not that pleasant chill factor. Although parts of trails will lead you through nice pine or other forests, hiking through villages and vineyards demands proper sunscreen. In case you get caught by a summer storm, you can wait till it goes by, they don't last long. Showers cool down the air and sometimes it's even nicer to walk after rain. 
Slovenian Istria and Karst region are usually not the main regions you would think of when planning your hiking trip to Slovenia. But the gentle hills, traditional villages, endless vineyards, and amazing food are just some of the ingredients for an unforgettable hiking trip. Here is our suggestion.
Climate chart: Weather station in Tomaj (Karst plateau in south-western Slovenia).
Elevation: 320 m /1,050 ft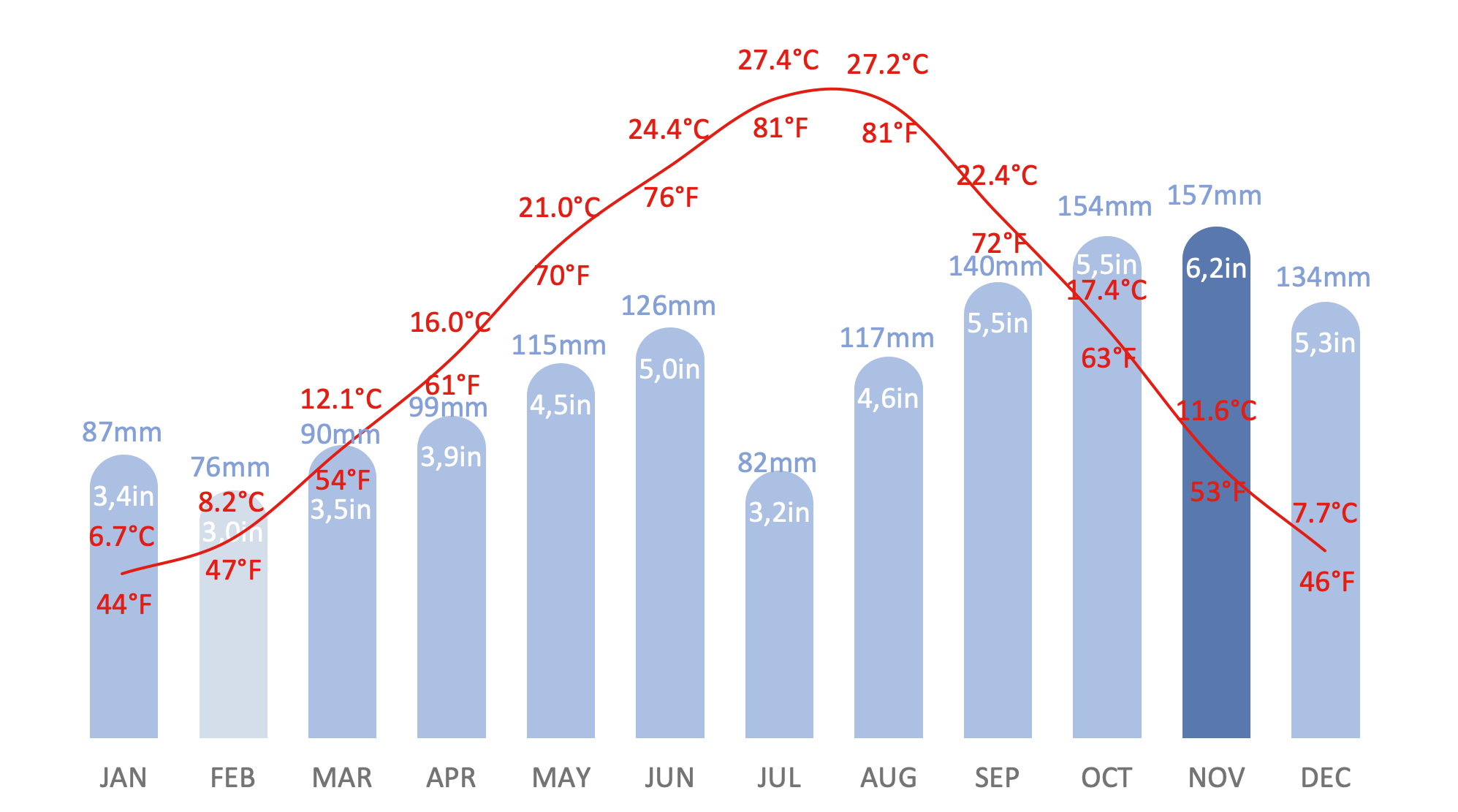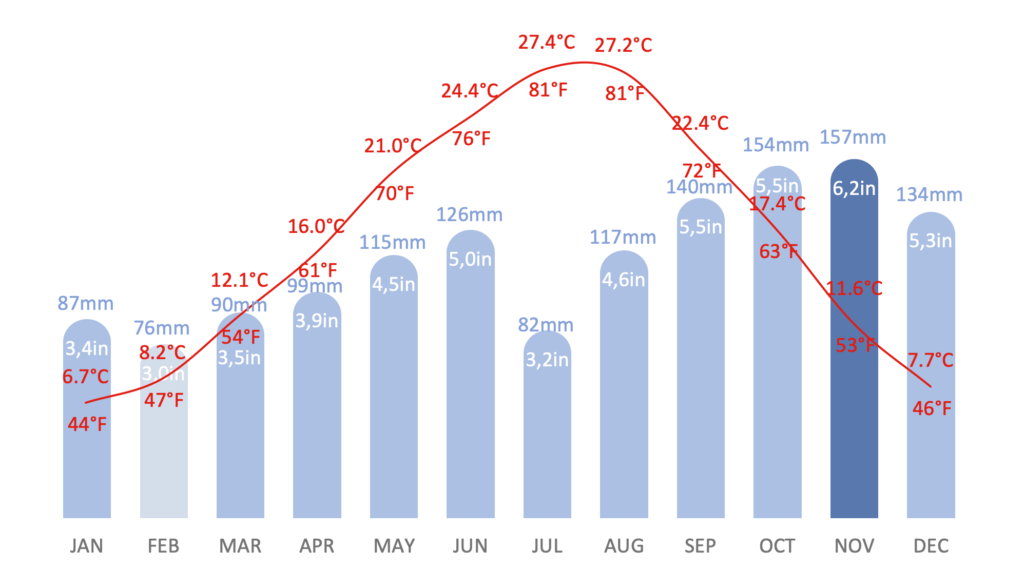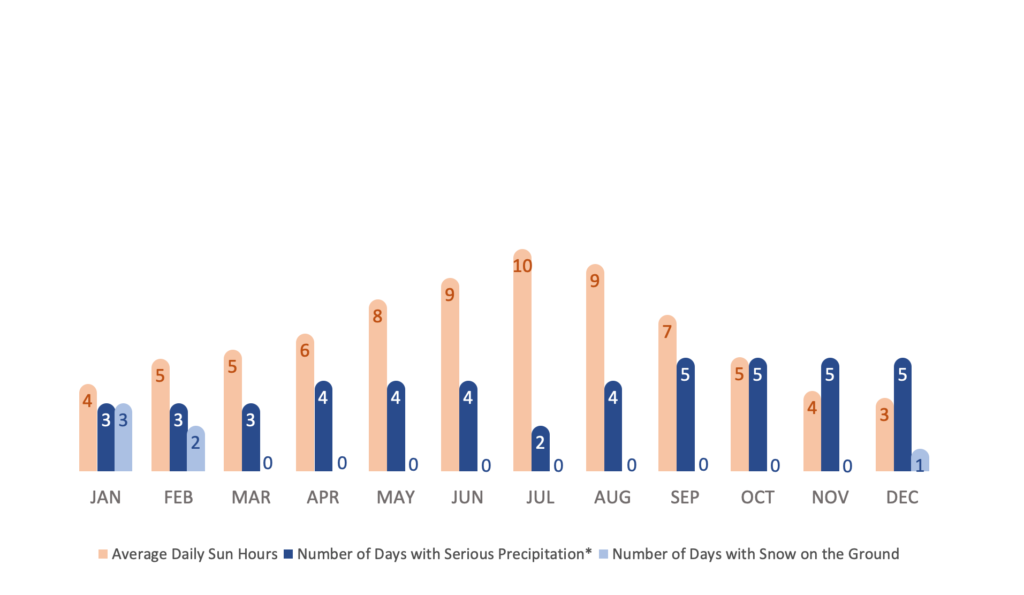 If you are a fan of ski touring, ice climbing, and classic winter tours, then this is definitely your period. The average temperature in the country drops to about -2 °C in the hard winter (Jan and Feb). In the highlands, it is of course even lower, with wind extremes and chill factors also between 10 and 20 °C minus. December is still a bit warmer and your chances for seeing (or climbing) frozen waterfalls are lower. But in January & February, low temperatures in shaded locations are common enough for excellent ice and snow tours and ski touring.
Slovenia is a winter playground for experienced mountaineers and backcountry skiers. But also for everyone who would like to enjoy the winter fairytale doing beautiful winter hikes up to the tree line, snowshoeing off-the-beaten-track alpine meadows, and admiring the frozen waterfalls. If you are lucky, ice-skating on Lake Bled and visiting the lively Christmas market in Ljubljana.
For hiking holidays in winter, I recommend focusing on the alpine part of Slovenia. The conditions in the rest of the country are not ideal for hiking. Take our winter day hike or let us organize your tailor-made winter holidays in Slovenia.
DEC, JAN, FEB
Winter wonderland in alpine Slovenia. Hiking, snowshoeing, skiing & more.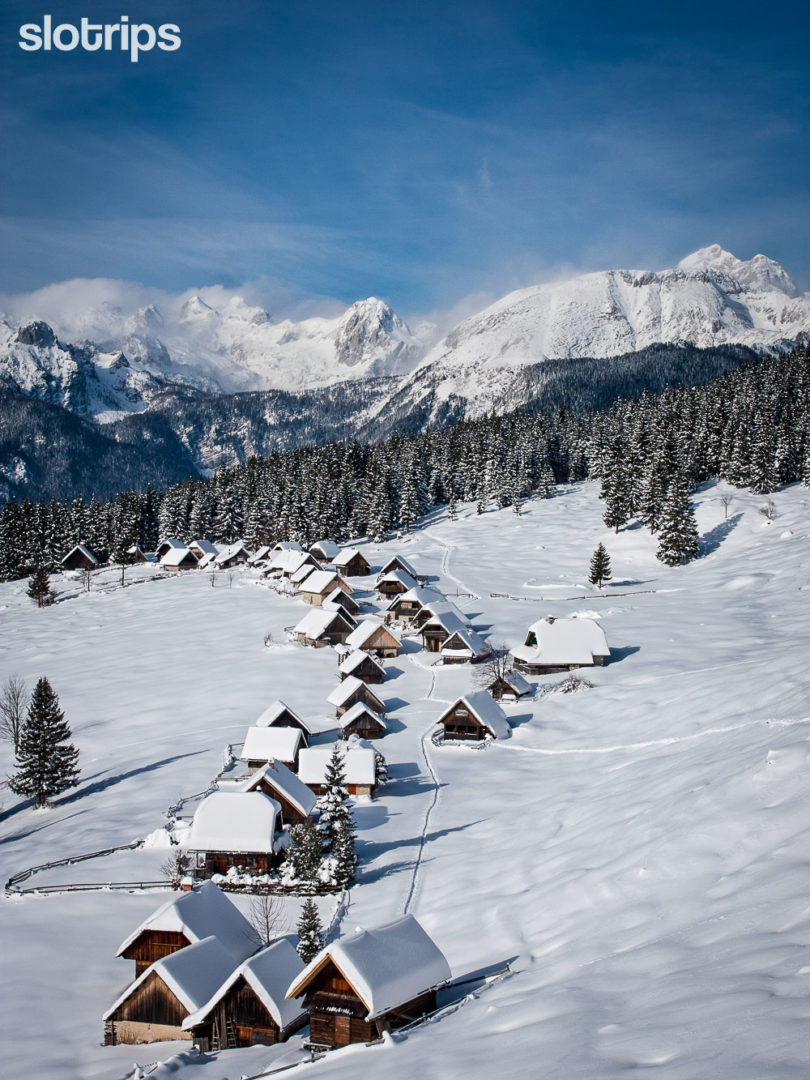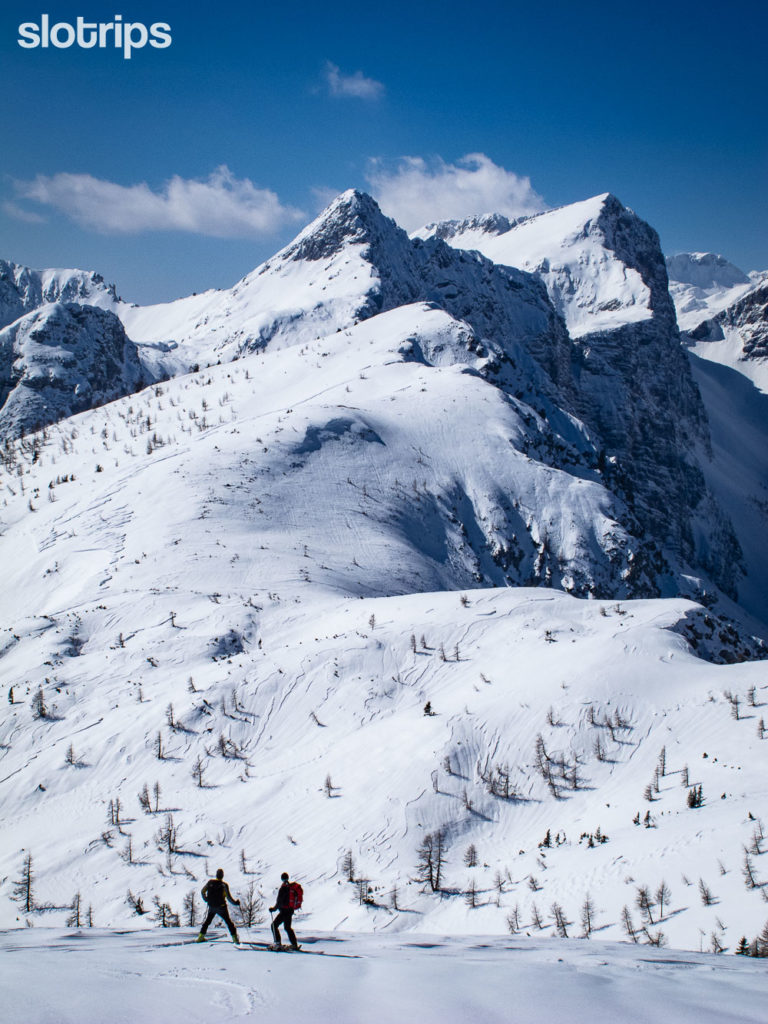 In March and April, it slowly begins to warm up all over the country. The alpine areas are still snow-covered and continue to offer opportunities for great winter hikes and spring backcountry skiing. Freezing night temperatures and warm daytime highs change the snow conditions on an hourly basis. Therefore you should choose your high alpine hikes with caution, start early in the day to avoid avalanches of soft snow, and don't forget your full winter equipment, including ice-axes and crampons.
If you are not a winter person, you should explore the beautiful wine regions of south-western Slovenia. Nature is waking up, fruit trees are blooming (March) & turning green (April), wild asparagus is on the menu and you have all the hiking trails completely to yourself. Check our Vineyards, Caves & Coast self-guided hiking tour.
The subalpine areas and alpine valleys begin to turn green in mid-April, which makes it a great time for active road trips, doing shorter walks and day hikes all over Slovenia. Do you need a custom-made itinerary with detailed hiking suggestions & instructions?
MAR, APR
Beautiful winter in the Alps & flourishing spring in south-western Slovenia.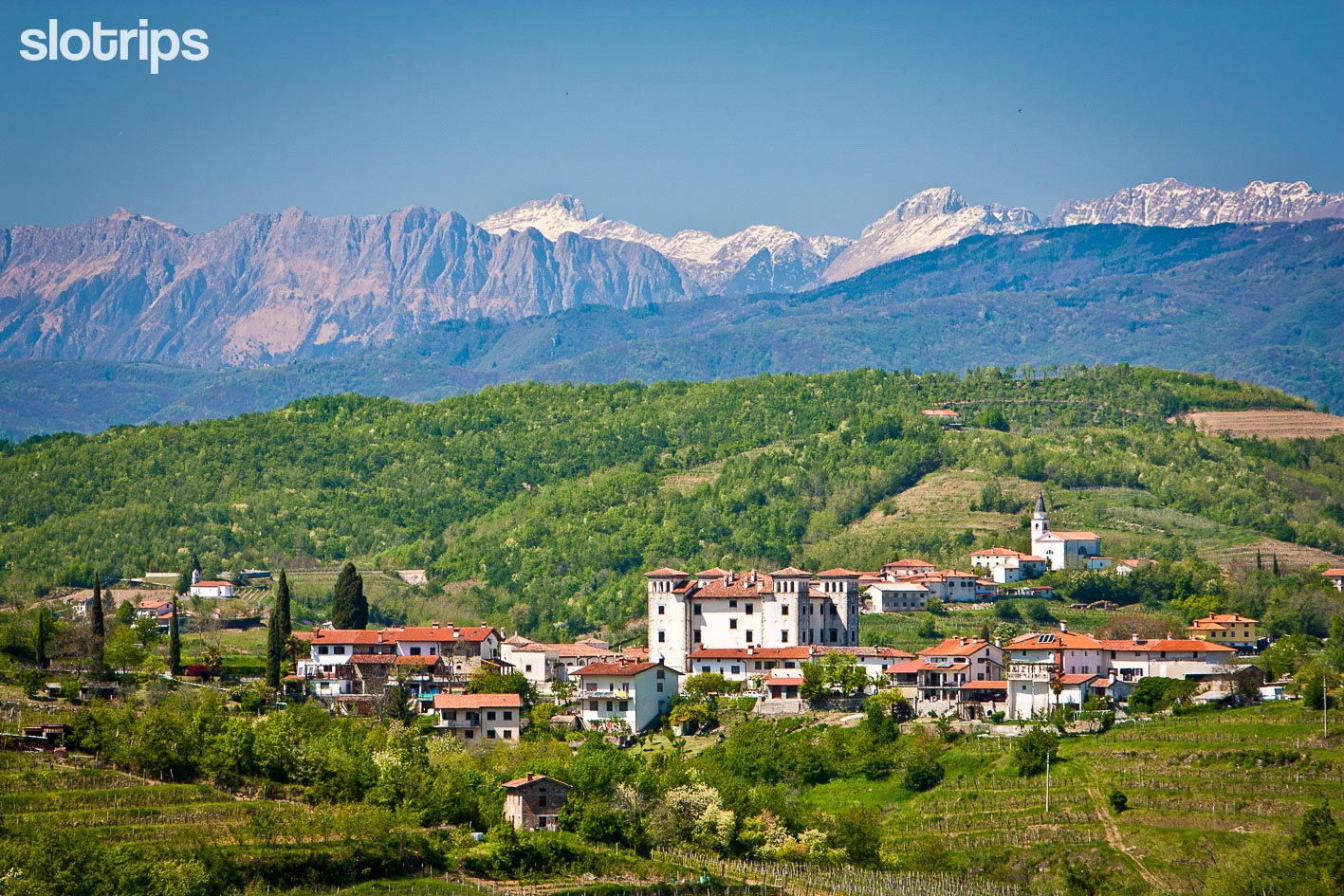 HIKING IN SLOVENIA IN MAY & JUNE (spring & early summer)
May & June are my favorite months for hiking in Slovenia. Nature is already waking up a lot and fans of all kinds of flowers will come to your account during this period. In the highlands and below 2,000 meters, you will be able to walk on densely intertwined carpets of mountain flowers in May and even more certainly in June.
Here we must mention the almost supernatural flowering of white daffodils in the Karavanke range. Particularly on the sunny southern slopes of one of the most popular hiking destinations of the locals, the lovely Golica peak above Jesenice. The visible effects of white – but not snow – all around are truly amazing!
More than enough green plant seedlings everywhere will fill your soul, and hiking is expected to be pleasant, as the heat is not yet felt. And of course, there won't be plenty of local hikers even on the otherwise most besieged paths. Except maybe on a beautiful, sunny weekend.
MAY, JUN
Hiking paradise all over Slovenia, except the snow-covered highest peaks.
May & June is a great time to walk the Juliana Trail or the Alpe-Adria Trail, as well as other subalpine hikes and the lovely wine regions all over Slovenia.
Most of the high alpine trails (above 2,000 m / 6,560 ft) are still under snow. The huts in the high mountains start to open in late June, which means that most of the main paths to them are passable. However, in shady locations, especially in corries, as well as on the slopes, you can still expect larger patches of snow until early July. Get informed about the conditions on the trails before you go and bring the proper equipment.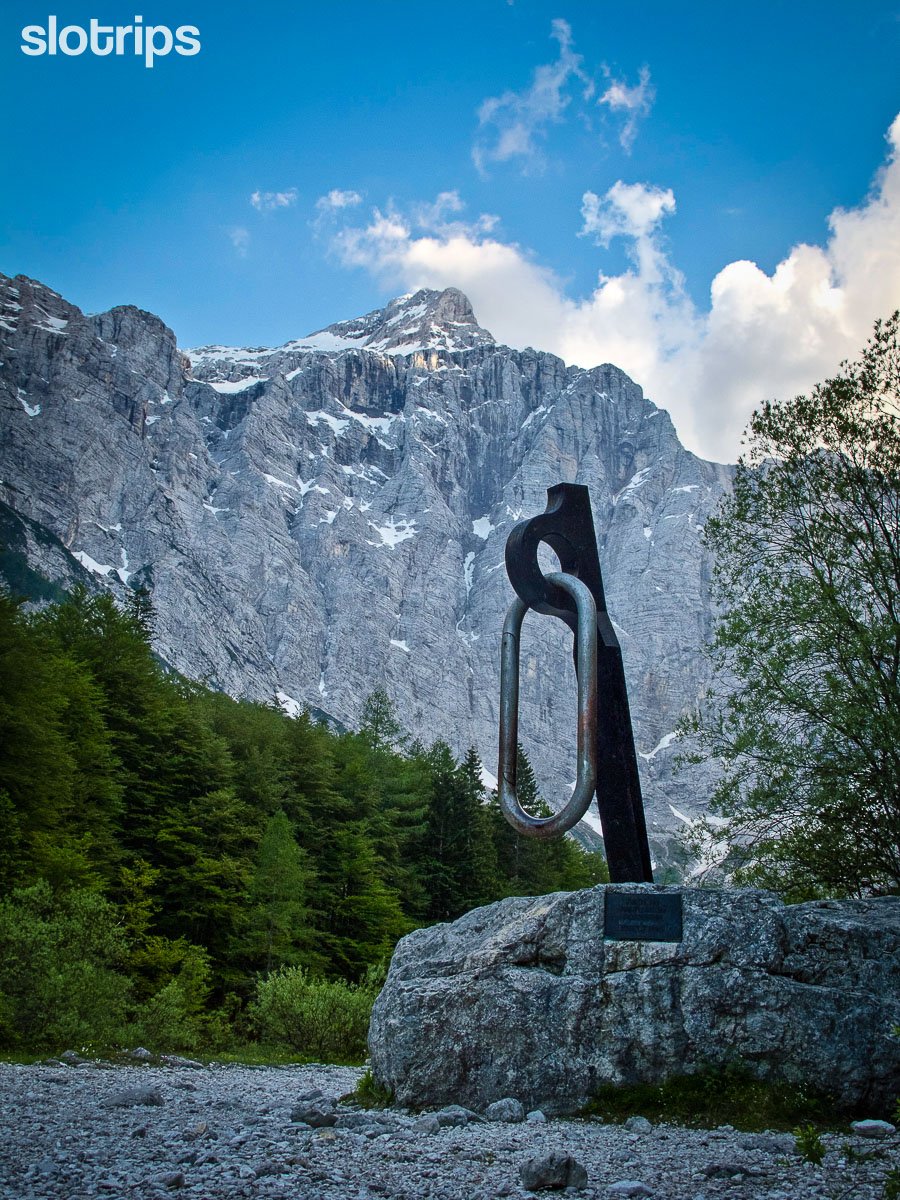 It is finally time to tackle Slovenia's highest summits! On most trails, snow is not a hazard anymore, the mountain huts are open, so let's go!
On most of our high-altitude tours, you will walk between 1,500 and 2,500 meters above sea level. Most of the time, even on nicest days, you will be accompanied by temperatures around a tolerable 20 °C, although sometimes on a sultry afternoon they can climb up to 25 °C. Exactly this kind of afternoon can be dangerous for a storm to form. These are usually short-lived, but you don't want to be caught by one when hiking on an open ridge. Even in high summer, a storm like this can bring snowfall, but such snow usually doesn't last more than a day, two. Still: if you ever have to walk in such conditions, slippery terrain requires extreme caution!
WARNING: temperatures in the high alpine areas can come close to freezing anytime! Even in July & August, so bring warm clothes as well. Here is our recommended packing list.
Here is an interesting statistic for the central Julian Alps: according to the meteorological data, you can expect on average 6-7 days a month of serious rainfall (above 10 mm per day) and 6-7 hours of sunshine per day in July and August.
JUL, AUG
Best time to climb Slovenia's highest mountains and swim in the beautiful rivers and lakes.
In early summer you can still count on floral rugs in many places. There will be many different flowers around you, the most typical of which are those of various bellflowers, gentians, and edelweiss. Attention: most of them are protected, so enjoy it only with views and photo shots!
At this time of the year, also the active alpine pastures are alive as the shepherds bring their cattle to the mountains and hikers are welcome to taste their fresh dairy products or have a shot of local schnapps.
Of course, this is the time when the most popular alpine trails are also the most populated. But to be honest, most of the crowds gather around a handful of the most popular spots & trails. And there are equally carefully maintained and marked trails all around Slovenian Alps where you'll only meet a living soul every now and then. Speaking of meeting in the mountains: the old Slovene tradition is to greet a passer-by – either in your mother tongue or in Slovene. In the latter case, you can only say a benevolent "dan" (pronounced as duhn; "day", as an abbreviation for "Good day!") or "živio" (pronounced as juh-vee-oh, meaning "Hello!").
July & August is also the best time to swim in Slovenian rivers and lakes and a general favorite holiday time. You should expect more people at popular spots, bookings in advance are an absolute must, and getting a dinner table at busy tourist towns can take some time.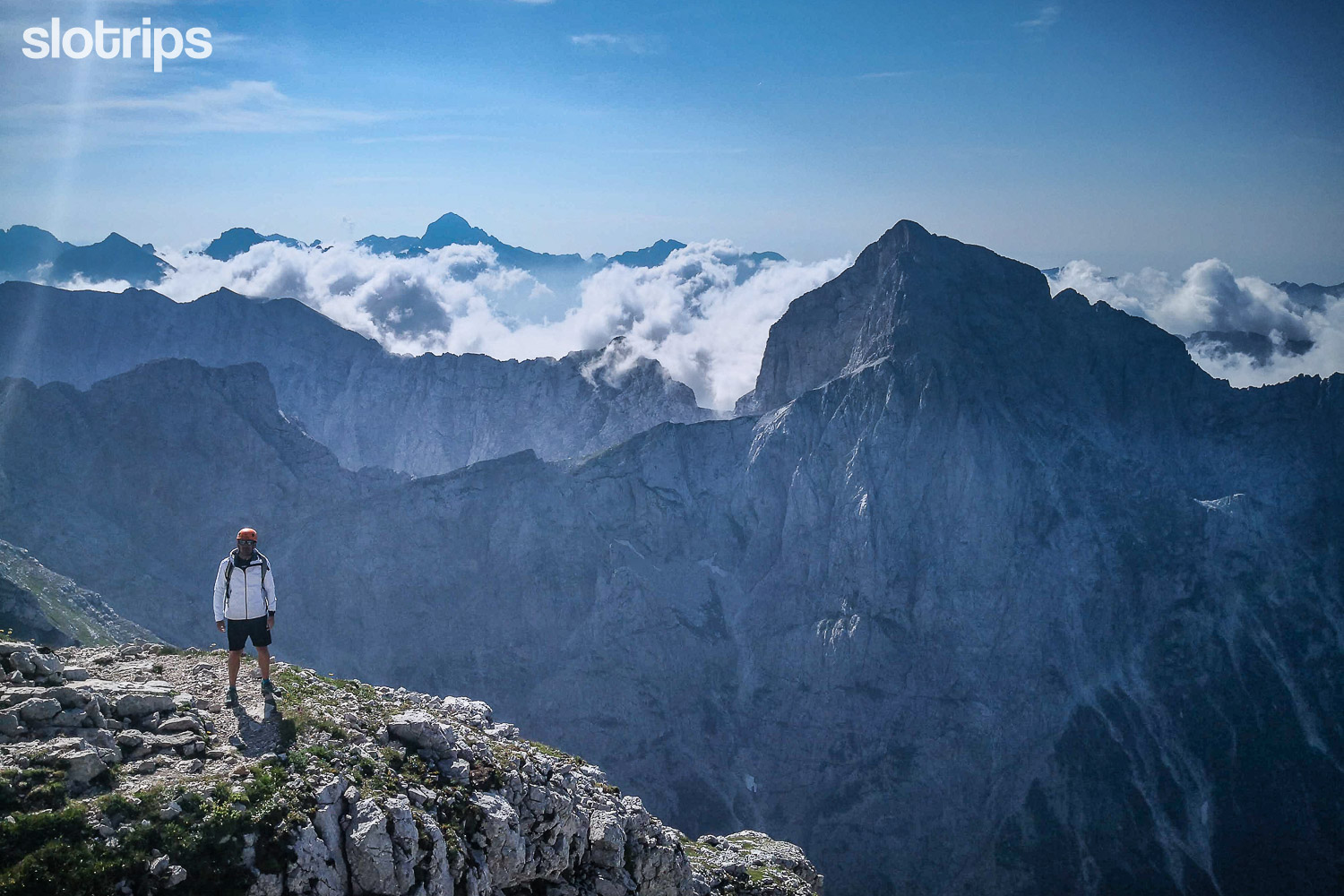 If you have the option, you can easily plan an unforgettable mountain hike during this time as well, especially in early fall. There are significantly fewer crowds on the trails, especially during the week, the weather is even more stable than in summer, and due to the shorter day and the declining power of the sun, the heat is no longer severe.
The mountain huts are usually open at least until the end of September, perhaps the beginning of October, and livestock is still grazing on active mountain pastures until mid-September. Fans of flora can count on the fact that there will be far fewer blooming flowers, but if you are up there in mid-October, nature just boils in countless shades of yellow. Larch trees are really unique before the needles fall off! 
September & October are again excellent months for hiking at lower altitudes or the wine regions, where you will be able to participate in the grape harvest and wine-related festivities. If you are not a swimming fan and prefer lower temperatures, this is your best time to hike in Slovenia!
SEPT, OCT
Best time to avoid the heat and the crowds.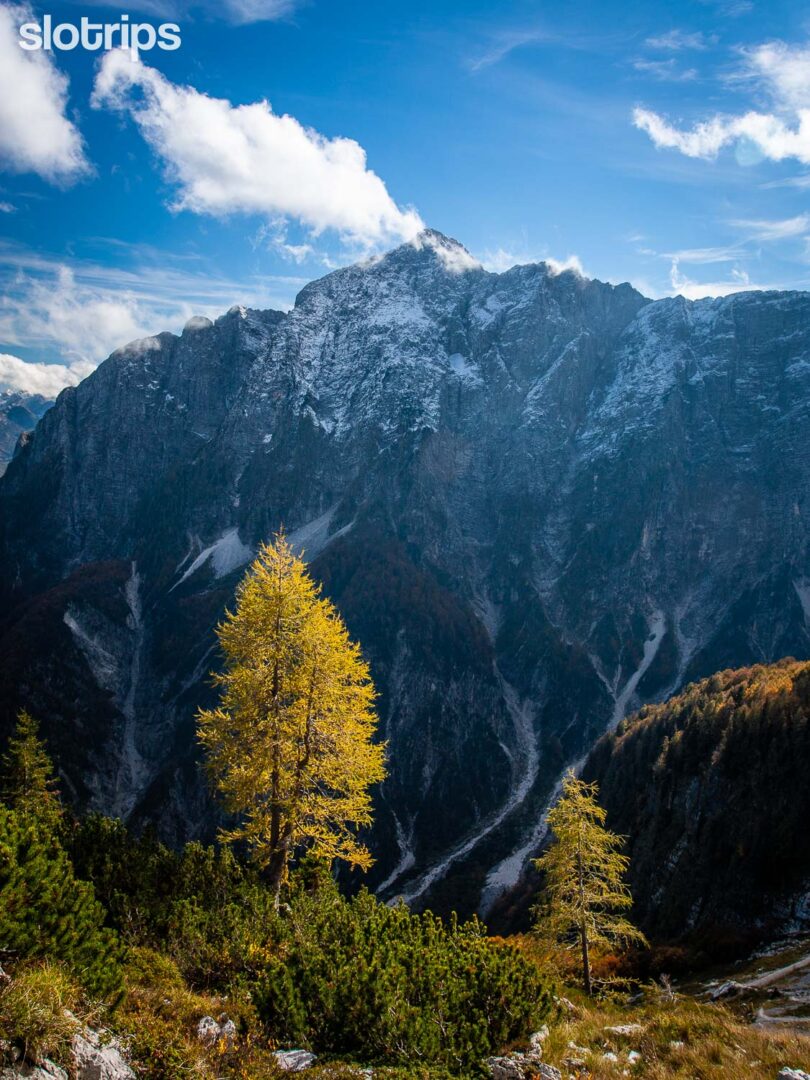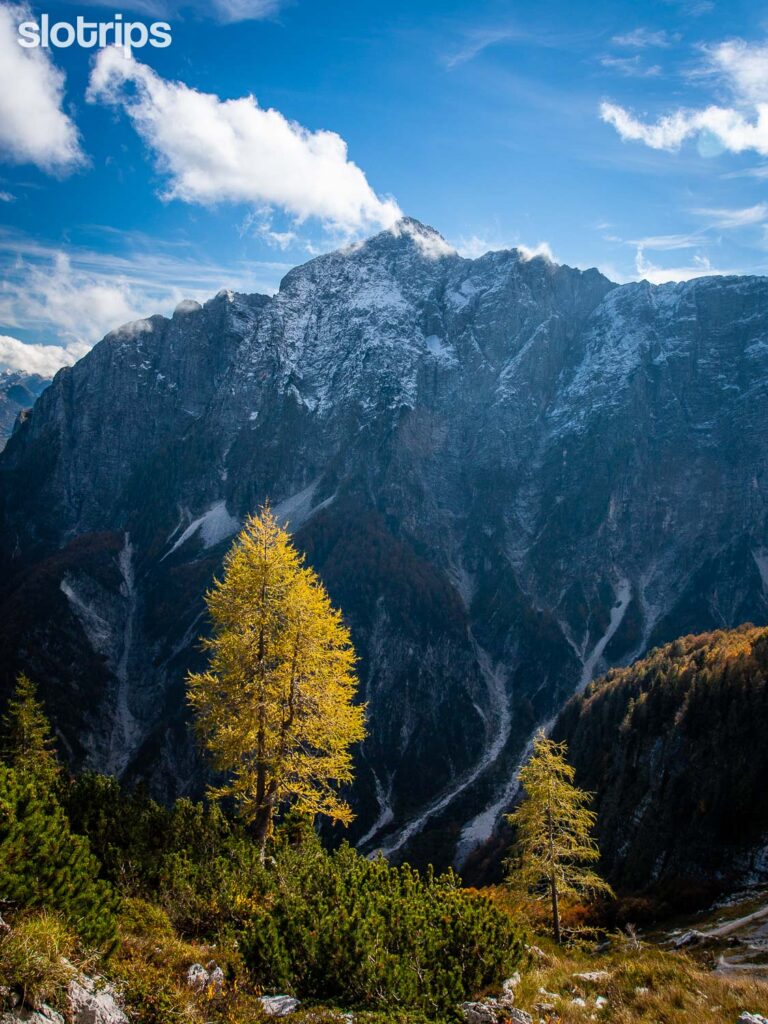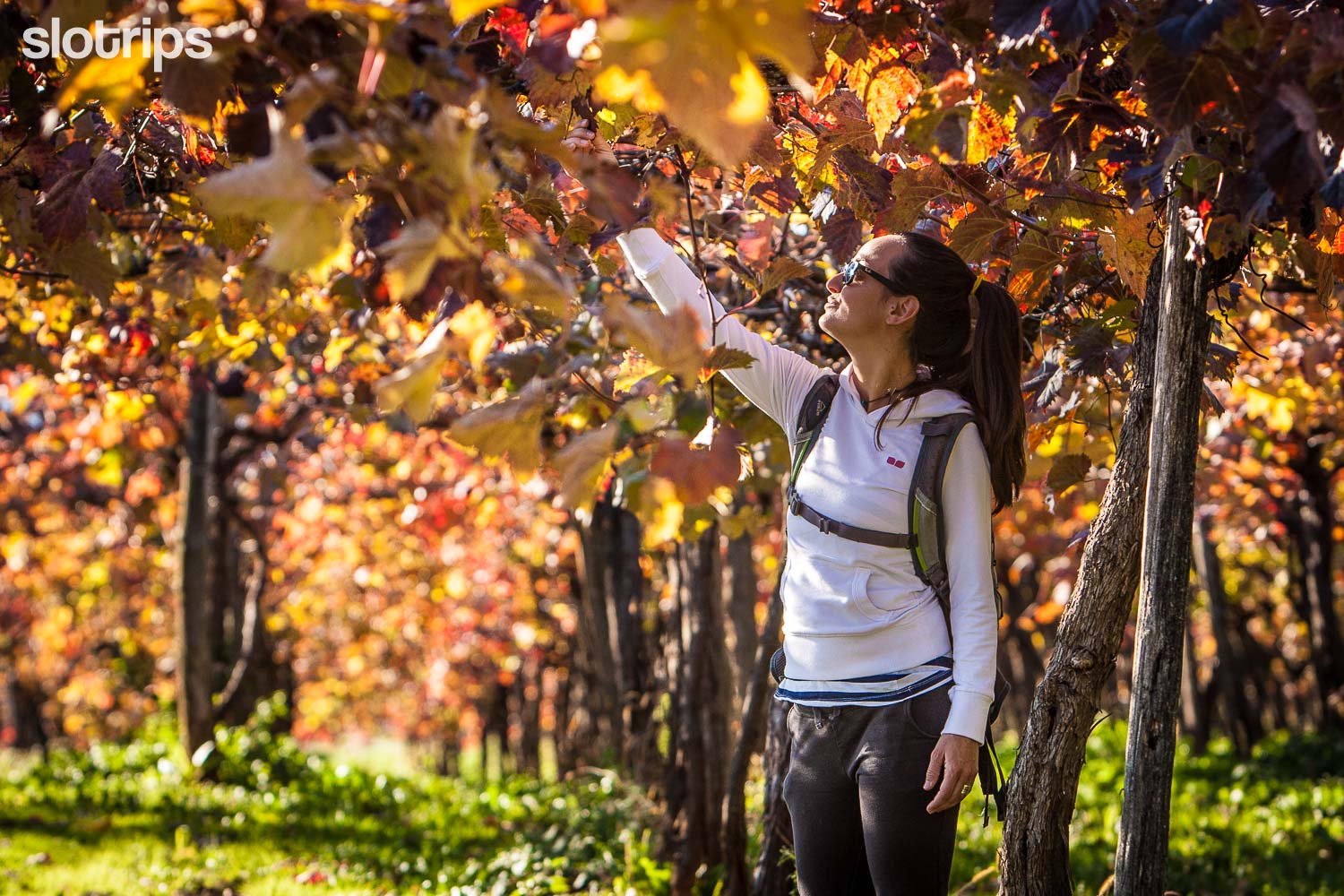 SLOVENIA IN NOVEMBER (late autumn)
Temperatures continue to decrease in November and the average daily sun hours have dropped considerably. Generally, it gets more foggy and dull as the leaves have fallen off and the browns and greys start to prevail. Honestly, it is not the most spectacular time to hike in Slovenia. But on sunny days we can still put out some marvelous hikes all over the country. Especially the coastal regions can be pleasantly warm if the winds don't spoil it.
On weekends around November 11th, we celebrate St. Martin's day – a popular wine festival with ceremonial "christening" of the new wine. Locals flock to all Slovenian wine regions to eat & drink their way through the weekend. Not to be missed if you are in the region!
NOV
A bit dull, but St. Martin cheers it up!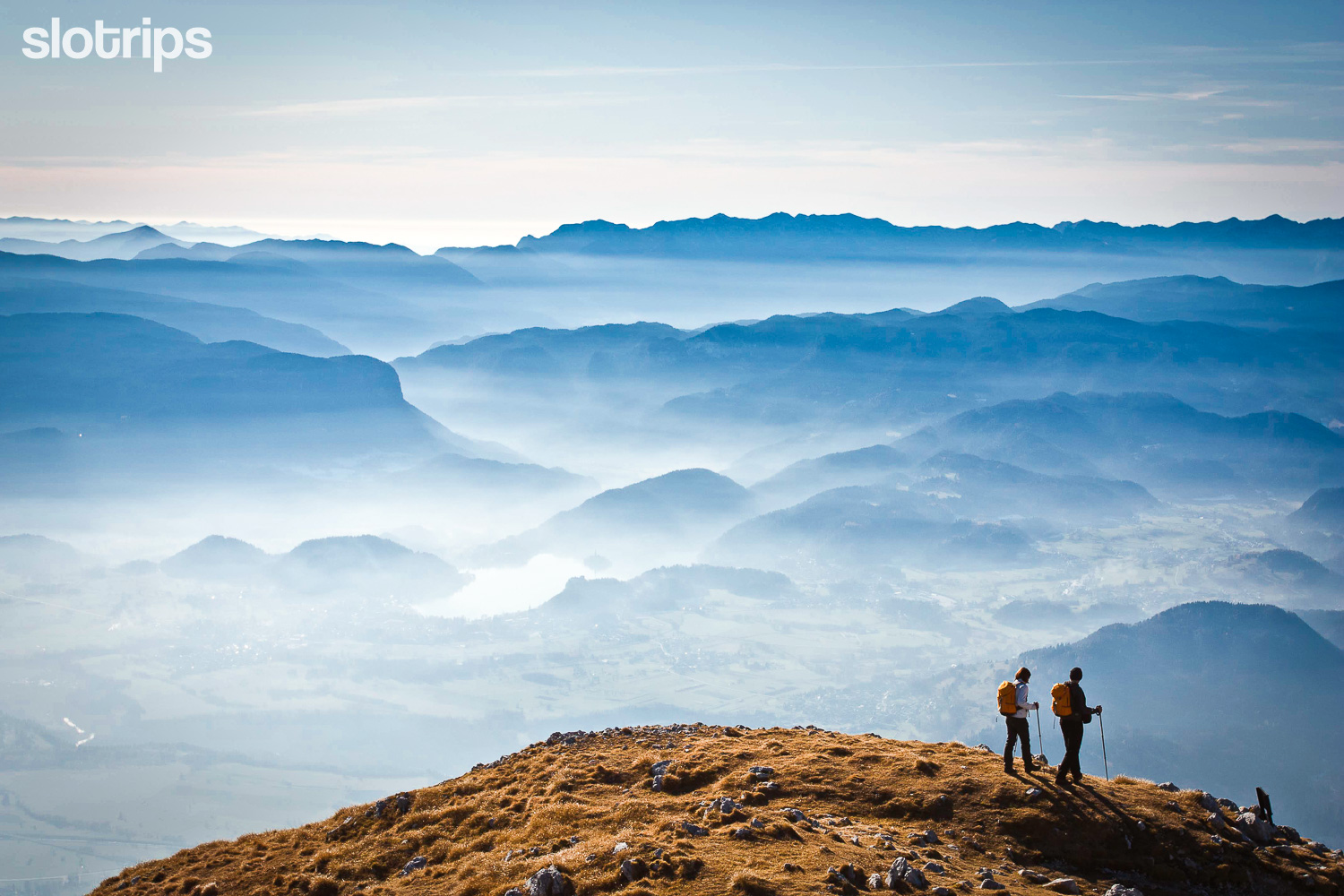 WHAT TO WEAR AND PUT ON YOUR FEET
It is not to be too smart, as we will thoroughly acquaint you with the necessary and desirable gear before each – guided or self-guided – hike that you will carry out with us. But because a serious tour always requires a compromise between proper stocking and weight to carry, here's just a few thoughts and conclusions that I came to on my own after nearly fifty years of hiking the Slovenian hills.
Sports underwear is at the level of the best space technology today, so do not overdo it. When it's hot, one piece or set can dry on your backpack while walking, and in case of rain, it is quite possible that you'll wash it thoroughly in a hut that you'll reach early that afternoon, and that you will get it dried by next morning. If it is wet and even cold outside, the hut caretaker can light the stove in the main room even in the summer, which makes drying of clothes an interesting group ritual.
Especially in summer, count on significant temperature differences between night and day, between morning and afternoon, so have clothes next to you that you will take off if necessary and put back on again. Have enough of them, but there's no need to exaggerate – they don't necessarily have enough running warm water in all the huts you'll be sleeping in to be able to wash decently, let alone take a shower!
Regarding rain gear: I always have it with me in my backpack, but if I can, I don't use it. When I did use it I was always wet twice – from the outside and inside. Now when it rains I put away one hiking pole and pull out a small folding umbrella. Which I can't use to my advantage only when it's raining and blowing hard at the same time. I feel much freer.
And footwear? There is no point in pointing out the importance of good Vibram soles in the Slovene Alps, but whether hiking boots should be higher or lower than your ankles is already part of personal preferences. If you are ascetic enough when getting the gear together in a backpack, also allow yourself an extra pair of lighter footwear (with a good sole, anyway) that you will wear in case the other pair gets wet.
Check also our packing list for summer multi-day hikes in the Slovenian mountains.
Weather forecasts and data
For detailed weather forecasts, radar images of precipitation, webcams, and more, we recommend checking the website of the Slovenian Environmental Agency.
All data in climate charts presented in this post was taken from their website as well. Source.