Be amazed by the spectacular ice wall of the frozen Pericnik waterfall.
Enjoy Lakes Bohinj and Bled covered with ice and snow.
Do short or longer hikes to amazing summits with stunning views of the highest Slovenian peaks.
Challenged yourself in the winter fairytale of the Julian Alps.
This is a private tour. Shared day trips are not available.
We pick you up at your accommodation in Ljubljana, Bled, Bohinj, Bovec or Kranjska Gora. 
Usually, we start and 8.00 AM and are back at 6.00 PM.
Everything is adapted to your wishes, weather and snow level. We can make it as active or as relaxed as you want.
You need to have appropriate winter clothing and hiking boots.
Overview
Winter in Slovenia is amazing! Ljubljana might be foggy most of the winter, but the mountains are splendid. Frozen waterfalls and lakes, snow-covered meadows, trees and towering white mountains. There are several walks and hikes which offer jaw-dropping views and take us to the heart of Slovenian Alps without extreme effort.
What do you need to take this tour? Good high-cut winter hiking shoes, warm clothes, gloves and love for nature, outdoors and adventure. 
This is a tour with a flexible itinerary. We always do it differently and it all depends on your wishes, fitness level, hiking experience, weather, temperatures and snow conditions.
We usually do our winter hiking tours in the Julian Alps (in the region around Lake Bled, Bohinj or the ski resort of Kranjska Gora) and most of them take place inside the Triglav National Park. However, we are 100% adaptable and please let us know if you have any special interest to discover another part of Slovenia. Let us know as much as possible about your hiking experience, fitness level and your hiking wishes. The more information we get, the better we can prepare the tour. 
According to your wishes, we will choose the most attractive tour. Together we will discover some hidden corners of Slovenian Alps, visit a fantastic viewpoint and peek into the world of Slovenian alpine culinary delights.
Be our guest! Experience the winter delights of Slovenian Alps with us!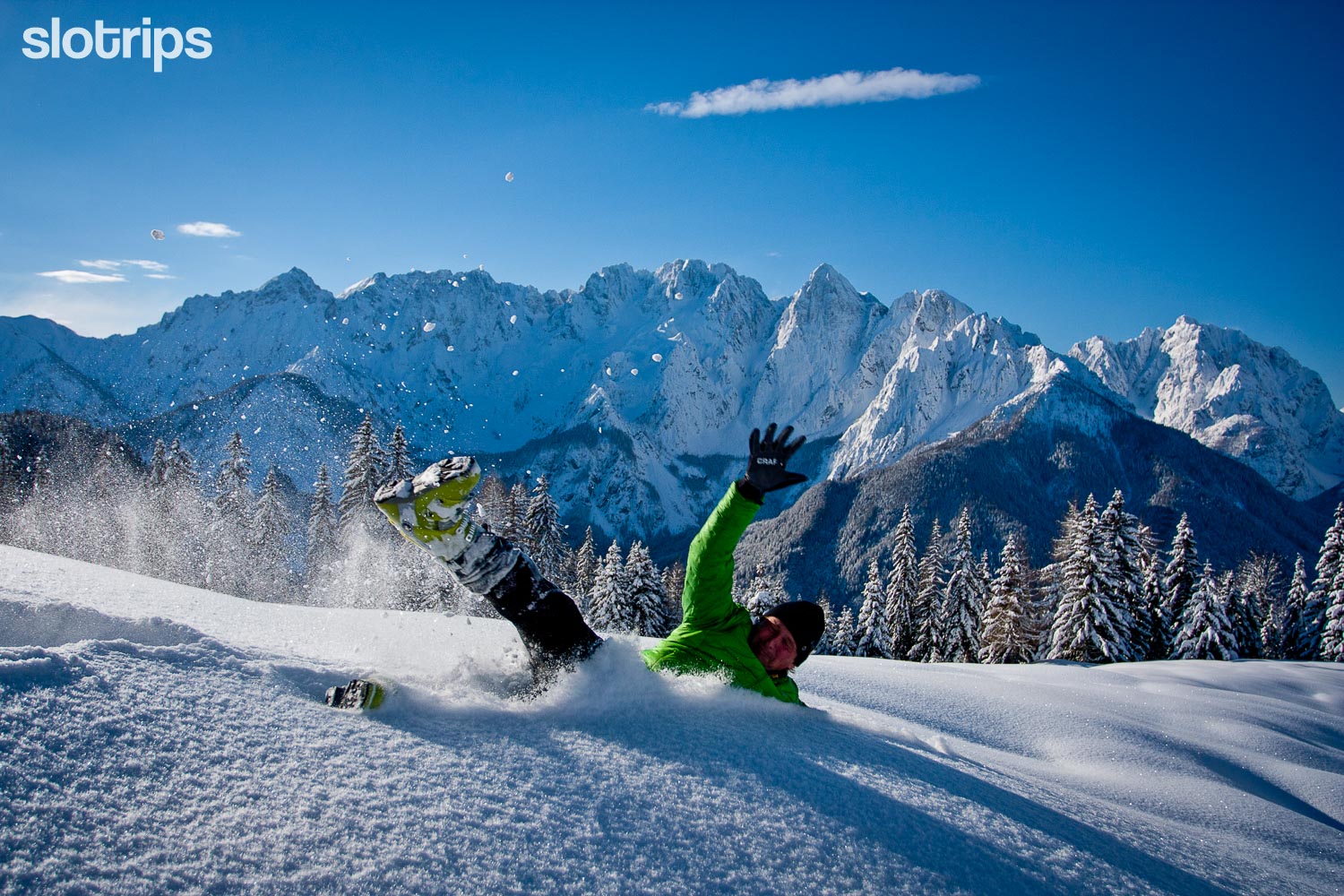 Notes
This is a private custom made hiking tour. According to the desired length of the hike and weather prediction, we will determine the pick-up time. We will pick you up in front of your hotel in Ljubljana, Bled, Bohinj, Bovec, Kranjska Gora or anywhere else on demand. Pick up and drop off places can be different if you wish, but there might be a surcharge for that.
What to bring:
Warm clothes, gloves, hat and good high cut winter hiking shoes. You need to have a change of clothes and shoes. If needed, we will provide snowshoes or other equipment. A small surcharge will apply.
Private English speaking licensed hiking guide who also drives the car/van.
Transfer with pick-up and drop-off at your accommodation in Ljubljana, Bled, Bohinj, Bovec or Kranjska Gora (other pick-up locations are possible as well, but there might be a surcharge).
Organization & support.
Lunch and drinks.
Equipment rental (if needed).
"I had the best day ever!! My experience with Slotrips exceeded all expectations and worth much more than the money I paid for. Domen was prompt replying and provided all the info I needed to prepare for the trip. His choice of the sightseeing stops and the hike perfectly matched my wishes and level of fitness. Domen is great company and you can really tell that he is passionate about nature and what he does. We visited a magical waterfall - Pericnik, had a walk in a beautiful winter forest, climbed to the top of Visevnik with breathtaking views of Triglav (the three-headed mountain 🙂 ). Who knows what adventures await me next with Slotrips?!"