Mountains and Lakes Hut-to-Hut
Hiking
Mountains & Lakes hut-to-hut
Self-guided | 7 days, 6 nights |
| July to September
Long-distance Hike Amidst Sky-piercing Summits and Mirroring Lakes
Experience a 7-day Hut-to-hut hiking journey in the Julian Alps, the northwestern corner of Slovenia with the best features of the Triglav National Park, the Julian Alps and the Via Alpina Trail. Feel the vibe of the friendly capital city Ljubljana. Discover dense spruce & larch forests of the Pokljuka Plateau, the high alpine karst of the Seven Triglav Lakes Valley, Slovenia's most photogenic lakes Bled and Bohinj. Enjoy the high mountain traverse over the rough and rocky terrain of the highest Slovenian peaks, optionally climb Mount Triglav summit. Taste traditional Slovenian mountain food topped with overnighting in traditional mountain huts. 
Itinerary | Inclusions | Q&A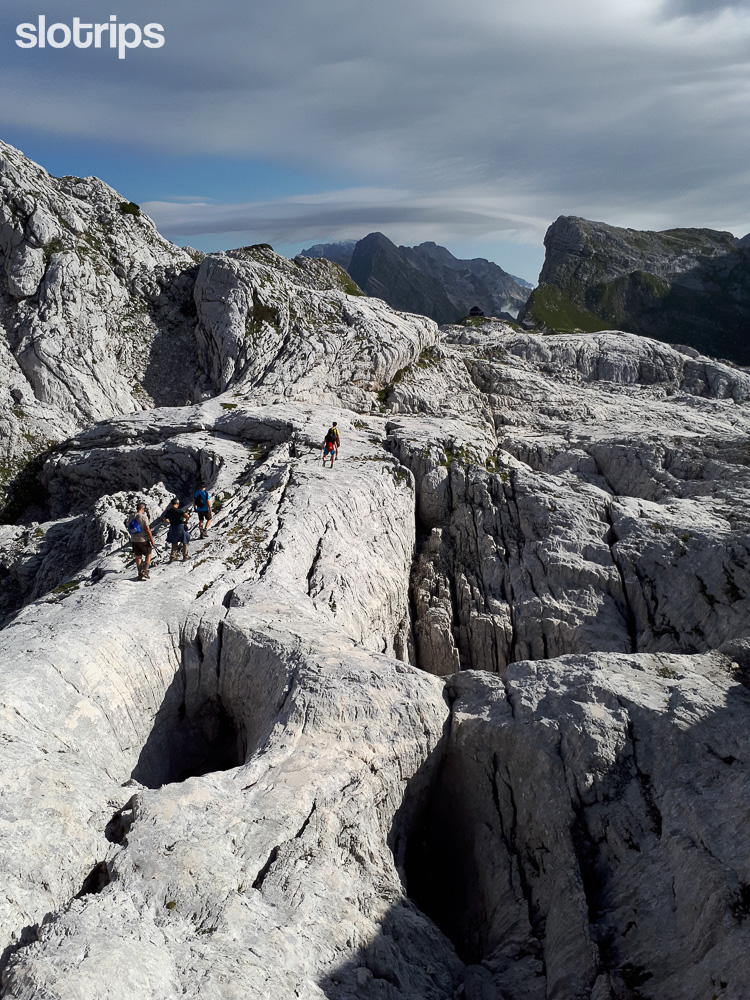 Trek through the Triglav National Park & Triglav Lakes Valley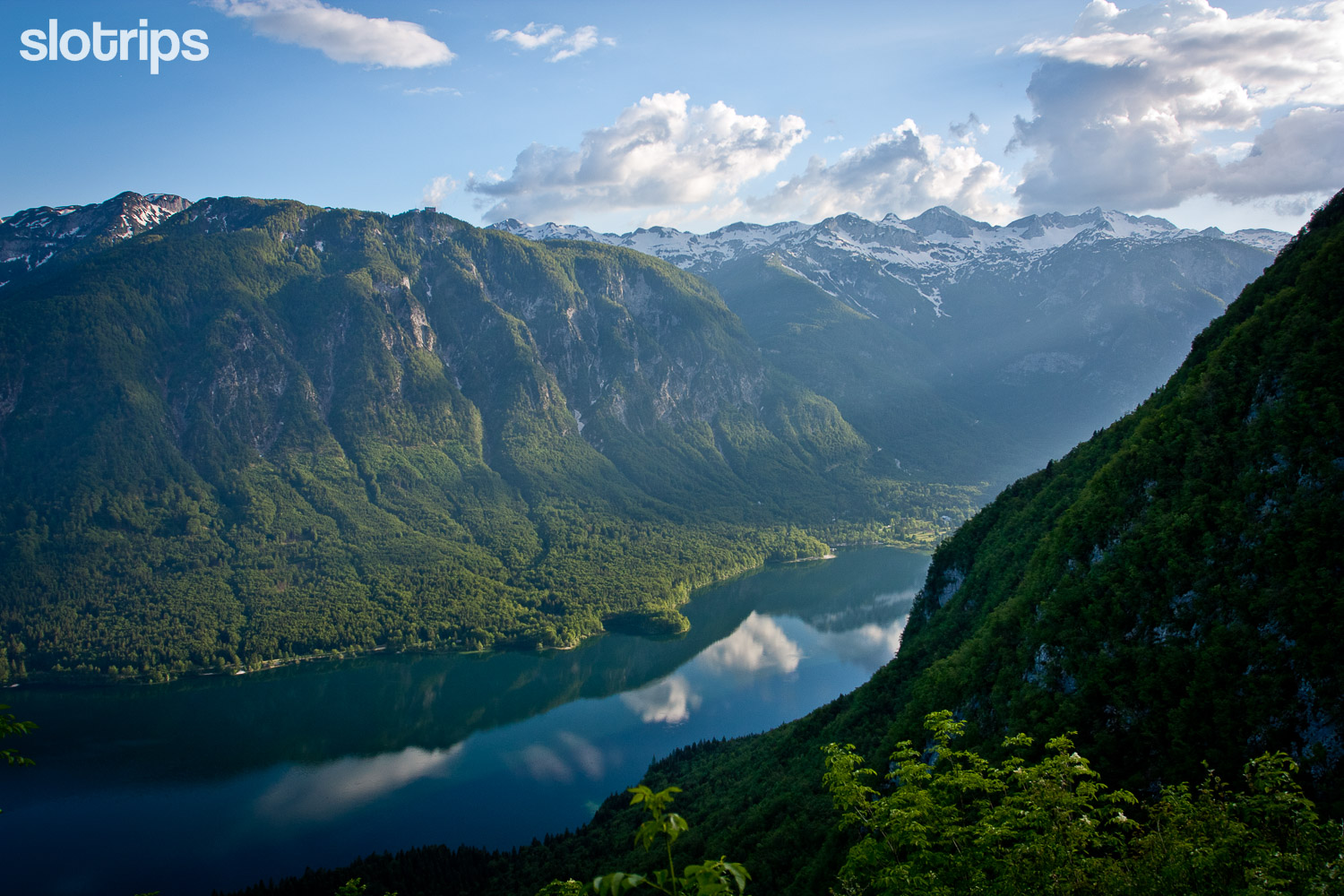 Discover traditional mountain pastures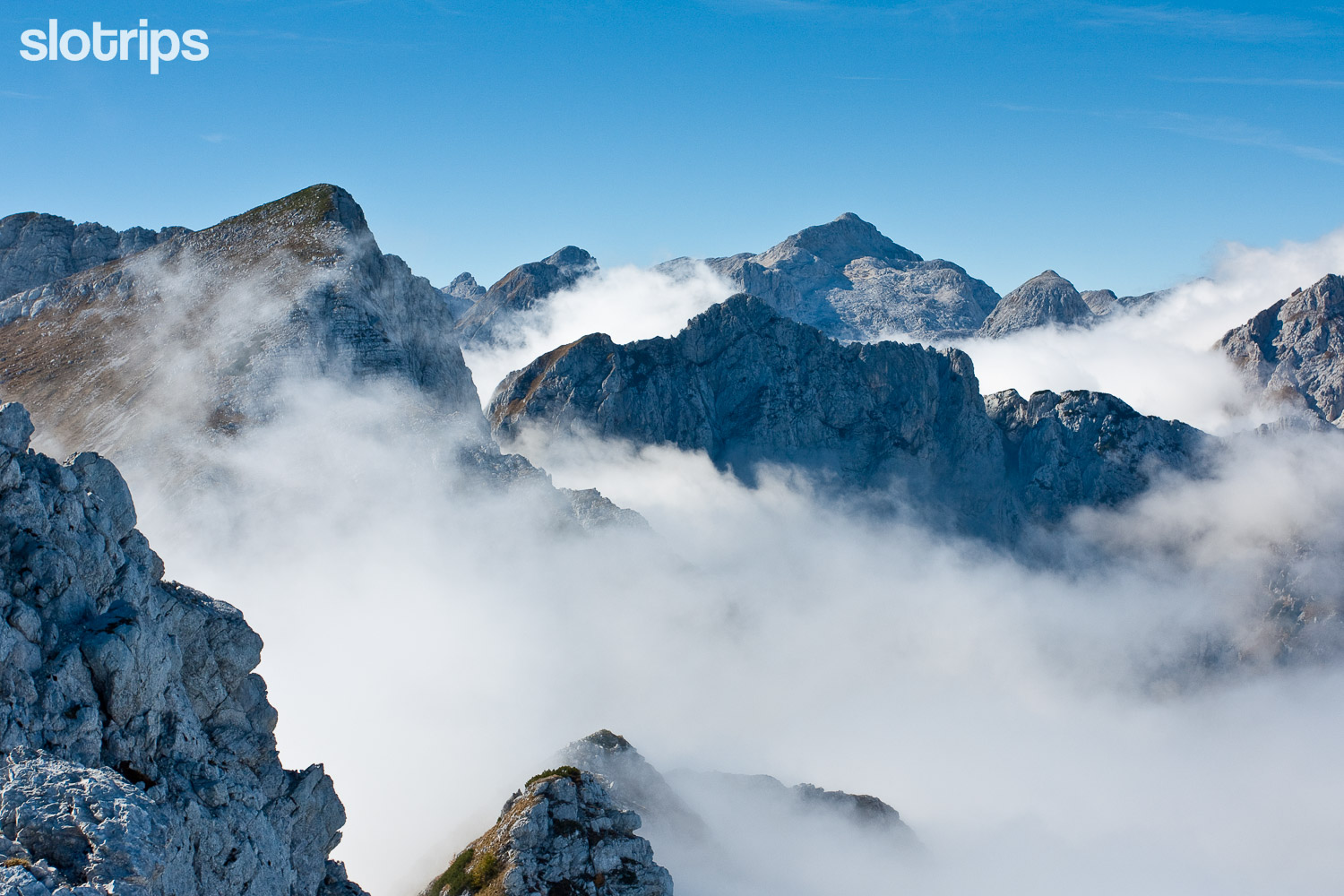 Hidden trails of the
lakes Bled and Bohinj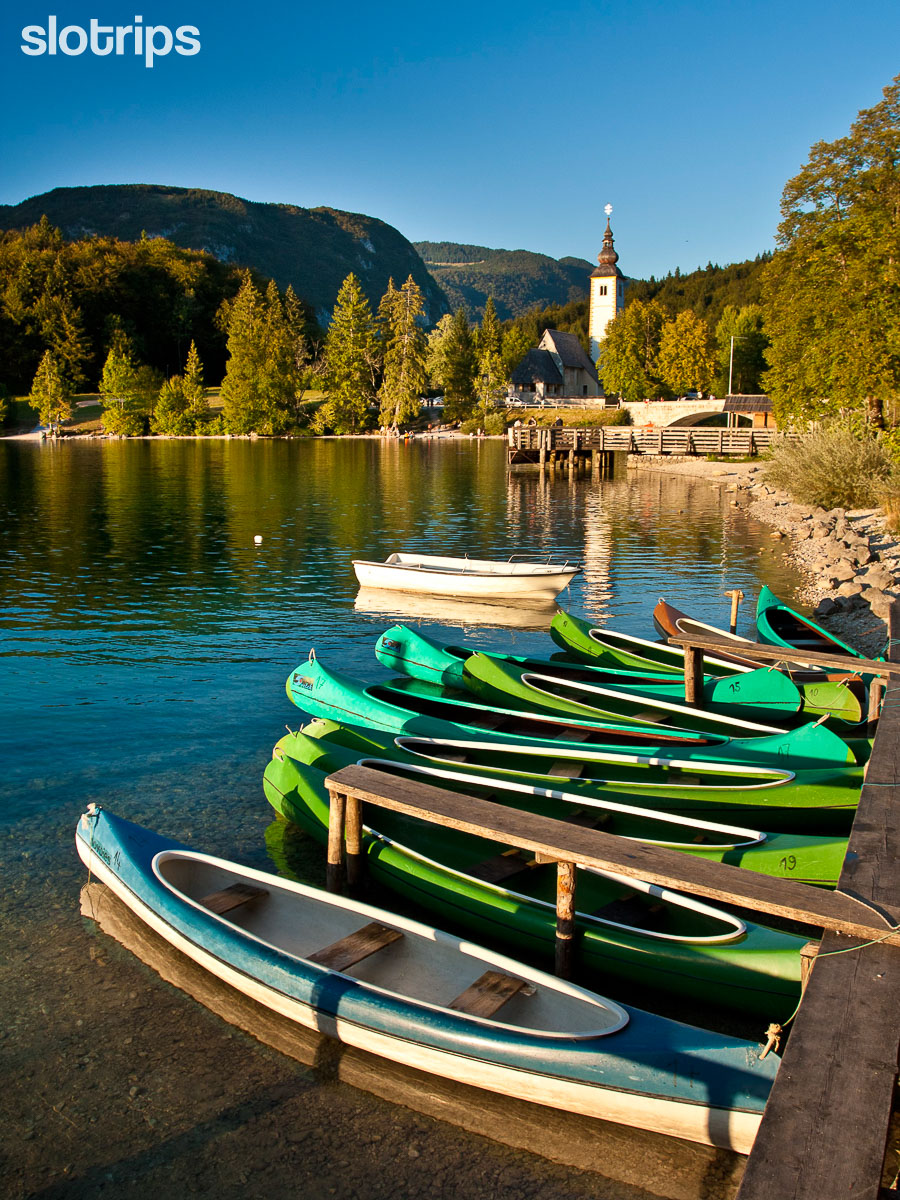 Day 1
Hills and parks of Ljubljana
Upon arrival at Ljubljana, you'll meet your trip designer to talk through the details of your upcoming adventure, then hit the town and recommended restaurants.

Explore the city on foot, but crawl Ljubljana's lush parks, historic trails and nearby hills by bike to feel it's the vibe. Even if you're not a fan of urban life, you'll love countless churches, parks, monuments and architectural buildings within the old town. Walk over the three bridges, the food market and the tree-lined road to finally reach the castle hill with the best panorama of Ljubljana. Its oldest part is just below the Ljubljana castle, whereas the newer part is nestled across the numerous bridges over the Ljubljanica River, from the Dragon Bridge to the Cobbler's Bridge. By the waterfront alongside both riverbanks are many terrace cafes, where you can enjoy some of the best coffee and finest wines in the country with the best view of the castle.

Immerse yourself in the city life, hike some of the nearby hills where the locals jog their afternoons away or enjoy the traditional street theatre or summer festivals illuminated at night, all within walking distance of your overnight location.

Overnight: 3* hotel in Ljubljana
Day 2
Hike the Pokljuka Plateau lookout ridge
In the morning you'll be taken from Ljubljana to the trailhead on the Pokljuka Plateau in the Triglav National Park – your starting point for the long days of hiking through the heart of the Julian Alps, past beautiful mountains and lakes, from one refuge to the next.

Lonely, but well-trodden trails with a gentle incline lead past secluded mountain meadows above Pokljuka, where you can visit local shepherds and sample some of their exceptionally tasty, freshly-made dairy products. Further on you'll hike in the pristine landscape of the Julian Alps, where you'll have amazing panoramas at hand. A 360 view gives the Krma Valley, the valley of the Lakes Bled and Bohinj, as well as the Karavanke and Kamnik-Savinja Alps and the mountains above Bohinj.

You'll unload your backpack at the hut where you'll spend the night and go chase the lookouts along the numerous summits on the ridge above the hut, with several ascend and descend options to match your fitness level best.

Hiking: 9 km / elevation gain +730 m, -400 m / approx. 5 hours (+ optional extensions)
Overnight: mountain hut with shared rooms 1/20 and shared washroom
Transfer: 1 hour
Day 3
Hike to the central Julian Alps
This morning you'll navigate west, towards the Central Julian Alps and spend most of the day hiking single trails along the mountainsides. You'll be surrounded by majestic mountains, limestone walls, serene meadows, with numerous side trip options to nearby peaks with the perfect view of Mt. Triglav, jagged ridges and valleys.

Just before reaching the Vodnik mountain hut on Velo polje, you'll hike the most fascinating part of the tour. It stretches across the southern slopes of Mount Tosc and offers views all the way to the mountains rising above the Soca river.

Tonight's mountain hut, along with all others on your way, is owned by the Slovenian Mountain Club, yet looked after by generations of local families and friends since the late 19th century. So you'll get to experience its long and rich tradition.

Hiking: 11 km / elevation +650 m, -400 m / approx. 5 hours
Overnight: mountain hut with private or shared rooms 1/2, 1/4, 1/6 and 1/10 and shared washroom
Day 4
Hike the Seven Triglav Lakes Valley
From a cosy mountain hut underneath Mt. Triglav, right in the heart of the Julian Alps, you'll either hike towards Triglav or beneath it.

The self-guided mount Triglav climb, to conquer Slovenia's highest summit, only 2864 meters (9,400 ft) above sea level, mustn't be underestimated as the path along the ridge is very exposed with the gaps reaching a few hundred metres on both sides. Moreover, the weather can make the climb trickier, thus having a guide for the summit climb is recommended. Whether a guided Mt Triglav climb is of your interests, inform us to arrange it for you.

On the other hand, the path below Triglav leads across the alpine pasture Velo Polje, with a small cheese dairy. It is the last in the Bohinj's cheese tour, nestled under the stunning summit of Miselj Vrh. From here on you'll walk on rocks and gravel on barren alpine terrain, perhaps even spot edelweiss flowers or a herd of alpine ibexes. You'll cross the 'lunar surface' of the Hribarice Plateau, descend the Valley of the Seven Triglav Lakes along the pleasantly undulating trail with beautiful but small lakes. Note that going in considered an offence. Thus rather put your feet up and enjoy the sinkholes and karrens with other karstic formations instead.

Reach the hut for the night next to Double Lake, where you'll enjoy a well-deserved beer (or schnapps).

Hiking: 14 km / elevation +700 m, -750 m / approx. 7 hours (+ optional side trip)
Overnight: mountain hut with private or shared rooms 1/2, 1/4, and 1/6 and shared washroom
Day 5
Hike the mountain pastures above Bohinj
Begin the day with a breath of fresh air over an early morning coffee on the shore of the Double Lake, to savour the little silent moments one can only experience here. Later on, you'll leave the gravel trails and limestone paths behind for the greener alpine pastures, where you'll meet hikers coming from Lake Bohinj to enjoying their share of the mountain food and idyllic huts, farms and grazing livestock.

After a long descent, you will reach Lake Bohinj – an absolute jewel and a gift of nature, located at the end of a dead-end valley within the Triglav National Park. At its beach, it is finally time for a well deserved, refreshing summer swim in the most beautiful Slovenian lake.

Lake Bohinj and its surroundings are perfect for paddling, biking, hiking, rock climbing horseback riding or chilling in a hammock. If you wish to spend a couple of relaxing days of this hiking trip in this alpine paradise inform us to arrange it for you.

To continue to Lake Bled, hop on the bus and spend your last two nights there.

Hiking: 16 km / elevation +755 m, -1600 m / approx. 6 hours
Overnight: 3* hotel or local guesthouse in Bled
Transfer: local bus, hourly departures, duration: 40 min
Day 6
Explore the legends of Lake Bled
Spend the day as you fancy. Yet note that you'll wake up just a few steps away from one of the most picturesque continental lakes in the World, which is Slovenia's main attraction, the very Lake Bled. Thus here, an early start is best to explore its most popular highlights, such as Bled Castle and Bled Island. Whereas any time in the day is great for sports activities like hiking and biking.

Not to miss out, opt for a nice bike ride through small countryside villages, a walk through the famous Vintgar Gorge and a stunning viewpoint above the lake to notice the island's church. There legend has it that a widow consecrated a new bell to the church in memory of her adored husband, but it was dropped into the lake. If you'd like to tackle it, swim, row or stand-up-paddle to the island. Leave before dark though, as only the fairies can dance the night away here.

In the evening enjoy the town's colourful lighting and explore numerous choices for a gourmet dinner, as some of the countries finest restaurants are located here.

Overnight: 3* hotel or local guesthouse in Bled
Day 7
Thank you and welcome back
After a hearty breakfast, your hut-to-hut hiking adventure in the Julian Alps ends. Before leaving Slovenia, steal the last moment for a peaceful morning swim in Lake Bled to keep you warm at heart until next time.
Make this adventure yours
750 € per person

Exclusions
Arrival at Ljubljana and departure from Bled.
Meals and drinks not specified in the Inclusions.
Travel insurance.
Personal expenses.
Other services not specified in the Inclusions.
Extras
Single traveller supplement: 400 €.
Domen Strle
Slotrips trip designer
As a kid, I was introduced to the beauty of mountaineering through mountain summer camps with my local alpine club, where I established my love and respect for nature. I have since become an active member of the club, an alpinist, a recreational mountain biker, a ski mountaineering enthusiast and a certified hiking guide. This has enabled me to share my fondness for the mountains with others. These days, I spend an equal amount of time exploring not only rugged mountains but also local history & culture, and good food. Ultimately, I have blended my passion, knowledge and skills into a profession which I love and enjoy.
How do your self-guided tours work?
You will be surprised! We have done (and are still doing) a ton of work to make sure your independent active holidays in Slovenia (and across the borders) are flawless, fun, and hassle-free. With the implementation of modern technology and our extensive local knowledge, we believe we are on the right way of delivering exceptional hiking & biking experiences that you are able to enjoy at your own pace. Read more about our "self-guided added value".
How difficult is the hiking?
Expect to walk 5-7 hours per day, 10-15 km (6-10 miles) and up to 1000 m (3300 ft) of elevation gain on the hardest day. It might not sound much, but we have never had anyone say it's a walk in the park. We suggest being in reasonable shape, having had some hiking experience beforehand, to fully enjoy this tour.
What are the trails like?
The trails are uneven, sometimes rocky and narrow. Moreover, you will need to overcome several steep sections on the uphill as well as the downhill sections. On some days you will hike partly in the shade of a forest, on others above the treeline, but mostly without any shelter along the way.
Is luggage transfer between the mountain huts possible?
No, because the huts are not accessible by car. Thus you will need to carry your equipment throughout the entire hiking tour, whereas your main luggage will wait for you at the hotel where you'll overnight after the hike.
What is the weather usually like?
In summer (from June to early September) the weather is usually hot, with temperatures around 25-30 deg C (75-90 deg F). In peak season (August) you can expect a heatwave with temperatures likely exceeding 35 deg C (95 deg F) as well as a significant temperature drop in the mountains on a cloudy, windy or rainy day.
Do I need a guide for climbing Mt. Triglav? Climbing Mt. Triglav is an optional addition to this self-guided hiking tour. The summit can be very crowded during summer, especially on weekends. The last 300 vertical metres (1.5 hours) of the ascent and descent is a Via-Ferrata. It is secured with steel hand lines and stemples, yet very exposed in some sections. Even though an experienced mountaineer may not even notice the exposure, the less experienced will definitely feel in need of guidance. The IFMGA licensed mountain guide will take care of your safety and provide all necessary equipment and professional guidance, which is essential when the weather is not perfect. The guide will meet you below the ridge, where the climbing part begins and part with you upon return. Before and after the summit climb you are hiking on your own. Have a look at this video for a better understanding of the terrain.
What are the mountain huts like?
The huts in the Slovenian Alps are quite basic, but they offer everything a hiker needs: food, drinks and accommodation. Most of the huts are accessible only by helicopter (no roads). Thus food supply is limited, therefore expect simple menus of mountain food like different stews (vegetable or meat), pasta and sausages. They also sell chocolate, soft drinks, water, beer etc. The usual breakfast would be eggs, ham, cheese, butter, jam,…
The huts we use on this hiking tour have normal flush toilets, 2 of them have running (drinking) water and sometimes even hot showers. 
Expect to share a room, toilets, bathrooms or washrooms. There are 2 to 20 beds in one room. We always book the smallest available room, but can never guarantee a private room.
We strongly encourage you to use bio-degradable and natural hygiene products (tissues, soaps, toothpaste etc.), as animals and plants don't like to feed on saponins or tissues.  
Do the mountain huts provide vegetarian/vegan meals?
The food in mountain huts is tasty, yet quite basic, so no culinary highlights are to be expected. There are options for vegans and vegetarians, but the selection is very limited. More so if you have any special dietary restrictions or needs. Thus bringing your own snacks and treats will save the day.
Do I need a sleeping bag?
You don't need a sleeping bag. We strongly suggest bringing a lightweight cotton sleeping liner (travel sheet), even though the huts provide blankets and single-use paper sheets. It's because you'll be more comfortable and sleep better. Moreover, we encourage you to be a responsible traveller and avoid making unnecessary waste and help preserve some trees. 
Can I swim in the 7 Triglav lakes?
No, any activity in the lakes is considered an offence by the Triglav National Park organisation. Moreover, the lakes' micro-ecosystem is very fragile and we must not endanger it with our sweat, sunscreen etc. The lakes are fairly small, especially during the summer drought. Due to water in and outflow being very small the water barely changes, which limits their ability to self-clean.
Can I add more adventures?
Sure! Do you like rock climbing, rappeling down amazing waterfalls, horse-back riding across lovely meadows, kayaking on turquoise rivers, paragliding with stunning views of the Julian Alps, climb a via-ferrata to one of the jagged peaks in Triglav National Park? Let us know and we will deliver your adventures!
Why us?
With us you will save hours, nights, and days planning your trip. You will discover amazing locations, enjoy the best family activities in Slovenia and have carefree holidays. Because we care! Read about us & check our reviews.