To truly experience Slovenia or to breath easily in the high travel season one must peek behind the scenes. That is to the quieter spots, far away from mass tourism. Below the Alps, hilly ranges stretch as far as the eye can see, with signs of civilisation close by and cities ranking high in cultural diversity. Well maintained and signposted trails hideaway from the daily grind, places with delicious food and wine offer enjoyment in the moment you can take for yourself.
SLOW-PACED TREKKINGS SCALING PERSONAL CONNECTIONS
Nice locals offer all sorts of serviced signature accommodations along the way, from mountain huts, local inns and family farms, to kick your boots off and compensate for the stress of your everyday life. Should you need to be wired, you can do so out in nature of a small village in contrast to the hustle-bustle and noise of the city. Not to mention breathtaking loch views, woodlands, and waterways, the highlands surely are a perfect venue for an epic trek, trail running or even modified biking experience.
Custom trekking trips at Your fingertips!
Idyllic green landscape's backbone
Pilgrimage trekking leads into the landscape of meadows and pastures with idyllic hilltop churches surrounded with forests of rustling leaves. Ascents to inviting villages in the hills and prominent panoramic peaks are an ideal trekking choice for hopeless romantics in all seasons. You can choose to walk about 200 km long Loka Mountain Trail of well-marked paths linking the Skofja Loka Hills with the Polhov Gradec, Idrija and Cerkljansko hills, withdrawing above the Poljanska and Selska Sora rivers. It adjoins the Julian Alps through Ratitovec ridge, our favourite for its immersive local hiking culture, mountainy feel and contrasting ascend. Together with Blegos, they stand out with lovely mountain huts atop and a number of bunkers along the historic front line at its vertex. Unlike Ratitovec, Blegos is by far more crowded, has good family facilities and easier access trails. Plenty of overnight options in mountain huts, local bed and breakfasts and farms ensure a pleasant experience with locals.
THE SUBALPINE HIKING TRACK
The less well-known parts of the South and East of Slovenia are linked from Cerkno, through Notranjsko, Kocevsko, the Blosko plateau towards the valley of the River Kolpa, through the hills of Dolenjska ending up in the massifs of Posavsko and Zasavsko around Lasko. Continuous few-days trek along marked routes has no specific signs along paved and dirt roads, forest paths and footpaths, which a mountain hiker might not find too amusing. On the contrary, the long-distance walking fans will appreciate its simplicity, interesting karst sights, beautiful and also pretty wild and remote areas, with plenty of solitude, mixing in just enough urban and rural areas not to feel isolated.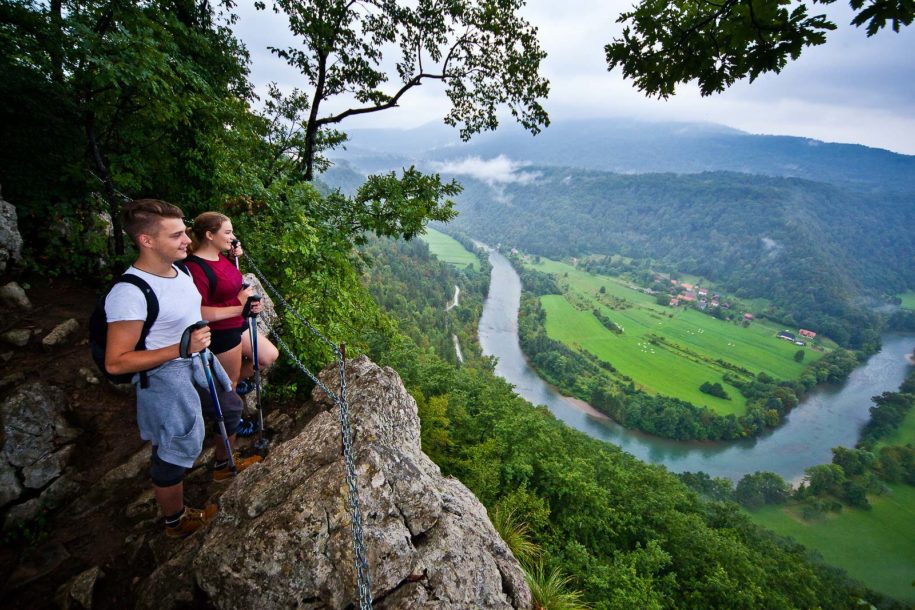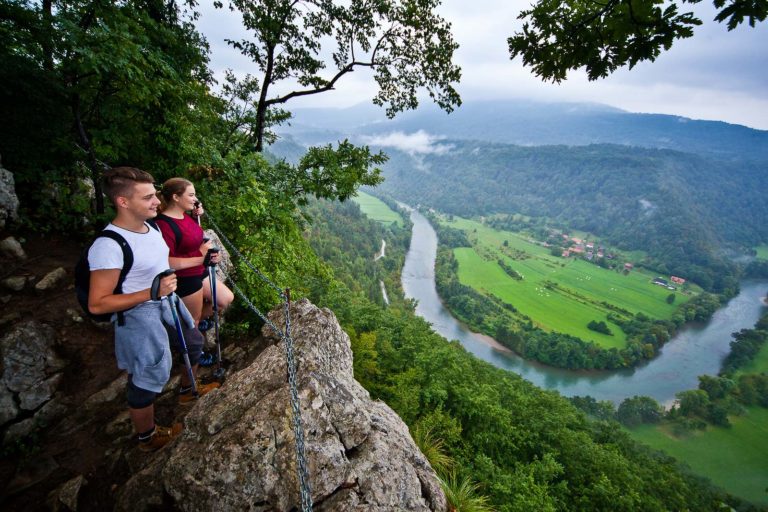 Mountain roads and footpaths connect into more than 220 kilometres of marked trekking trails, along the slopes of the Mezica, Drava and Mislinja valleys, bringing great joy to occasional hikers. Themed and educational paths cover the Pohorje and the mountain chain of Kozjak, Smrekovec and Olseva. Last is the nicest part of the authentic experience in unspoiled nature. The elevation enthusiasts take on the popular K24 Koroska hiking challenge, which brings five most significant peaks climbs in the region to the plate with 10 000 altitude meters and 80 km. Done in 24 hours even membership to the elite club.
Don't know where to start? Browsing our self-guided hiking trips should help you with finding ideas.
ZASAVJE LONG DISTANCE TRAIL
Wandering the rolling hills and valleys of the Posavje region with Slovenia's longest river, Sava, brings about vineyards, orchards, slowly-flowing rivers, and interesting castles. Its most fascinating characteristic are repnice, cellars for wine and crops carved out of flint stone. Casual hiking footpaths lead from the Bizeljsko wine district to short and snappy hills peaked by Kum mountain towering at 1220 m, through the geometric centre of Slovenia above the village of Vace.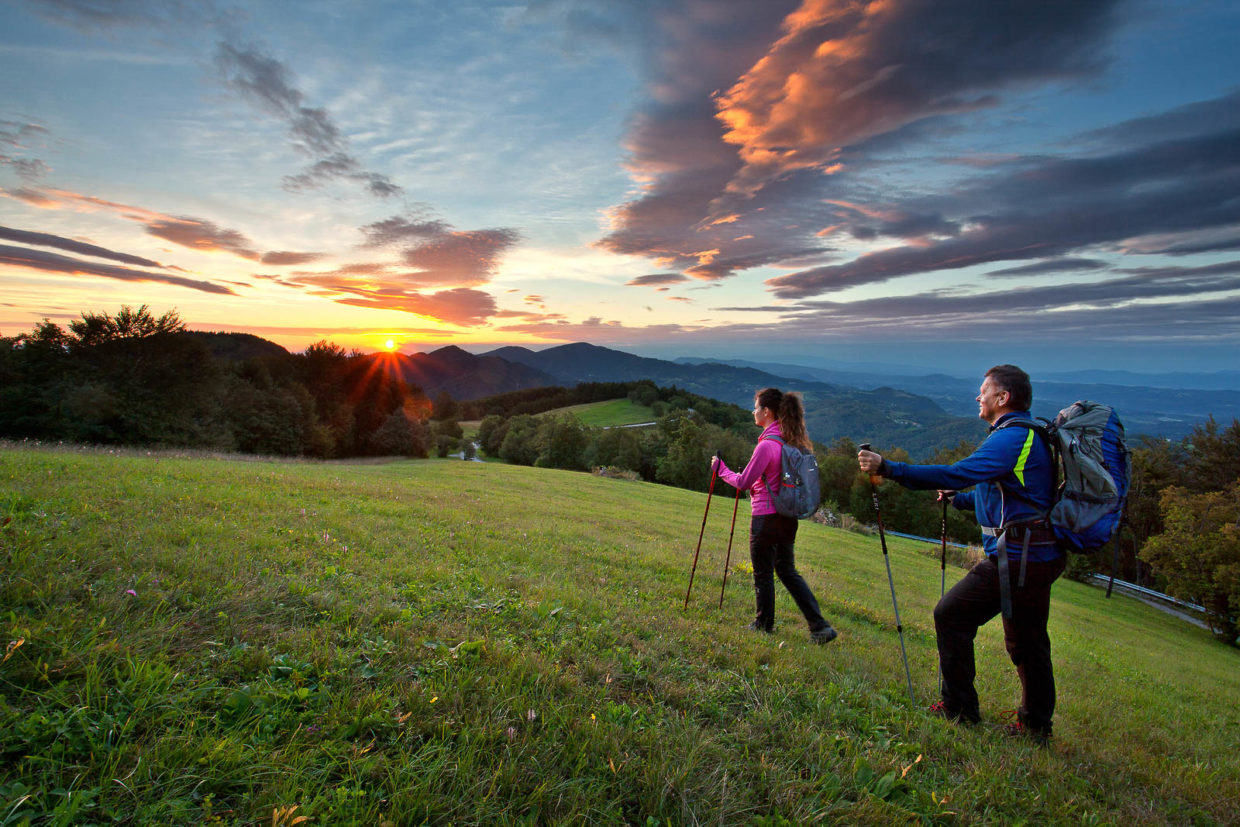 All who are in need of micro travels with digital detox from the constant flood of nerve-wracking stimuli, but don't want long journeys by car or plane, will appreciate slow travel through these backcountry destinations. Yet if you're looking for long backpacking hikes in high mountains, then see our Long-distance hiking trails in Slovenia and Best time to hike in Slovenia articles. When in doubt which journey is best fit for you to enjoy, we're always here to help you out – let's talk.