Do hiking boots have a special place in your home? Then Slovenia just might be one of the best places in the world for your next hiking trip. Multiple trails for each leg of the journey across the country, strong nature and wildlife immersion, beautiful views of the landscape and craggy pinnacles are a shot straight into the heart. Yet the best mountain trails of various difficulties are in the northwestern part of the country, where natural beauty reveals its most fabulous features and charms.
SPECTACULAR REGIONS NURTURE COUNTRY'S HIKING CULTURE
A wide network of well-marked multi-day trails, plenty of literature and information available, reveal a very long hiking tradition which encourages many people backpacking it solo. But if you're wondering which is best for you and how to choose, then it might be wise to book through a tour operator. 
Don't know where to start? Browsing our group hiking tours should help you with finding ideas.
SLOVENIAN MOUNTAIN HIKING TRAIL
By far the most popular long-distance trail in the country is the oldest hiking trail in Europe, marking 617 km from Maribor to Ankaran. It connects the best mountains to climb in Slovenia, rising across the Pohorje Hills plateau, the highest peaks of the Kamnik and Savinja Alps, the Karavanke range and the heart of the Julian Alps with mount Triglav summit traverse. Last is Slovenia's highest mountain and our most bellowed section of the entire trail. Steepest peaks and breathtaking views follow one another as the trail approaches the Adriatic sea. Stages vary from very difficult, exposed and equipped with steel cables and iron pegs, to wide and easy, offering a variety of amazing hiking experiences to the committed to hours of strenuous hiking every day.
The international Via Alpina hiking track leads over the borders of France, Switzerland, Lichtenstein, Germany, Austria, Slovenia, Italy and Monaco. The Red and Purple Trails are a collection of various grade walks along mountain ridges, meadows and valley floors, crossing the three highest mountain massifs of Slovenia, the Julian Alps, the Karawanken and the Kamnik-Savinja Alps. 7 days and 120 km Purple Trail navigates through the heart of the Julian Alps, foothills of the Triglav mountain and the ridge of the Karawanken Mountains. Its most spectacular part is from Dovje to Dobrca. Yet the Red Trail covers the lower altitudes of the Karst plateaus and the hills below the Alps in 10 days and 220 km.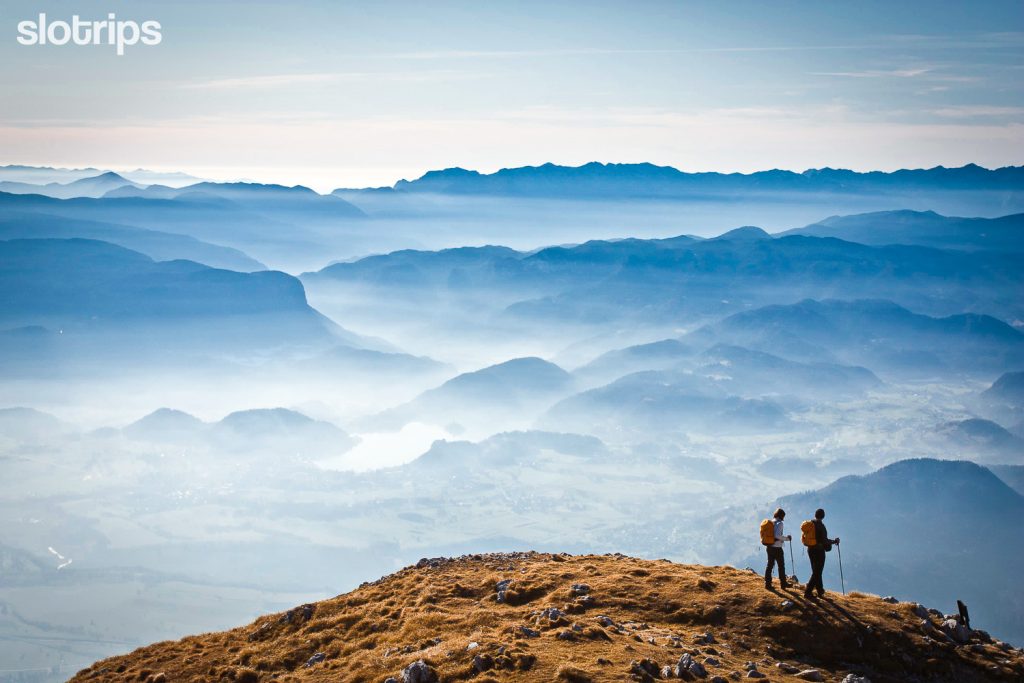 Would you like to experience one of these hiking trips?
The three-country pleasure-hiking trail traverses regions of Carinthia, western Slovenia and Friuli-Venezia Giulia through Austria, Italy and Slovenia. From the highest Austrian mountain, ice-capped Grossglockner, through the Dreilandereck, to the azure Adriatic Sea, the route connects existing paths through non-alpine terrain, some particularly beautiful lakes, mountains and natural wonders. A 750 km route, split into stages with small altitude difference, amazes with natural and cultural diversity and offers an exciting opportunity for everyone always wanting to give hiking hobby a try. The Garden of Eden trail's best ambassador is the via Vrsic pass section, best done as a multi-adventure.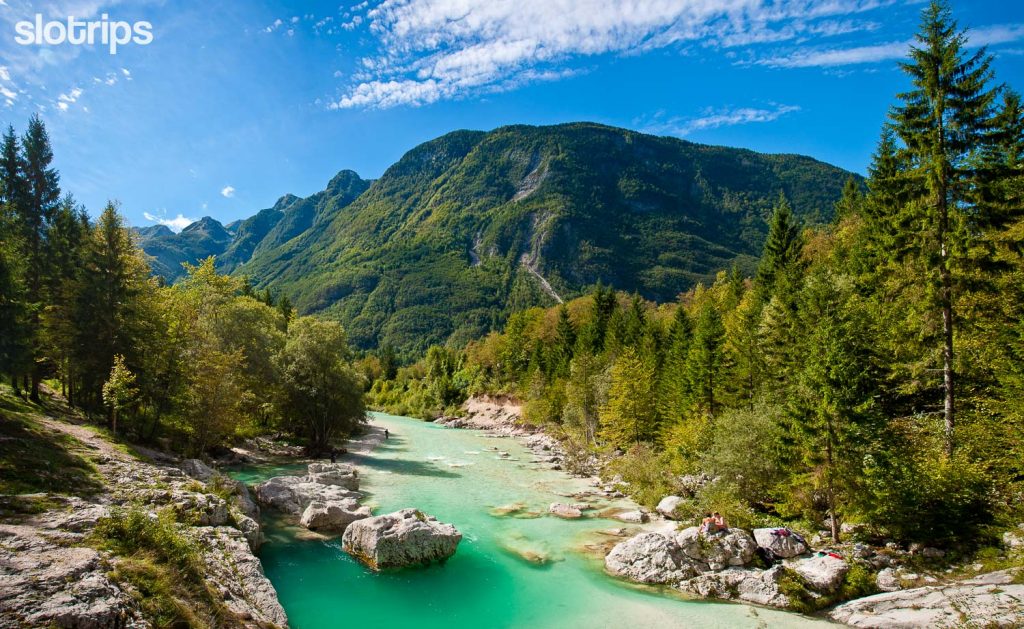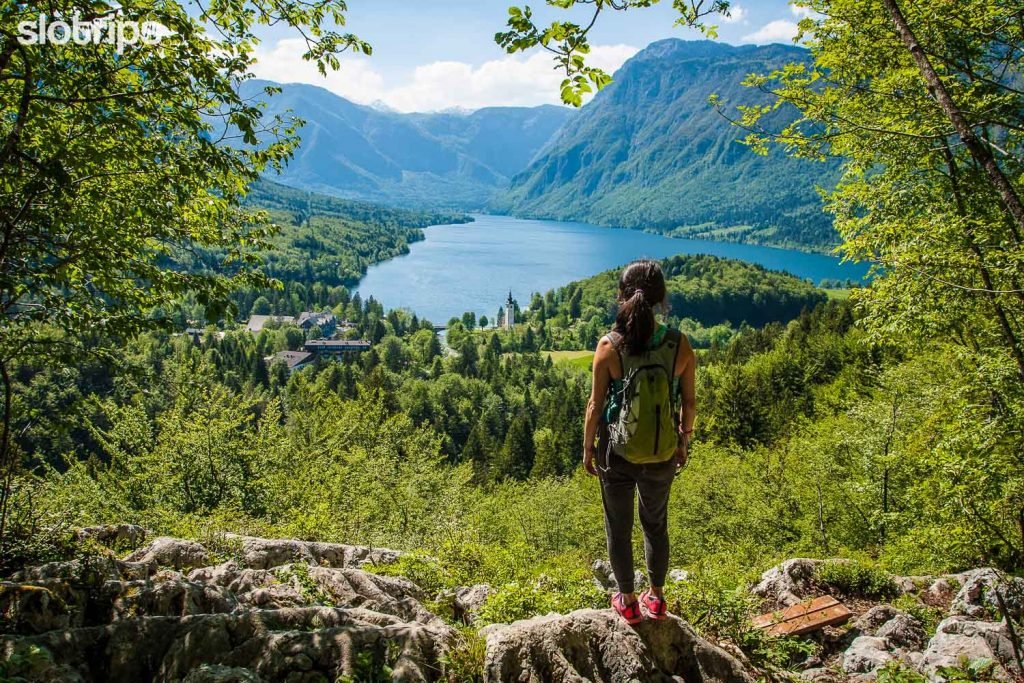 The 270 km long marked multistage route takes you along the edges of the Julian Alps and the Triglav National Park. A series of easy distance walks circumnavigate through a variety of secluded plateaus, across mountain passes and along rural areas, connecting the Sava, Soca, Tolminka and Baca river valleys, with the popular Lakes Bled and Bohinj. Apart from these stunning landscape locations the Juliana Trail is mainly flat and designed to enable building stacks of stages, it's perfect for family outings in pristine natural surroundings. The best sections are from Bohinj over Pokljuka plateau to Bled Lake, where you're surrounded by wildflowers and trees. See our best of Juliana Trail tour.
EUROPEAN LONG DISTANCE PATHS E6 AND E7
The best way to get to know Europe
The two European long-distance footpaths E6 and E7 connect the Atlantic ocean with the Black sea and the Northern sea with the Adriatic sea. Crossing the Slovenian territory along the waymarked mix of trails, lead from North to South border, through Zasavje region and Slovenian Istria, and from East to West, through Dolenjska region and Pannonian Plains. Both are extremely long, E6 about 300 km and E7 about 560 km, thus impressive attributes still line up well. Combining it with biking brings the most joy, but since they lead over significant mountains, with the highest Mt Sneznik, may be transformed into completely biking journeys only with some track adjustments. Of the E7, the easiest on the eyes is the Robic to Baca pri Podbrdu section, presenting the Nadiza river, historic Kobarid, Napoleon Bridge over the Soca river and Tolmin Gorges. Of the E6 the Stari Trg pri Lozu to Ilirska Bistrica section.
Mega Balkan crossing trail
This ultra long trekking trail knits together 7 countries on a historical crossroads between Asia and Western Europe. Only a small thread links Slovenia to this off-the-beaten-track adventure along the Balkan Peninsula. A more complicated region of Croatia, Serbia, Bosnia and Herzegovina, Montenegro, Kosovo, Macedonia and Albania reveals dramatic limestone karst fields, high mountains, steep valleys, dense beech forest and shimmering Alpine lakes. Via Dinarica Slovenia with Nanos and Sneznik mountains can stand tall next to other strategic war routes, ancient trading routes and old shepherds paths of the Dinaric Alps. It runs across relatively undiscovered mountains considered one of the most promising hiking destinations in Europe, linking traditional cultures in an under-visited and misperceived area. White Trail with the Tara River Canyon, Europe's deepest, is the most spectacular and perfect for those who really want to get remote.
THE LONG DISTANCE HIKING TRAILS COVER IT ALL
Undertaking such a long  journey covers all hiker's expectations, from overnights in comfortable-enough refugios with made-up bunk beds in dorm rooms and decent plumbing, as well as traditional local accommodations, diverse local culinary and cultural experiences, and historic reminders.
Each route can be done in parts or full. If you have just a few days in Slovenia reserved for hiking, then undertake just the most spectacular sections of the selected trails. It can be discouraging to decide on just the right amount of challenging yet beautiful climbs and descents. Or to plan every day along well-known routes, to find that one of a kind or to avoid the uncomfortable drawbacks and less diversified sections. Should you need a local hiking specialist, to put these bits and pieces together into a fascinating hiking trip plan, let's begin. :)
Don't forget to share this post!
Be the first to get our latest adventure stories & travel tips.
Write down your email to keep Slovenia close to your heart.

Sender.net email marketing