Via-Ferrata across the Julian Alps
Hiking
Via Ferrata across the Julian Alps
Self-guided | 7 days, 6 nights |
| July to September
Traverse Slovenia's Highest Mountains with Spectacular Panoramic Views
Experience Slovenia's alpine wilderness on the Via Ferata hiking trip in the Julian Alps. Enjoy a multi-day hut-to-hut trip crossing Julian Alps from north to south, tackling some of the most spectacular via ferata routes across Slovenia's highest peaks. Discover the urban, rural and mountain highlights of the country, from Ljubljana, one of the smallest capital cities in Europe, steep ridges and highest summits within Triglav National Park, to Slovenia's biggest and most charming lakes, Lakes Bohinj and Bled. Challenge yourself with some long and challenging ascents, steep or even vertical sections, gravel and rocky trails surrounded by the many steep limestone walls and drops with all your hiking equipment on your back.
*Reserved for very fit hikers with previous via ferrata climbing experience, who enjoy verticality and stages of 1-3 hour-long ferata climbs.
Itinerary | Inclusions | Q&A
The pristine wilderness of Slovenia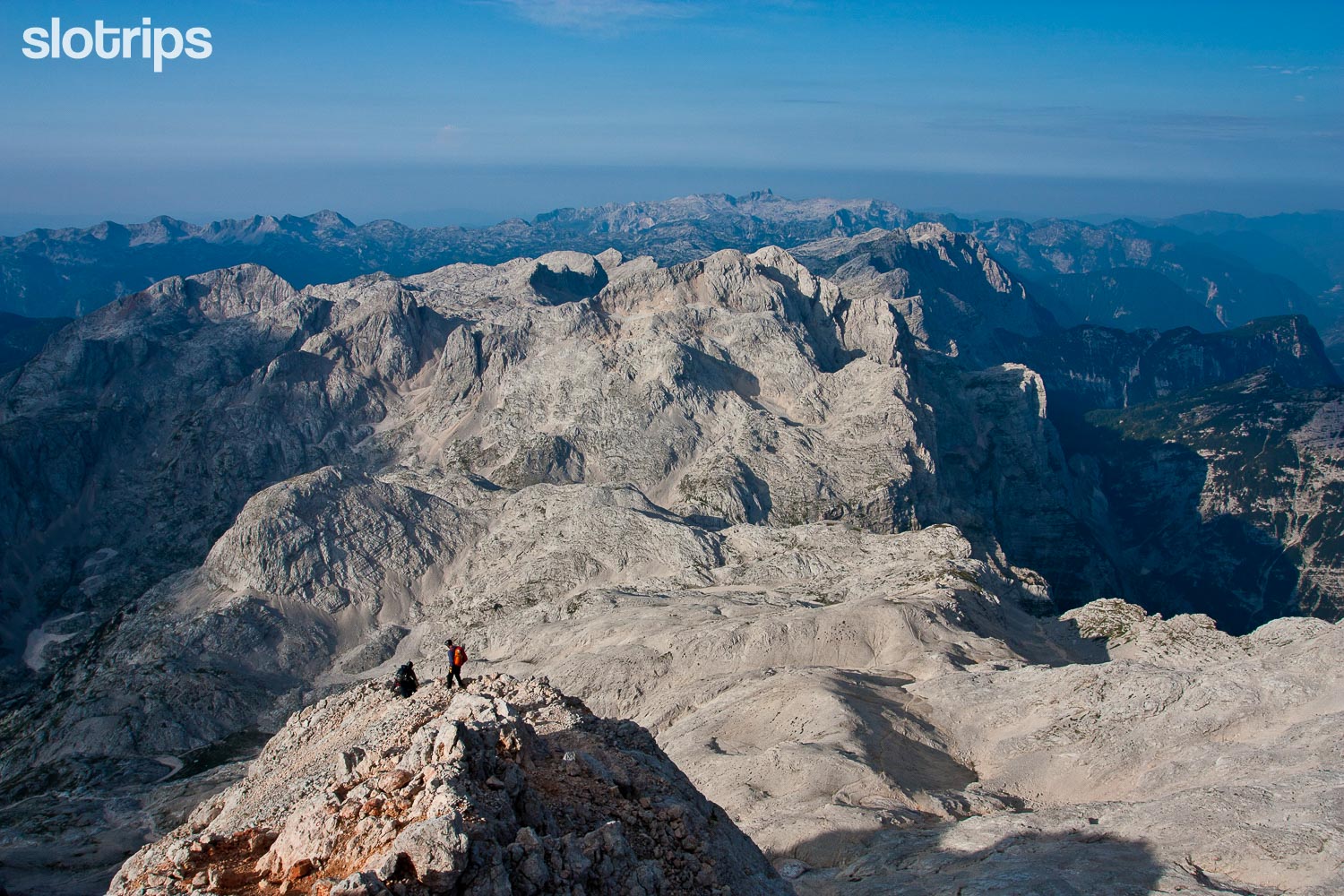 'True Slovenians' climb Mt Triglav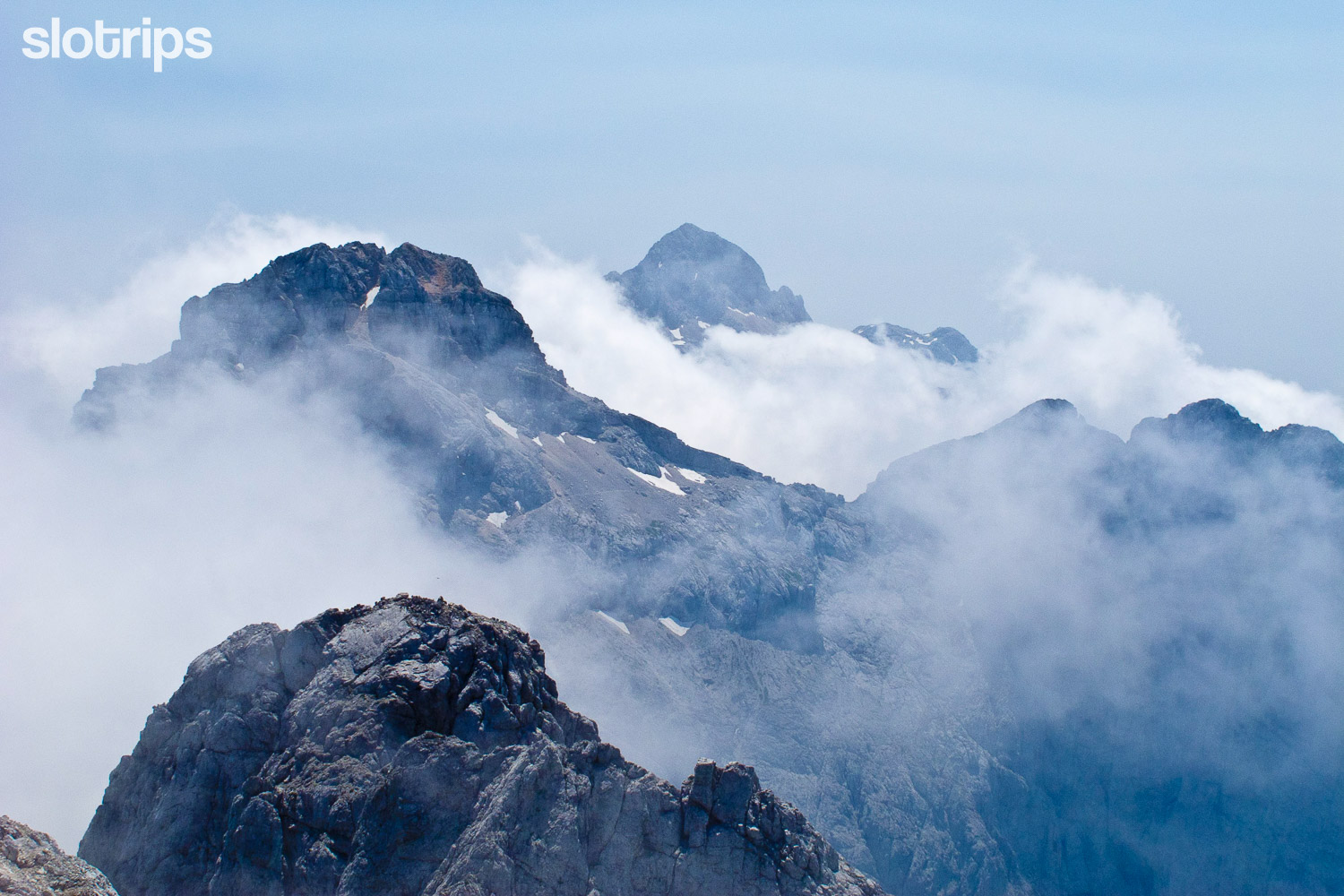 Conquer the highest Slovenian summits
Day 1
Explore Ljubljana as a mountaineer
Before going into the mountains, you'll meet your trip designer to go through the trip details starting with tips for hiking in Ljubljana.

Ljubljana has been the capital of Slovenia since 1918, yet its history goes way back to the ancient lake dwellers, but the current name, Ljubljana, comes from the Slavic name 'Ljuba', 'Luba', which means loved. Note that even a keen hiker and mountaineer like yourself is not immune to its compactness and sheer attributes with elevated perspectives. So give in and visit the Neboticnik Skyscraper, the tallest building in Europe when built, to enjoy the city and mountain view from its rooftop terrace cafe. Once back down, walk over the Cobbler's Bridge and head north along the Ljubljanica River under the shade of the willow trees, shrubs, and vines lining its riverbanks, where you'll feel like you're a world away from the city. Then take a hike up the castle hill and ascend the clock tower of the medieval Ljubljana Castle, with about 1000 years of history and yet another elevated view of Ljubljana and beyond.

Mingle with the locals and other travellers and enjoy a pleasant summer evening in one of the many riverside bars. A great way to start this mountaineering adventure!

Overnight: 3* hotel in Ljubljana
Day 2
Hike and climb the Via Ferrata over Mount Mojstrovka to Vrsic Pass
Morning transfer gets you to the start of the hike in Slovenia's far north-western corner, the Planica Nordic ski centre. Its a famous ski flying cradle, where two legends jumped over 100 and 200 metres for the first time in history. The valley extends further to the remote but well-visited alpine valley of Tamar, where you'll enjoy a leisurely walk. Once pass the popular mountain hut, you'll start a serious uphill hike over foothills to the base of the Mojstrovka Mountain.

At its north-eastern wall, you'll put on your via ferrata safety gear and helmet, and scramble up the well secured and marked Hanzova trail with the help of iron ropes, rings, pegs and carved steps. You'll descend from the Mt Mojstrovka summit along gravel trails on the mountain's southern slopes towards the Vrsic Pass. On this highest mountain road pass in the country, you'll reach your accommodation for the night, whee after a hearty dinner, you can do a short sunset walk to scout the route for your next upcoming climb.

Hiking: 12 km / elevation gain +1400 m, -700 m / approx. 7-8 hours
Overnight: mountain hut in shared or private rooms 1/2, 1/4, and 1/6 and shared washroom
Day 3
Hike and climb the Via Ferrata over Mount Prisojnik
Being amidst the gigantic mountains needs a moment to revel in nature's warm caress before approaching the via ferrata to climb Mt. Prisojnik. This majestic mountain name means 'close to the sun', moreover, its huge north wall is visible even from Kranjska Gora.

Once at the wall, gear-up and follow the well-marked and secured via ferrata. It'll lead you past the rocky face of the famous 'Pagan girl' and through a natural window to the summit of Prisojnik. Once on top, you'll stare enraptured as the panorama reveals a jaw-dropping 360-degree view. Like from Mojstrovka, you'll descend on the southern slopes until you join the Slovenian Mountain Trail – a long-distance trail connecting alpine Slovenia with the Pannonian Plains in the east, and the Adriatic coast in the west. From here on, apart from a few rope aids and scree sections, you'll enjoy a more leisurely hike to the next mountain hut and overnight location, placed on Kriski podi, in the realm of the mountain ibex.

You can call it a day here, or explore the tiny high mountain lakes, the Kriska jezera lakes, few minutes hike from the hut.

Hiking: 11 km / elevation +1700 m, -1300 m / approx. 8-9 hours
Overnight: mountain hut in shared rooms 1/4, 1/6 and 1/10 and shared washroom
Day 4
Hike and climb the Via Ferrata over Mount Triglav - the summit of Slovenia
The third day in your via ferrata climbing trip you'll reach the highest summit of the Julian Alps and the top of Slovenia, the iconic Mount Triglav. The mighty three-headed peak is Slovenia's national symbol, which every 'true' Slovenian should climb at least once in their life. Mt. Triglav is undoubtedly the best-known and most visited Slovene mountain, but today's adventure will take you to its top on a less frequented, but more difficult via ferrata route.

You'll walk the high karst plateau in the Kingdom of Goldenhorn, a legendary white chamois buck, that roamed the heights of Mount Triglav. You might spot alpine ibexes grazing and lay around on narrow ledges above high vertical drops here.

At the top of the Triglav mountain you'll come across the famous Aljaz tower, a small storm shelter which has become a cultural symbol of national importance. In fact, it was placed on the summit after a local priest Jakob Aljaz bought the summit of Triglav for 5 guldens. Once again you'll descend the Southern slopes of the mountain and head to the mountain hut for the night, where you'll enjoy the sunset of numerous shades of red with jovial Slovenians and fellow hikers.

*In bad weather, we will provide alternatives to climbing the Triglav summit.

Hiking: 8 km / elevation +1200 m, -850 m / approx. 8 hours
Overnight: mountain hut in shared rooms 1/4, 1/6 and 1/10 and shared washroom
Day 5
Hike and scramble over the ridge of Mount Veliko Spicje
After breakfast, you'll hike a nice rocky, gravel trail winding around the sinkholes across Hribarice Plateau. It resembles the impact craters of the moon's surface and finally exhales in the direction of the Seven Triglav Lakes Valley.

If you already feel tired from the previous days, simply follow the easy valley trail. But if you still have some dynamite in your legs, opt for a detour across one of the most beautiful ridges in the Slovenian Alps. You'll love the views of the Triglav Lakes Valley on one side and the lush Soca Valley on the other. This is one of our favourite off-the-beaten-track sections of this trip with amazing panoramic views.

Finish the day at a popular mountain hut by one of the Triglav lakes, the Double Lake. Even though the crystal clear waters of the high alpine lakes are extremely inviting, please resist the temptation. Swimming is strictly forbidden. Learn more about it in our FAQ below.

Hiking: 15 km / elevation +800 m, -1500 m / approx. 8 hours
Overnight: mountain hut in private or shared rooms 1/2, 1/4, 1/6 and 1/10 and shared washroom
Day 6
Hike from the Triglav Lakes to Lake Bohinj
You'll leave the high alpine terrain behind as you descend into the glacial valley of the biggest permanent lake in the country, the Bohinj Lake.

From the hut, you'll head south, pass the last lake in the Triglav Lakes Valley, the Black Lake. Continue over the steep walls of the Komarca rock face towards the Bohinj valley, which is the quickest exit from the high mountain terrain within Triglav National Park. A few steel cables, slick rocks, and many switchbacks later, you will reach the western shore of the wonderful Lake Bohinj. Kick-off your shoes and jump in for a well-deserved refreshing swim. Relax in this alpine paradise and reminisce about your hiking adventures of the previous days.

When you've recharged your batteries a little, catch one of the frequent buses leaving for Bled for a nice hot shower and a proper 'restaurant dinner'.

Hiking: 10 km / elevation drop -1200 m / approx. 4 hours
Overnight: 3* hotel in Bled
Day 7
Sunrise hike at Lake Bled and departure
Make your departure day one of your favourite travel memories. As the magic is in the little moments, brave the early hour and hike at sunrise to the Ojstrica and Osojnica hills – the perfect photo spots above Lake Bled. With Bled being so popular, this is one of the rare moments when you can enjoy the place to yourself; unless some passionate photographers beat you to it. Have the privilege of a front-row view of nature's finest spectacle – an explosion of colours over the lake, the cliff-top castle and the world's favourite lone island with the Karavanke mountains in the backdrop. Even though many prefer the close view from Ojstrica, you might love the Osojnica view more for its remote feel and higher perspective.

By now, you've probably eyed enough gems to believe you'll come back for more truly off the beaten path adventures in the future. Therefore, we'll wish you farewell for now and look forward to having you back soon!
Make this adventure yours
790 € per person

Exclusions
Arrival at Ljubljana and departure from Bled.
Meals and drinks not specified in the Inclusions.
Travel insurance.
Personal expenses.
Other services not specified in the Inclusions.
Extras
Single traveller supplement: 400 €.
Domen Strle
Slotrips trip designer
As a kid, I was introduced to the beauty of mountaineering through mountain summer camps with my local alpine club, where I established my love and respect for nature. I have since become an active member of the club, an alpinist, a recreational mountain biker, a ski mountaineering enthusiast and a certified hiking guide. This has enabled me to share my fondness for the mountains with others. These days, I spend an equal amount of time exploring not only rugged mountains but also local history & culture, and good food. Ultimately, I have blended my passion, knowledge and skills into a profession which I love and enjoy.
What are the Via Ferratas like in Slovenia? The Via Ferrata routes in the Slovenian mountains vary in length and steepness. They run along the natural passages of steep and exposed walls and are secured with iron cables, pegs and sometimes carved footsteps. They are maintained by the Slovenian Alpine Association. 
What is the difficulty level of the Via Ferratas on this trip? There is no difficulty estimation available for the selected Via Ferratas on this trip. They mostly correspond to A-B level on the International UIAA classification. The vertical sections are fairly short, but climbing with a heavy backpack takes its toll and you have to be really confident and comfortable on steep terrain with sheer drops.
Who can do it? Anyone with an excellent fitness level, previous via-ferrata experience, and love for long hiking days.
Do I need to have a guide? This tour is meant for experienced hikers with via ferrata experience. If this is you, you don't need a guide. If you are intrigued by this, but lack hiking experience we recommend getting a guide. 
What equipment do you supply? We provide your harness, lanyards and a helmet. 
Can I bring my own equipment?  Sure, if your equipment meets all of the UIAA standards and is of good quality and condition.
Do I need hiking poles? If you often use them on your hiking trips, of course. Make sure they collapse and fit in your pack while you are on the route.
Is there an age or weight limit? Kids must be older than 13 years of age, accompanied by an adult and confident climbing Via Ferratas.  The weight limit is set by the lanyard manufacturer.
How long are the Ferrata part of the trips? It varies, but up to 3 hours.
Can I fall? Yes, you can. Your lanyards, attached to the steel cable adjacent to the climbing route, are designed to arrest the fall and to minimize the impact of a fall. There are also many sections without any steel cables for security. Falling can be fatal.
Can I stop part way and turn around? Yes, you can. But going down is usually more difficult than going up. 
Are private guided experiences available? Sure! We have private guides available for entirely customisable experiences.
Is there a minimum or maximum group size? There is no minimum or maximum group size, but note that bigger groups are typically slower, thus the timings might not apply to your group. 
How difficult is the hiking?
Expect to walk 7-9 hours per day, 12 km (8 miles) and up to 1700 m (5500 ft) of elevation gain on the hardest day. You need to be in excellent shape and have quite a lot of hiking and some via ferrata scrambling experience to fully enjoy this tour.
What are the trails like?
The trails are uneven, sometimes rocky and narrow, moreover you will need to overcome several steep & some short vertical sections on the uphills as well as the downhills. Mostly you will hike above the treeline, exposed to the sun without any shelter along the way.
Is luggage transfer between the mountain huts possible?
No, because the huts are not accessible by car. Thus you will need to carry your equipment throughout the entire hiking tour, whereas your main luggage will wait for you at the hotel where you'll overnight after the hike.
Do I need a guide for climbing Mt. Triglav? Climbing Mt. Triglav is an optional addition to this self-guided hiking tour. The summit can be very crowded during summer, especially on weekends. The last 300 vertical metres (1.5 hours) of the ascent and descent is a Via-Ferrata. It is secured with steel hand lines and stemples, yet very exposed in some sections. Even though an experienced mountaineer may not even notice the exposure, the less experienced will definitely feel in need of guidance. The IFMGA licensed mountain guide will take care of your safety and provide all necessary equipment and professional guidance, which is essential when the weather is not perfect. The guide will meet you below the ridge, where the climbing part begins and part with you upon return. Before and after the summit climb you are hiking on your own. Have a look at this video for a better understanding of the terrain.
What are the mountain huts like?
The huts in the Slovenian Alps are quite basic, but they offer everything a hiker needs: food, drinks and accommodation. Most of the huts are accessible only by helicopter (no roads). Thus food supply is limited, therefore expect simple menus of mountain food like different stews (vegetable or meat), pasta and sausages. They also sell chocolate, soft drinks, water, beer etc. The usual breakfast would be eggs, ham, cheese, butter, jam,…
The huts we use on this hiking tour have normal flush toilets, 2 of them have running (drinking) water and sometimes even hot showers. 
Expect to share a room, toilets, bathrooms or washrooms. There are 2 to 20 beds in one room. We always book the smallest available room, but can never guarantee a private room.
We strongly encourage you to use bio-degradable and natural hygiene products (tissues, soaps, toothpaste etc.), as animals and plants don't like to feed on saponins or tissues.  
What is the weather usually like?
In summer (from June to early September) the weather is usually hot, with temperatures around 25-30 deg C (75-90 deg F). In peak season (August) you can expect a heatwave with temperatures likely exceeding 35 deg C (95 deg F) as well as a significant temperature drop in the mountains on a cloudy, windy or rainy day.
Can I swim in the 7 Triglav lakes?
No, any activity in the lakes is considered an offence by the Triglav National Park organisation. Moreover, the lakes' micro-ecosystem is very fragile and we must not endanger it with our sweat, sunscreen etc. The lakes are fairly small, especially during the summer drought. Due to water in and outflow being very small the water barely changes, which limits their ability to self-clean.
Do the mountain huts provide vegetarian/vegan meals?
The food in mountain huts is tasty, yet quite basic, so no culinary highlights are to be expected. There are options for vegans and vegetarians, but the selection is very limited. More so if you have any special dietary restrictions or needs. Thus bringing your own snacks and treats will save the day.
Do I need a sleeping bag?
You don't need a sleeping bag. We strongly suggest bringing a lightweight cotton sleeping liner (travel sheet), even though the huts provide blankets and single-use paper sheets. It's because you'll be more comfortable and sleep better. Moreover, we encourage you to be a responsible traveller and avoid making unnecessary waste and help preserve some trees. 
Can I add more adventures?
Sure! Do you like rock climbing, rappeling down amazing waterfalls, horse-back riding across lovely meadows, kayaking on turquoise rivers, paragliding with stunning views of the Julian Alps? Let us know and we will deliver your adventures!
How do your self-guided tours work?
You will be surprised! We have done (and are still doing) a ton of work to make sure your independent active holidays in Slovenia (and across the borders) are flawless, fun, and hassle-free. With the implementation of modern technology and our extensive local knowledge, we believe we are on the right way of delivering exceptional hiking & biking experiences that you are able to enjoy at your own pace. Read more about our "self-guided added value".
Why us?
With us you will save hours, nights, and days planning your trip. You will discover amazing locations, enjoy the best family activities in Slovenia and have carefree holidays. Because we care! Read about us & check our reviews.