Family walking, Alpe-Adria Trail Hike
Family Walking
Alpe-Adria Trail Hike
Self-guided | 5 days, 4 nights |
| May to October
Enjoyable Hiking Experience in the Alpine Nature Kids Love
Experience the most picturesque stages of the Alpe Adria Trail and Soca Trail, with dense forests of Triglav National Park, sweeping glacial valleys, alpine meadows and turquoise waters together. Discover breathtaking lookouts of Slovenian, Austrian and Italian Julian Alps. Explore the Soca Valley's natural treasures and cultural heritage with World War bunkers. Taste the wildflowers and fresh local food. Play in crystal clear waters and re-connect on grassy banks of the Soca River.
Itinerary | Inclusions | Q&A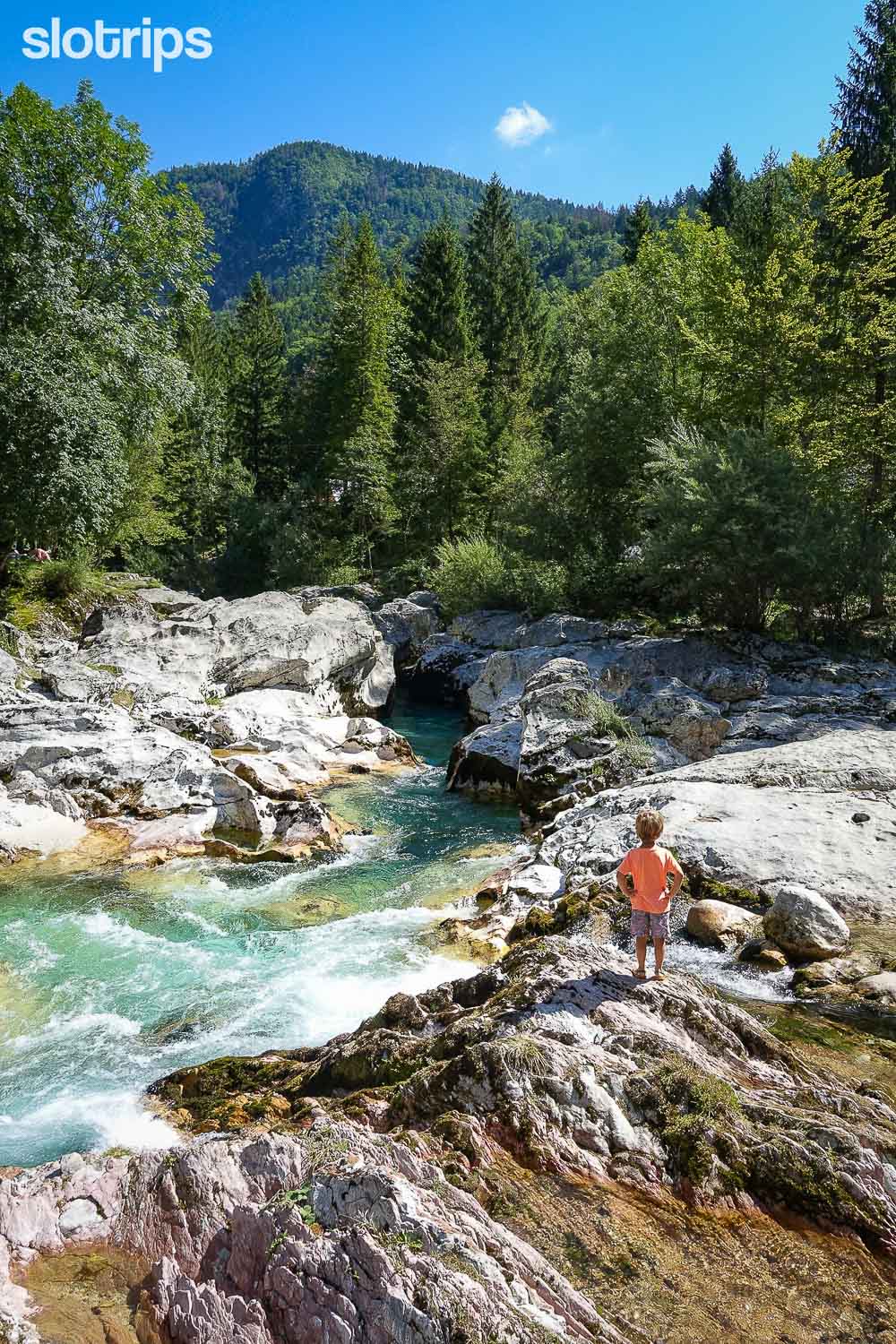 Refresh in the 
crystal-clear waters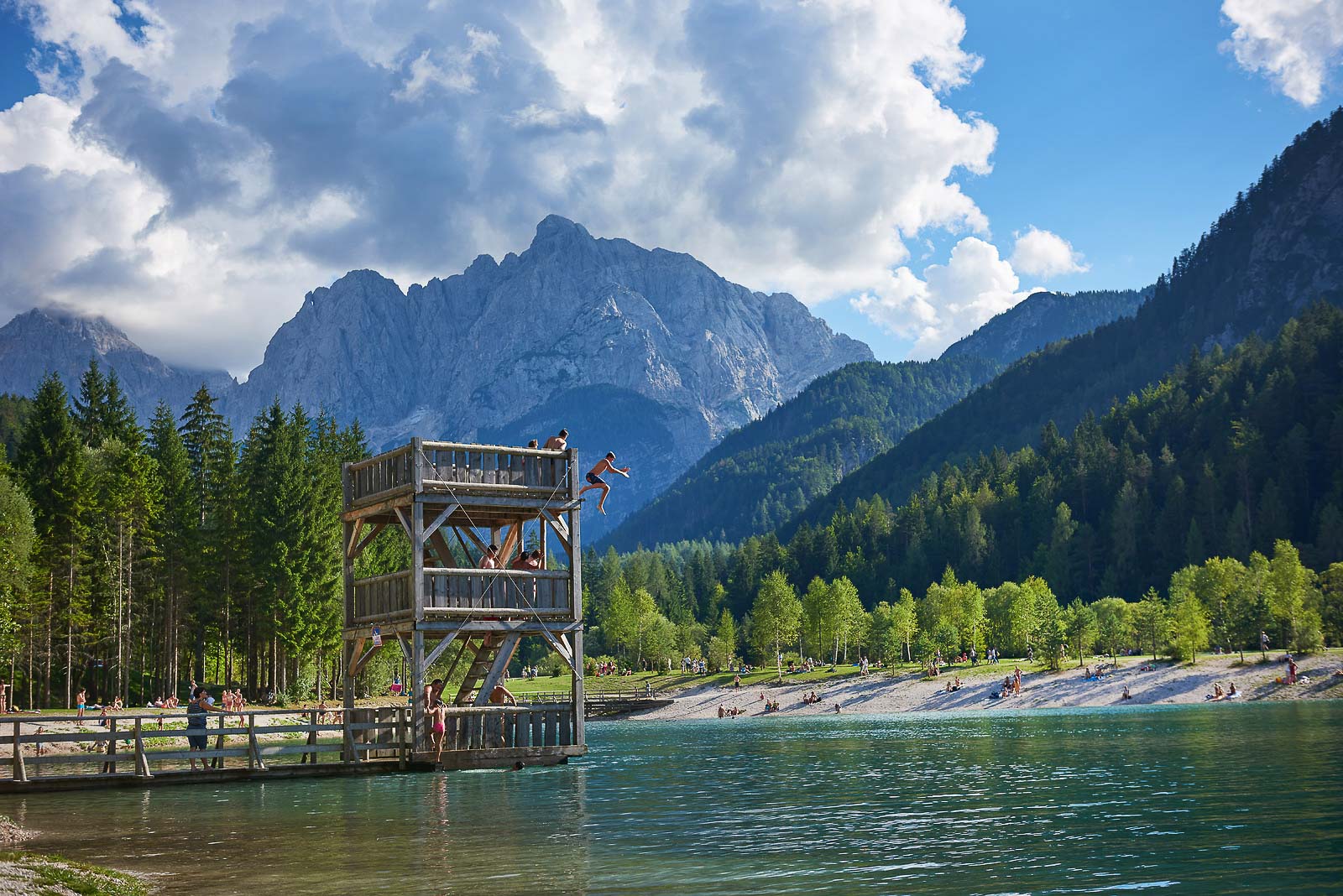 Walk, bike and raft along the turquoise Soca River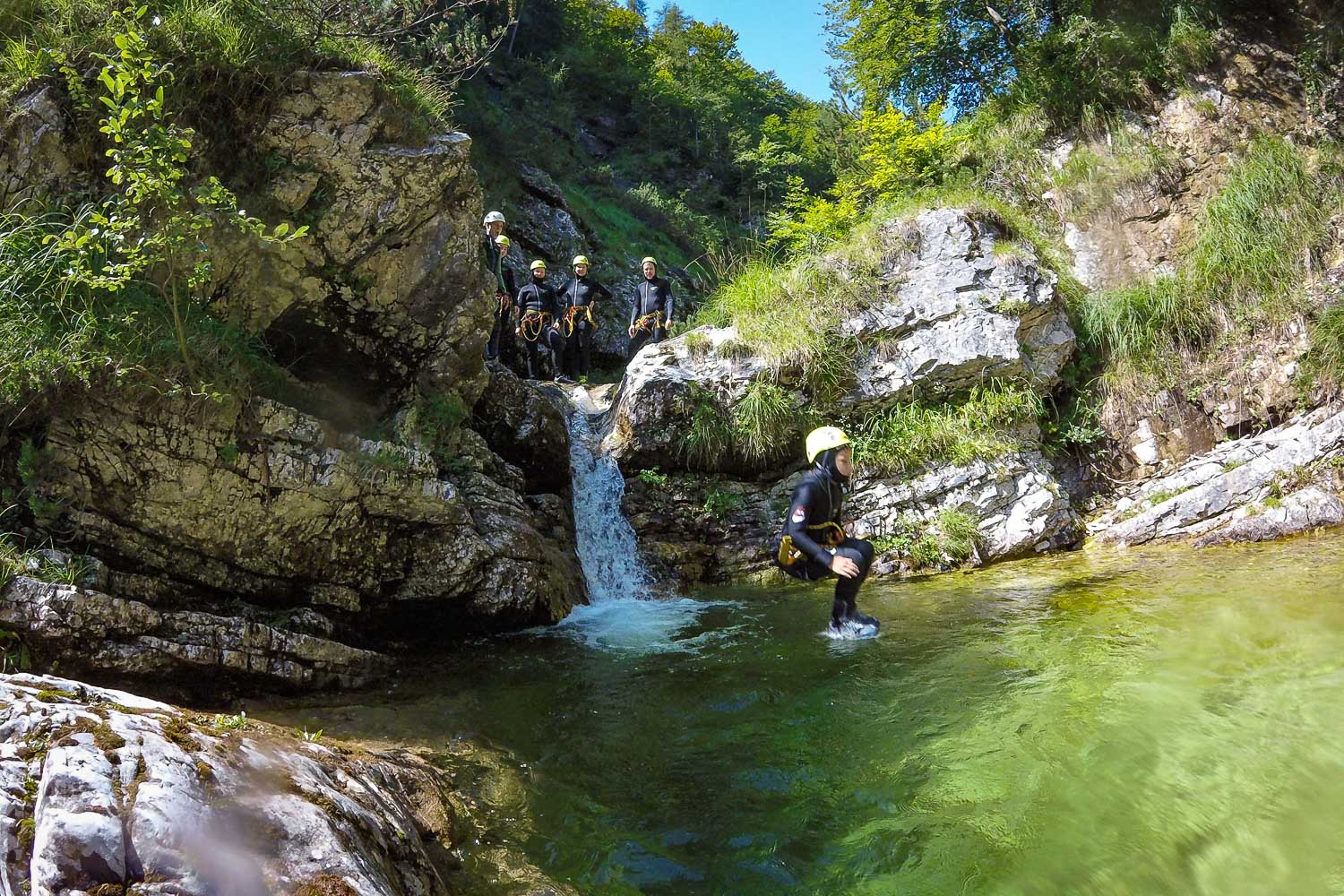 Enjoy iconic mountain trails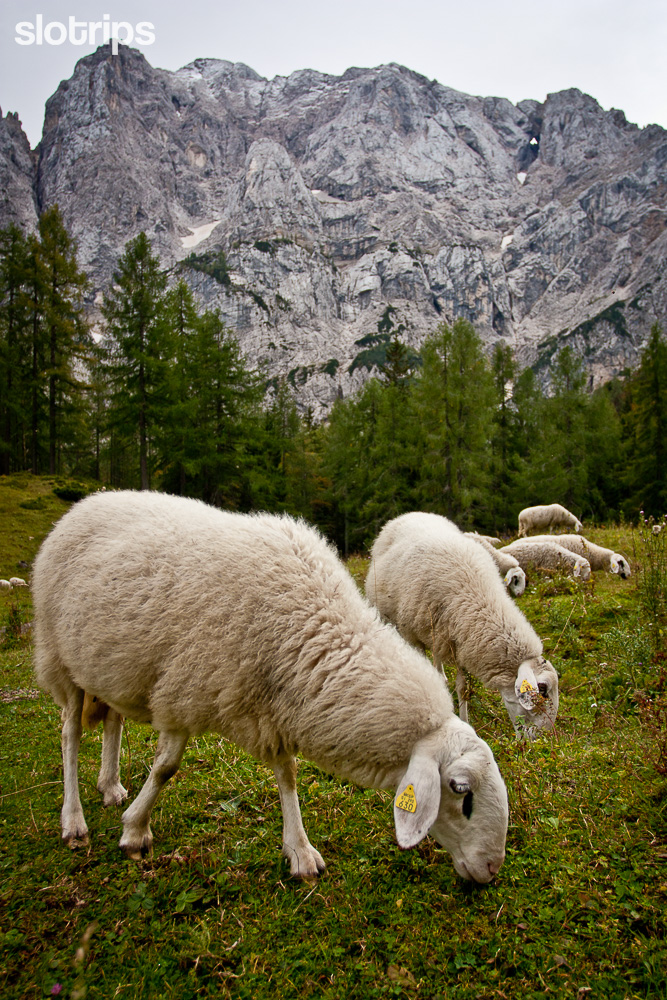 Photos by Slotrips, Boris Pretnar and Tomo Jesenicnik (STO)
Day 1
Hike from Kranjska Gora to Vrsic
Reach Kranjska Gora*, a small ski town lurking beneath the Julian Alps, which will summon your family's adventurous spirit.

Pack the food for the hike in town, then romp around the nicely maintained trails towards the Vrsic Mountain Pass, and engage in a jump into the refreshing Lake Jasna with your children. The lake reflects the entire amphitheater of rugged limestone peaks, which you can face later, on a side trip to a lonely summit close to the pass.

You'll overnight near-by, at a cozy mountain hut in the central Julian Alps.

Hiking: 10 km / elevation +600 m / approx. 4-5 hours
Overnight: mountain hut (private rooms available) with shared bathrooms

*Let us know if you need a transfer to the start of the hike.
Day 2
Walk in the heart of the Julian Alps
You'll hike an old military road and explore the remnant of the bunkers, built by Russian prisoners in World War One. The gently ascending road over the Vrsic Pass serves one of the nicest lookouts in the mountainous Slovenia, with beautiful flowery meadows, where you can befriend a lamb.

Catch a local bus on the pass, going from Kranjska Gora to Bovec, to skip the long and steep descent into the Soca Valley. Leave the bus at a friendly local farm in Trenta Valley, where you'll experience a special overnight on a hay barn*!

Hiking: 8 km / elevation gain +660 m, -460 m / approx. 4-5 hours
Overnight: hay barn at a local farmhouse with shared bathroom

*Let us know if you want a different accommodation.
Day 3
The Great Gorges of Soca River
Gently undulating trail leads along the Trenta Valley, next to the Soca river, across suspension foot bridges over beautifully carved gorges with deep aquamarine pools and endemic marble trout fish.

On the way you'll find many grassy clearings and beaches by the river for a little family picnic, to dip your feet in or even enjoy a refreshing swim in the turquoise water.

This day's section is rather short, thus opt for an additional outdoor rock climbing amidst the forested mountain slopes above the river, with a local climbing guide. Additionally a detour to a our secret viewpoint of the Soca valley with its abundant nature with one of the highest level of biodiversity in the country and world.

Hiking: 7 km / elevation +160 m, -240 m / approx. 3.5 hours
Overnight: private wooden hut within a camping ground. Shared bathrooms.
Day 4
Walk along the Soca valley
Today's section of the Soca River Trail takes you through dense forests of Trenta Valley out of the Triglav National Park. Early morning mist and the trees covered with moss might remind you of the Lord of the Rings movie scenes.

Keep an eye out for colorful birds, small lizards, dragonflies and chances to jump in the river where you can soak up some sun. You'll end up at your hotel in Bovec, a town in the middle of roughed mountains, also the Slovenian outdoor center.

Instead of hiking, you can bike today's section. Let us know, to deliver the bicycles to your accommodation in the morning. Expect some short climbs, but mostly an enjoyable ride on scenic gravel and asphalt roads to the town of Bovec.

Hiking: 13 km / elevation +200 m, -250 m / approx. 4-5 hours
Overnight: 3* hotel in Bovec
Day 5
Fun family rafting on Soca River
Rafting on Soca river, one of Europe's most beautiful rivers, is on every travelers' adventure bucket list. The activity on grade 2-3 rapids is suitable for all ages and skill levels, thus you'll embark on a rafting trip with swimming, lots of fun and even games on the river within alpine nature.

Your rafting guides will take you from your hotel to the start of the trip and back around lunchtime, hand out the gear, share the instructions and navigate the tour the smallest and the tallest family member will love equally.

We'll arrange you a transfer back to Kranjska Gora or your car in early afternoon.~8 km / ~3 hours (1.5 hours rafting on the river)

Rafting: ~8 km / ~3 hours (1.5 hours rafting on the river)
Make this family adventure yours
320 € per person

Inclusions
1 night with breakfast in a mountain hut. Private rooms with 4 beds per room. Shared bathroom.
1 night with breakfast on a hay barn at a farmhouse with sleeping linen provided. Shared bathroom.
1 night with breakfast in a private wooden house within a camping ground. Shared bathroom.
1 night bed & breakfast in double/twin or family rooms at a 3* hotel in Bovec. Ensuite bathroom.
Rafting on the Soca River on Day 5.
Private transfer from Bovec to Kranjska Gora on Day 5.
Detailed information for self-guided activities in a personalized smartphone app with uploaded GPS tracks for easy navigation.
Information pack about other local sights, restaurants, activities.
Organisation, 24-hour holiday service & support.
Exclusions
Arriving to and from Kranjska Gora.
Drinks, lunches & dinners.
Travel insurance.
Personal expenses.
Other services not specified in the Inclusions.
Optional
Luggage transfer between accommodations: 120 € per booking.
Rock climbing: 60 € per person (min. 2 people, approx. 3 hours).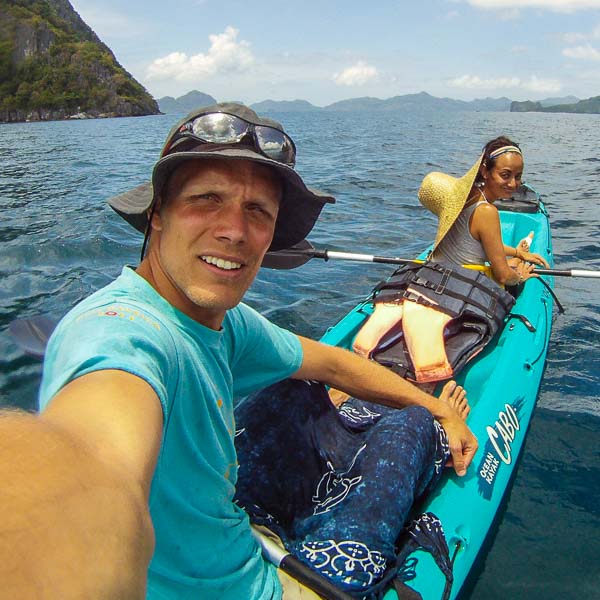 Miha Gantar
Slotrips trip designer
I was born in Slovenia's lovely capital city of Ljubljana but had set the avid hiker and biker in me aside for a while to study civil engineering in Germany. It was there where I met my wife – the cute Spanish girl in front of me. Together we traveled the world and finally settled in my homeland, Slovenia in 2007. Since then I have been (re)discovering the hiking trails, biking backroads, hidden natural treasures and best dining spots all over the country. I am in love with Slovenia's landscape, diversity and cultural variety and will proudly show you my "backyard".
How do your self-guided tours work?
You will be surprised! We have done (and are still doing) a ton of work to make sure your independent active holidays in Slovenia (and across the borders) are flawless, fun, and hassle-free. With the implementation of modern technology and our extensive local knowledge, we believe we are on the right way of delivering exceptional hiking & biking experiences that you are able to enjoy at your own pace. Read more about our "self-guided added value".
How difficult is the walking?
Expect to walk about 4-5 hours per day within 8-13 km (5-8 miles) of distance and up to 600 m (2000 ft) elevation gain. Please do make prior walks of similar distances and elevation gains on rocky terrain, to be in a reasonable shape to fully enjoy the trip rather than to suffer it through. If you find the walk to hard, you always have an escape option by taking a taxi or bus to your next accommodation.
What are the trails like?
The trails are uneven, sometimes rocky and narrow, with gravel, grass, roots and forest soil. You can expect to walk some short, steep, sometimes slippery uphill and downhill sections along mostly forest shaded trails. However, be prepared for sun exposure too.
What is the mountain hut like?
The mountain hut is a cosy family-run place with 3 rooms in total. You will have your own room (2 bunk beds) and share the bathrooms with others. Expect some great and filling mountain food as well.
What is the hay barn like?
Check the photos. The hay barn is located on an organic farm near the Soca river, where great local breakfast is served and bathrooms are shared.  You will get a cotton bed liner over the hay 'mattress', a comfortable pillow and blanket.
Let us know if you want an alternative accommodation. 
What is the campsite like?
The campsite is one of the loveliest on the best location by the Soca river with different overnight options, depending on the availability. Small wooden houses for 2 people or a bigger family room is at disposal, with a private room, proper mattresses, and bedding, yet shared bathrooms. Breakfast is provided. Camp's highlights are the stunning green meadows and nearby river pools.
Children's ages
This trip is appropriate for kids from 6 years on, with plenty of play and downtime, as well as engage with the river. The kids need to be good and keen walkers. Please advise us if someone can's swim. The trip can be modified into a multi-active and exciting adventure for fit teenagers too. 
What is the weather usually like?
In summer (from June to early September) the weather is usually hot, with temperatures around 25-30 deg C (75-90 deg F). In peak season (August) you can expect a heatwave with temperatures likely exceeding 35 deg C (95 deg F) as well as a significant temperature drop in the mountains on a cloudy, windy or rainy day.
Can I add more adventures?
Yes, you can choose from rock climbing, canyoning, horse-back riding, kayaking, paragliding, via-ferrata climb and more. Let us know to arrange the adventure. 
Why us?
With us you will save hours, nights, and days planning your trip. You will discover amazing locations, enjoy the best family activities in Slovenia and have carefree holidays. Because we care! Read about us & check our reviews.
Why us?
With us you will save hours, nights, and days planning your trip. You will discover amazing locations, enjoy the best family activities in Slovenia and have carefree holidays. Because we care! Read about us & check our reviews.